~ The FReeper Canteen Presents ~
~ Remembering Our Troops!! ~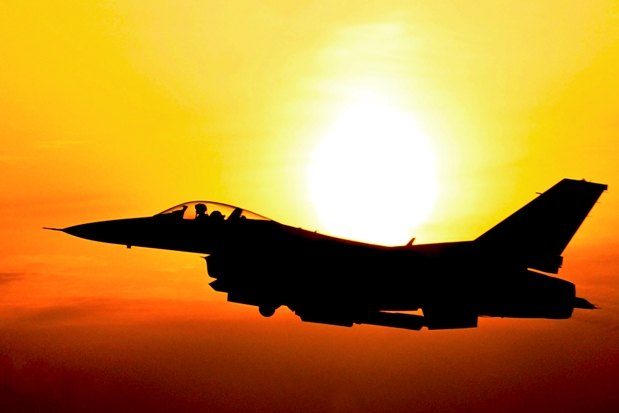 FALCON FLIGHT
An F-16 Fighting Falcon launches at dawn during a Peninsula Operational Readiness Exercise on Kunsan Air Base, South Korea, March 20, 2012. The exercise ensures service members are capable of performing their duties in wartime conditions. U.S. Air Force photo by Staff Sgt. Rasheen A. Douglas







Canteen Mission Statement
Showing support and boosting the morale of
our military and our allies' military
and family members of the above.
Honoring those who have served before.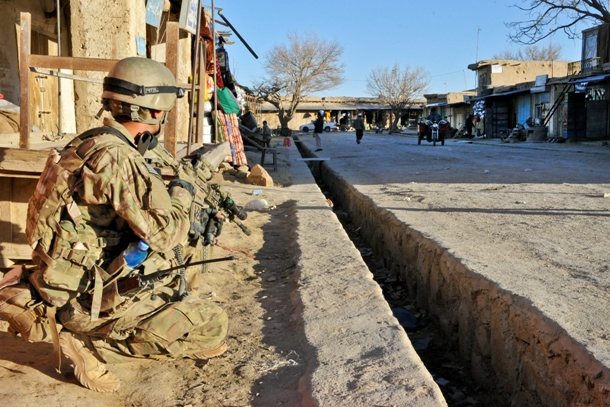 COALITION PATROL
A coalition soldier secures an area during a patrol in the Muqer district in Afghanistan's Ghazni province, March 21, 2012. Coalition forces conducted the patrol, which followed an insurgent attack, to engage merchants, villagers and key leaders in the area. U.S. Navy Petty Officer 1st Class David Frech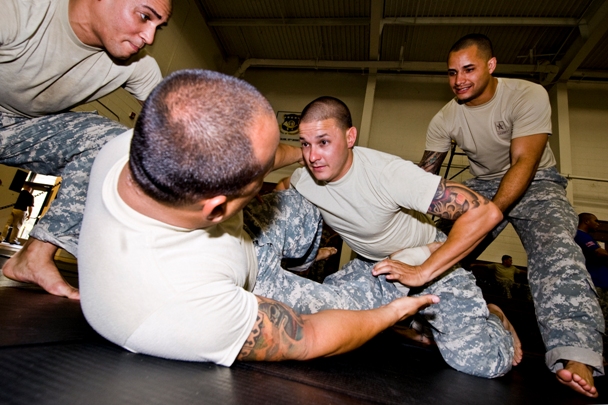 COMBATIVES TOURNAMENT
Army Spc. Ernesto Ventura works with combatives team members Sgt. Gregory Maldonado, Sgt. Juan Ortiz and Sgt. Angel Santiago, on his back, at the 2012 National Guard Combatives Tournament hosted by the Warrior Training Center on Fort Benning, Ga., March 17, 2012. Ventura is assigned to the Alaska National Guard and his combatives team members are assigned to the Puerto Rican National Guard. U.S. Army photo by Sgt. John Cosby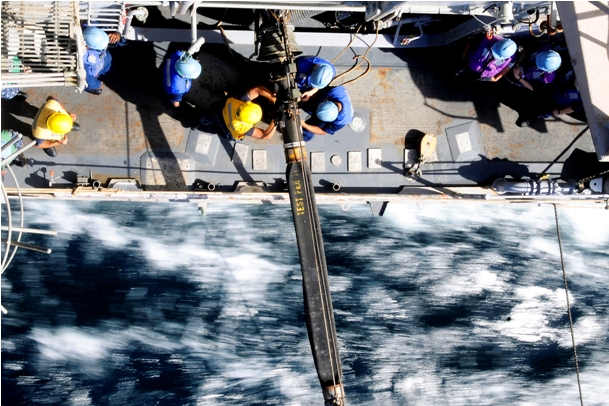 REFUELING OPERATION
U.S. sailors tie down a refueling probe aboard the USS Bunker Hill during an underway replenishment with the USNS Bridge in the Arabian Sea, March 16, 2012. Bunker Hill is deployed to the U.S. 5th Fleet area of responsibility conducting maritime security operations and theater security operation efforts. U.S. Navy photo by Petty Officer 3rd Class John Grandin

A MOTHER'S KISS
Terri Santiago kisses her son, retired Marine Corps Sgt. Christopher Santiago, right, after he presented her the Col. John Gioia Patriot Award during the USO of Metropolitan Washington 30th Annual Awards Dinner in Arlington, Va. March 22, 2012. U.S. Army photo by Staff Sgt. Teddy Wade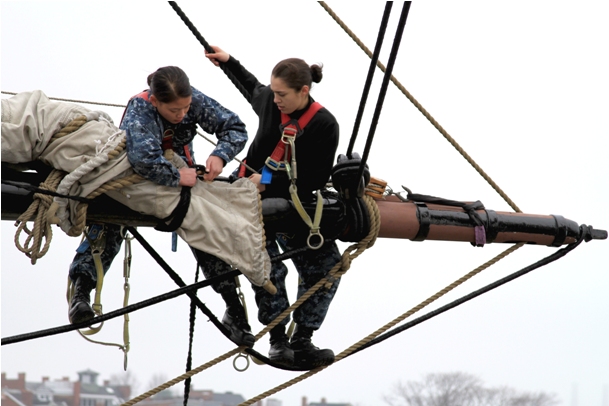 MIZZEN VIEW
U.S. Navy Petty Officers Sang Nguyen, left, and Shelia Guerrero place the sail on the yard of the mizzen mast aboard USS Constitution in Charleston, Mass., March 14, 2012. U.S. Navy sailors assigned to the Constitution routinely work to improve seamanship skills to prepare for ceremonies marking the bicentennial of the War of 1812. U.S. Navy photo by Petty Officer 2nd Class Thomas Rooney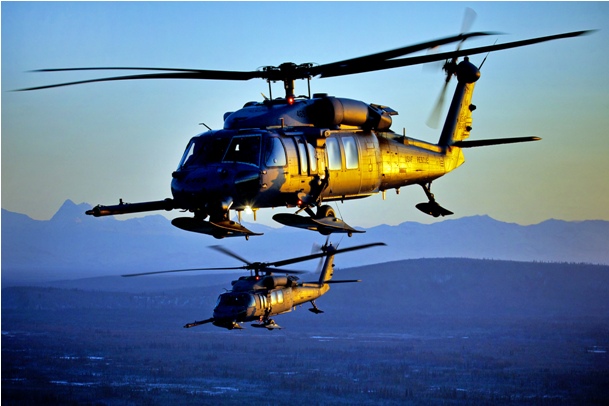 PAVE HAWK DUET
Alaska Air National Guard HH-60G Pave Hawk helicopter crews practice flight formation maneuvers over Joint Base Elmendorf-Richardson, Alaska, March 14, 2012. The Alaska Air National Guard operates the Alaska Rescue Coordination Center on Elmendorf Air Force Base on the north side of Anchorage. U.S. Air Force photo by Master Sgt. Sean Mitchell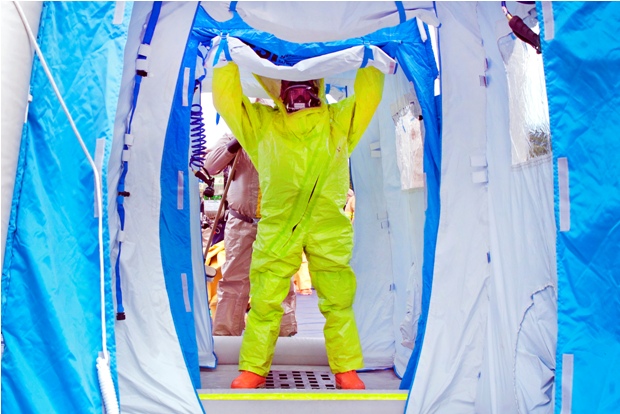 SAFETY SUIT
A member of the Navy Region Northwest Fire and Emergency Services Decontamination Team is washed down in a decontamination tent as a part of a hazardous material training scenario during Solid Curtain-Citadel Shield 2012 at Naval Base Kitsap-Bangor in Silverdale, Wash., March 20, 2012. The weeklong series of anti-terrorism and force protection exercises involves Navy installations and activities. U.S. Navy photo by Petty Officer 3rd Class Kenan O'Connor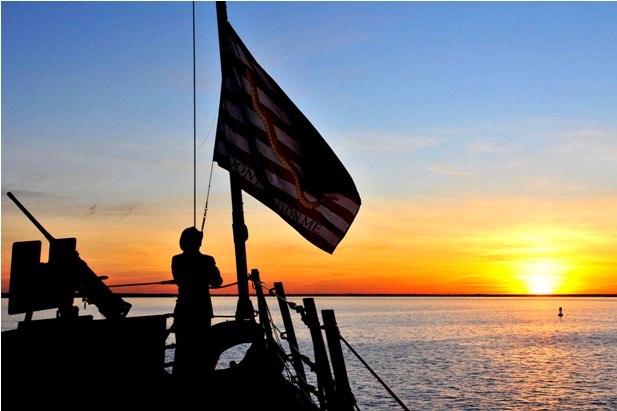 EVENING COLORS
U.S. Navy Seaman Hazel Lomboy performs evening colors for the last time aboard the guided-missile destroyer USS Forrest Sherman prior to getting underway in Norfolk, Va., March 11, 2012. The ship is underway preparing for flag officer sea training. U.S. Navy photo by Senior Chief Michael W. Martin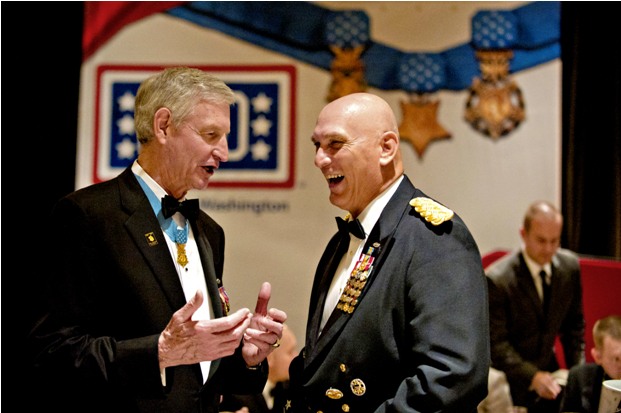 MEDAL RECIPIENT
U.S. Army Chief of Staff Gen. Raymond T. Odierno, right, shares a laugh with Medal of Honor recipient Army Lt. Gen. (ret.) Robert F. Foley at the USO of Metropolitan Washington 30th Annual Awards Dinner in Arlington, Va., March 22, 2012. The dinner also honored the Medal of Honor Society's 150 years of courage and sacrifice. U.S. Army photo by Staff Sgt. Teddy Wade

Please remember that The Canteen is here to support
and entertain our troops and veterans and their families,
and is family friendly.