~ The FReeper Canteen Presents ~
~ Remembering Our Troops!! ~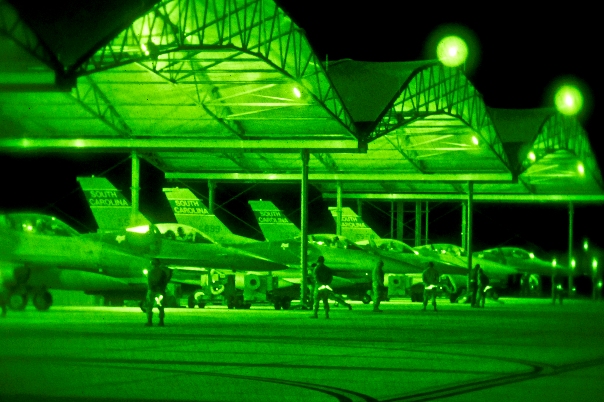 AFGHANISTAN BOUND
Active-duty airmen and South Carolina Air National Guard airmen with the 169th Fighter Wing prepare to deploy to Afghanistan, April 12, 2012, on McEntire Joint National Guard Base in South Carolina. U.S. Air Force photo by Master Sgt. Marvin Preston







Canteen Mission Statement
Showing support and boosting the morale of
our military and our allies' military
and family members of the above.
Honoring those who have served before.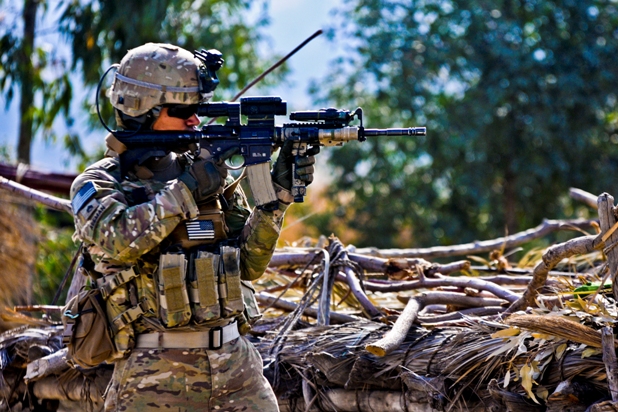 SCANNING FOR DANGER
U.S. Army Staff Sgt. Christian Aleman scans the area for possible dangers while on patrol on Forward Operating Base Salerno, Afghanistan, April 7, 2012. Aleman, a squad leader, is assigned to 2nd Battalion, 377th Parachute Field Artillery Regiment. U.S. Army photo by Spc. Eric-James Estrada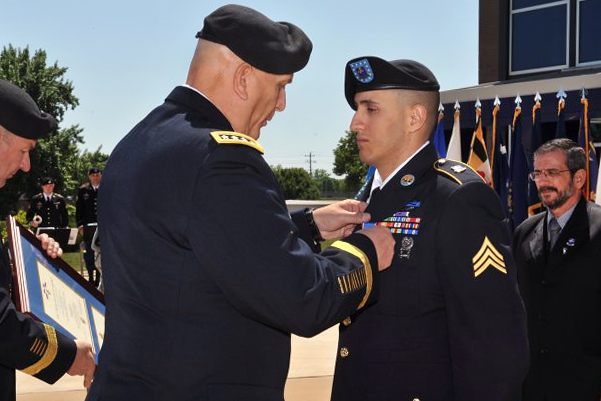 DISTINGUISHED SERVICE CROSS
Army Chief of Staff Gen. Raymond T. Odierno presents Sgt. Felipe Pereira with a Distinguished Service Cross on Fort Campbell, Ky., April 12, 2012. Pereira, assigned to the 101st Airborne Division, received the award for his actions in Afghanistan, Nov. 1, 2010. Pereira is the 165th Screaming Eagle soldier to receive the award, which is second highest only to the Medal of Honor. U.S. Army photo by Sam Shore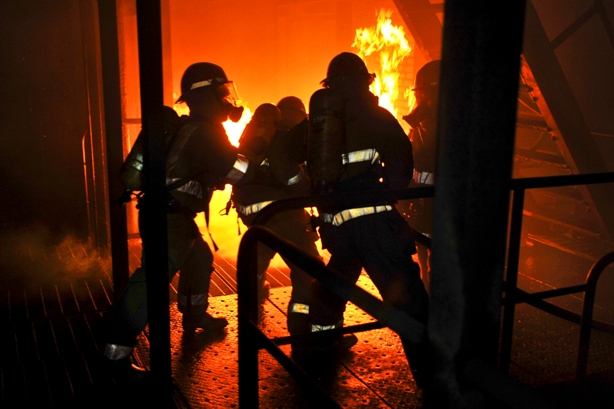 DAMAGE CONTROL CLASS
U.S. Navy sailors practice shipboard firefighting during an advanced damage control class at the Yokosuka Center for Naval Engineering Firefighting School at Commander Fleet Activities Yokosuka, April 12, 2012. The sailors are assigned to the aircraft carrier USS George Washington. U.S. Navy photo by Petty Officer 3rd Class Andrew Ryan Smith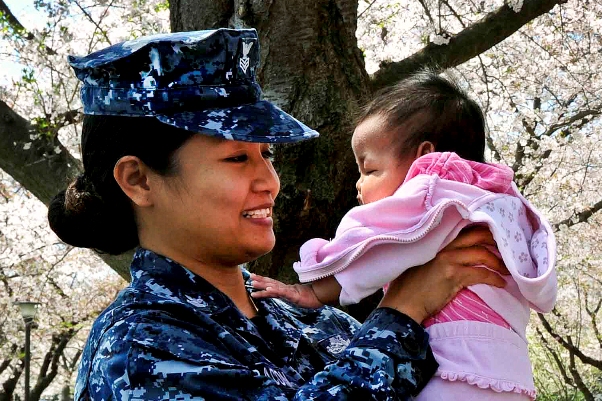 BLOSSOM BABY
U.S. Navy Petty Officer 1st Class Charmaine Bacon spends time with her daughter during her lunch hour at a park on base in Yokosuka, Japan, April 12, 2012. The park's cherry blossom trees are in full bloom, which is a symbol of spring in Japan and occurs only once a year. Bacon is an information systems technician assigned to Commander, Fleet Activities Yokosuka. U.S. Navy photo by Seaman Declan Barnes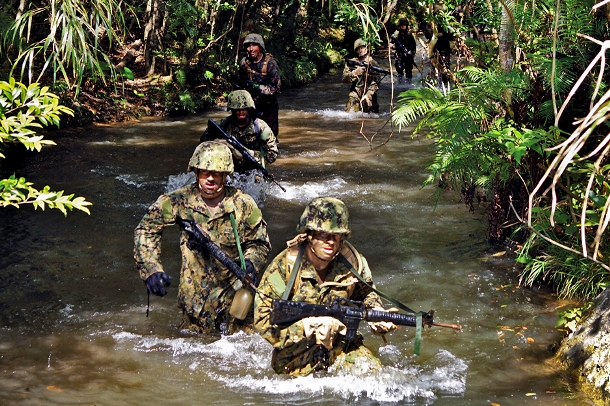 RIVER RUN
U.S. Marines and sailors run through a stream at the endurance course at the Jungle Warfare Training Center on Camp Gonsalves, Okinawa, Japan, April 8, 2012. The Marines and sailors are assigned to Combat Logistics Regiment 37, 3rd Marine Logistics Group, 3rd Marine Expeditionary Force, and Naval Mobile Construction Battalion 40, 31st Seabee Readiness Group. The course includes numerous water obstacles. U.S. Marine Corps photo by Pfc. Codey Underwood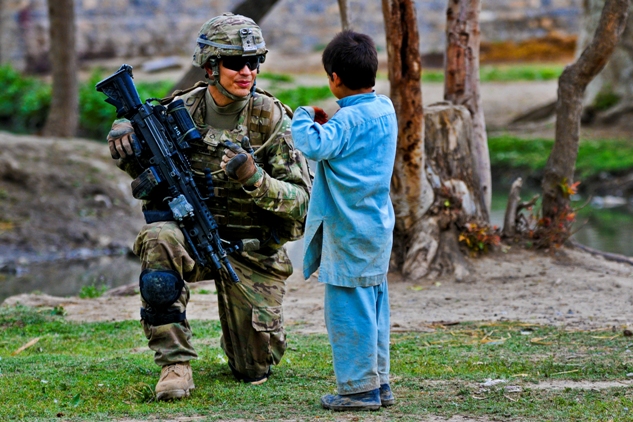 PASHTU PRIMER
U.S. Army Pfc. Jared Baughn learns Pashtu from an Afghan child while on patrol on Combat Outpost Terezayi in Afghanistan's Khowst province, April 10, 2012. Baughn is assigned to Company C, 1st Battalion, 501st Infantry Regiment. U.S. Army photo by Spc. Eric-James Estrada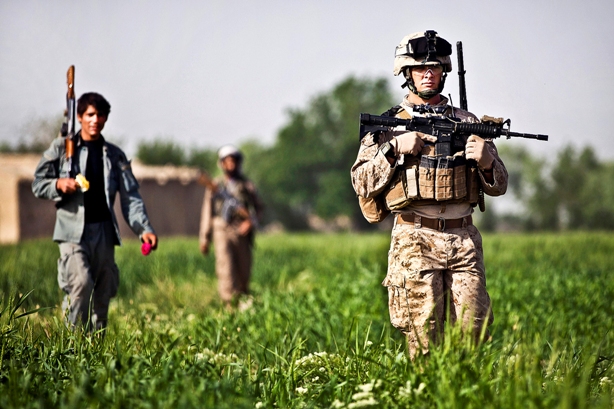 FIELD PATROL
U.S. Marine Cpl. Matthew Davis, right, and Afghan policemen patrol through a field after searching compounds for possible insurgent material during Operation Zema Parma Sar Tera in the Garmsir district of Afghanistan's Helmand province, April 14, 2012. Davis is a squad leader assigned to Kilo Company, 3rd Battalion, 3rd Marine Regiment. U.S. Marine Corps photo by Cpl. Reece Lodder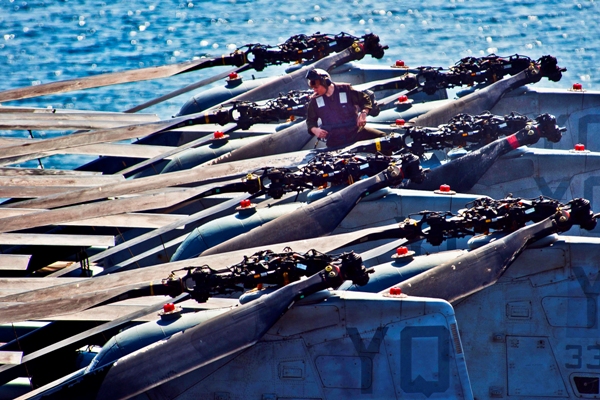 ARABIAN WASH
A U.S. Marine washes aircraft aboard the amphibious assault ship USS Makin Island under way in the Arabian Ocean, April 12, 2012. The Makin Island is deployed supporting maritime security operations and theater security cooperation efforts in the U.S. 5th Fleet area of responsibility. U.S. Navy photo by Petty Officer 2nd Class Alan Gragg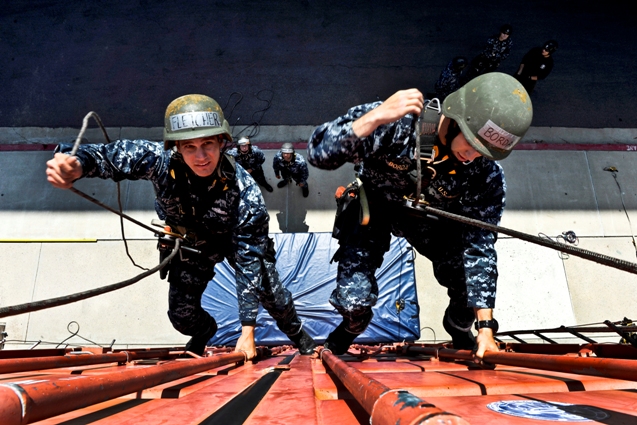 CONTAINER CLIMBERS
U.S. Navy Petty Officer 3rd Class Kip Fletcher, left, and Ensign Brett Borda climb a container during a training evolution at the Compliant Visit, Board, Search and Seizure course on Naval Base San Diego, April 10, 2012. The course trains sailors to inspect containers for prohibited cargo. U.S. Navy photo by Petty Officer 1st Class Louis Rojas

Please remember that The Canteen is here to support
and entertain our troops and veterans and their families,
and is family friendly.