---
To: tutstar
US Army Preparing for Martial Law Scenario in US? Civil Disturbance and Mock Riot Drills In Washington Posted by truther on April 12, 2012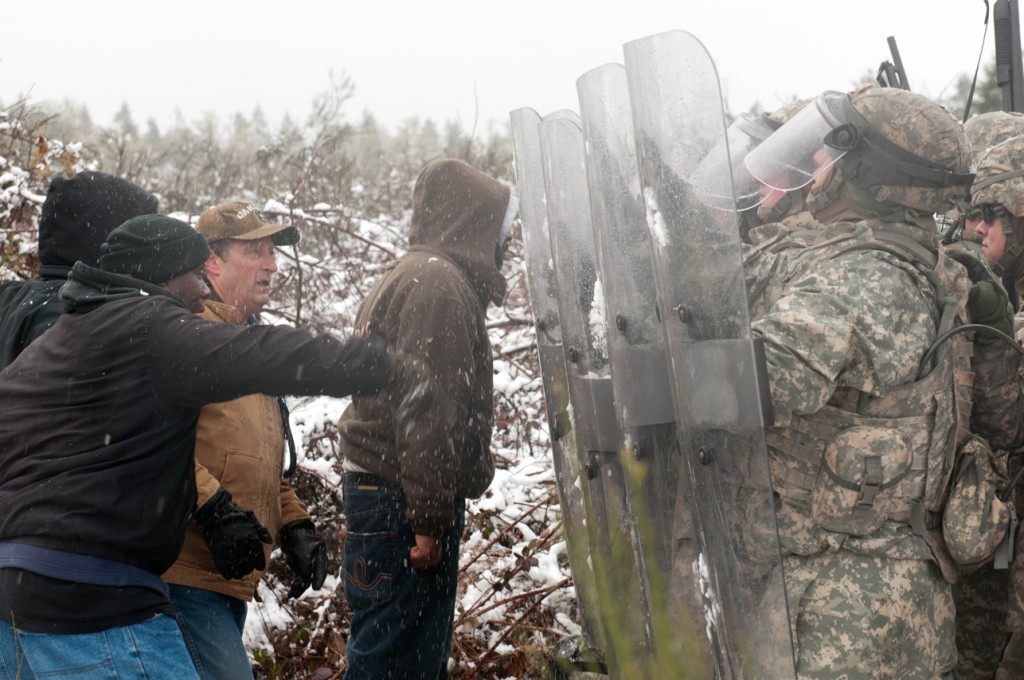 ---
To: KeyLargo
That middle pic looks like a scene from "The 300 Spartans".
12
posted on
07/06/2012 1:12:22 PM PDT
by
carriage_hill
(All libs and most dems think that life is just a sponge bath, with a happy ending.)
---
To: KeyLargo
Easy enough...get enough people to grab each side of the shields in the shield wall and simply start pulling backwards or drag the wielder to the ground by the shield simply by falling down and backwards, keeping him on top of you so you don't get hit by his buddies!
He'll either release it or be on the ground with you and if he releases it then you get up and run off with the shield. LOL
Even if they attempt a baton strike if you just pull backwards they're breaking the integrity of the wall.

13
posted on
07/06/2012 2:04:18 PM PDT
by
philman_36
(Pride breakfasted with plenty, dined with poverty, and supped with infamy. Benjamin Franklin)
---
To: KeyLargo
Defense formations with shields right out of the Roman Empire era. Wonder if they can "Form Square"!
Wonder of they can stop a 180 gr M2 Ball at 2800 fps.
15
posted on
07/06/2012 2:20:17 PM PDT
by
Ruy Dias de Bivar
(I LIKE ART! Click my name. See my web page.)
---
To: KeyLargo
Seems obvious to me the admin wants to agitate us in hopes of provoking something.. Liberty lovers are considered terrorists by dhs. Why would our troops train like this if not?
---
To: KeyLargo
All those years of being a one man testudo finally paid off for Corporal Pudge
Corporal Pudge supervising the deployment of his Testudo Doctrine "Fear the Turtle" while podcasting from his helmet cam to the Internets.
44
posted on
07/10/2012 1:21:13 PM PDT
by
Covenantor
("Men are ruled...by liars who refuse them news, and by fools who cannot govern." Chesterton)
---
FreeRepublic.com is powered by software copyright 2000-2008 John Robinson