---
To: MeganC
Excuse me, but according to NBC that was a magazine from a fully-automatic, Saturday Night Special, Glock revolver, AK-47, AR-15, junk gun.
Ah, so you've SEEN my work.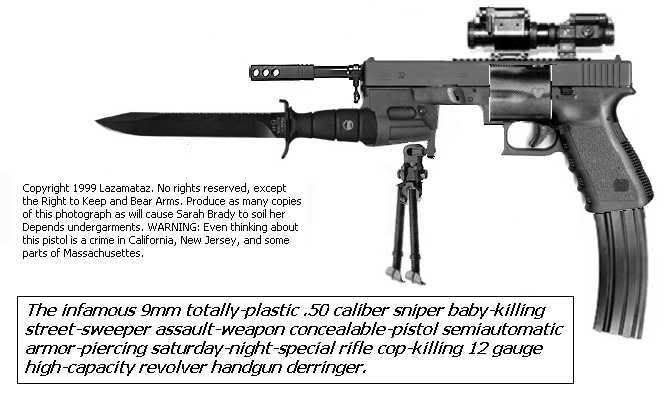 47
posted on
12/28/2012 3:08:04 PM PST
by
Lazamataz
(LAZ'S LAW: As an argument with liberals goes on, the probability of being called racist approaches 1)
---
To: Lazamataz
...
Couldn't get to my grenades,
(yeah rite)
the was in the shop,
my stomach was tied into a monkey knot.
Ya, my only hope was Betty Lou,
she was the one,
a combination AK-57 Uzzi radar laser triple-barrel double-scoped heat-seekin' shotgun...
http://www.youtube.com/watch?v=F1A07VxTu_0
---
To: Lazamataz
---
FreeRepublic.com is powered by software copyright 2000-2008 John Robinson