---
To: FlingWingFlyer
The only thing I can think of it porting, but I don't think you can do that on shotguns.
21
posted on
02/02/2013 8:23:52 AM PST
by
drbuzzard
(All animals are created equal, but some are more equal than others.)
---
To: drbuzzard
The barrel on my single shot Rossi slug gun is ported.
Doesn't help much. If you shoot 20-30 3" magnum deer slugs through it in one outing you'll have a bruised shoulder regardless.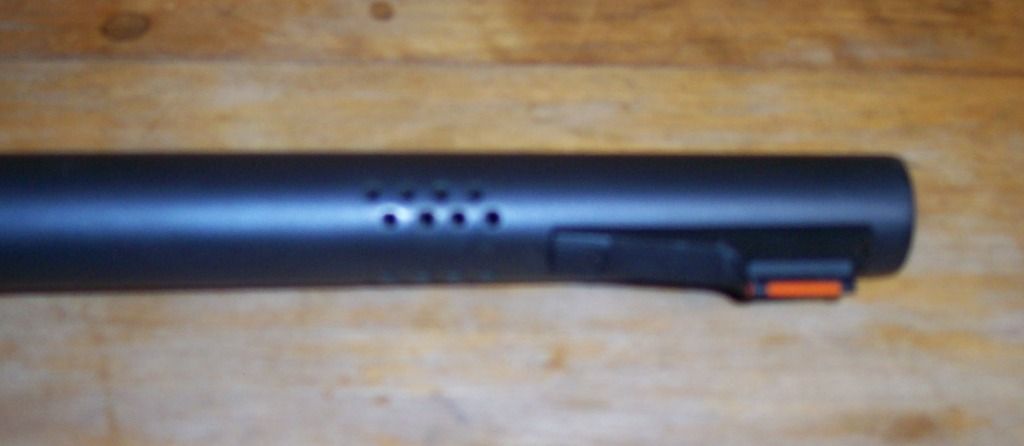 ---
To: drbuzzard; FlingWingFlyer; flintsilver7
A lot of high end skeet guns are ported. When I see an over and under like the one he has, ported as that one is, you can bet it's borrowed. Guns like that can run anywhere from $1,000 and up (generally up). If he owned a gun as nice as that, he'd have bragged about it by now (I sure would have). To port an over / under like the one he has they drill like 10 holes in the top of the barrel to reduce recoil. It's weird to see a shotgun ported, but it's not uncommon.
101
posted on
02/02/2013 11:05:27 AM PST
by
Hardastarboard
(The Liberal ruling class hates me. The feeling is mutual.)
---
To: drbuzzard
It appears to be an O/U that is ported. This is a common practice in skeet, trap and sporting clays. It has a what appears to be a factroy recoil pad indicating that it's not used very much. One problem is that porting would produce smoke from both sides of the barrell and I'm not sure of the vertical angle of the smoke. If he's shooting at a clay target on a skeet field, he's pointing way too low. This photo will likely raise more questions from Freepers who do shoot the clay target sports. My guess is that they gave him a shotgun and took a posed picture.
---
FreeRepublic.com is powered by software copyright 2000-2008 John Robinson