---
USAF Photo of the Evening: Deterrent Extraordinaire
ChamorroBible.org ^ | June 16, 2005 | USAF Staff Sgt. Eric T. Sheler


Posted on 02/25/2013 3:49:20 PM PST by EnjoyingLife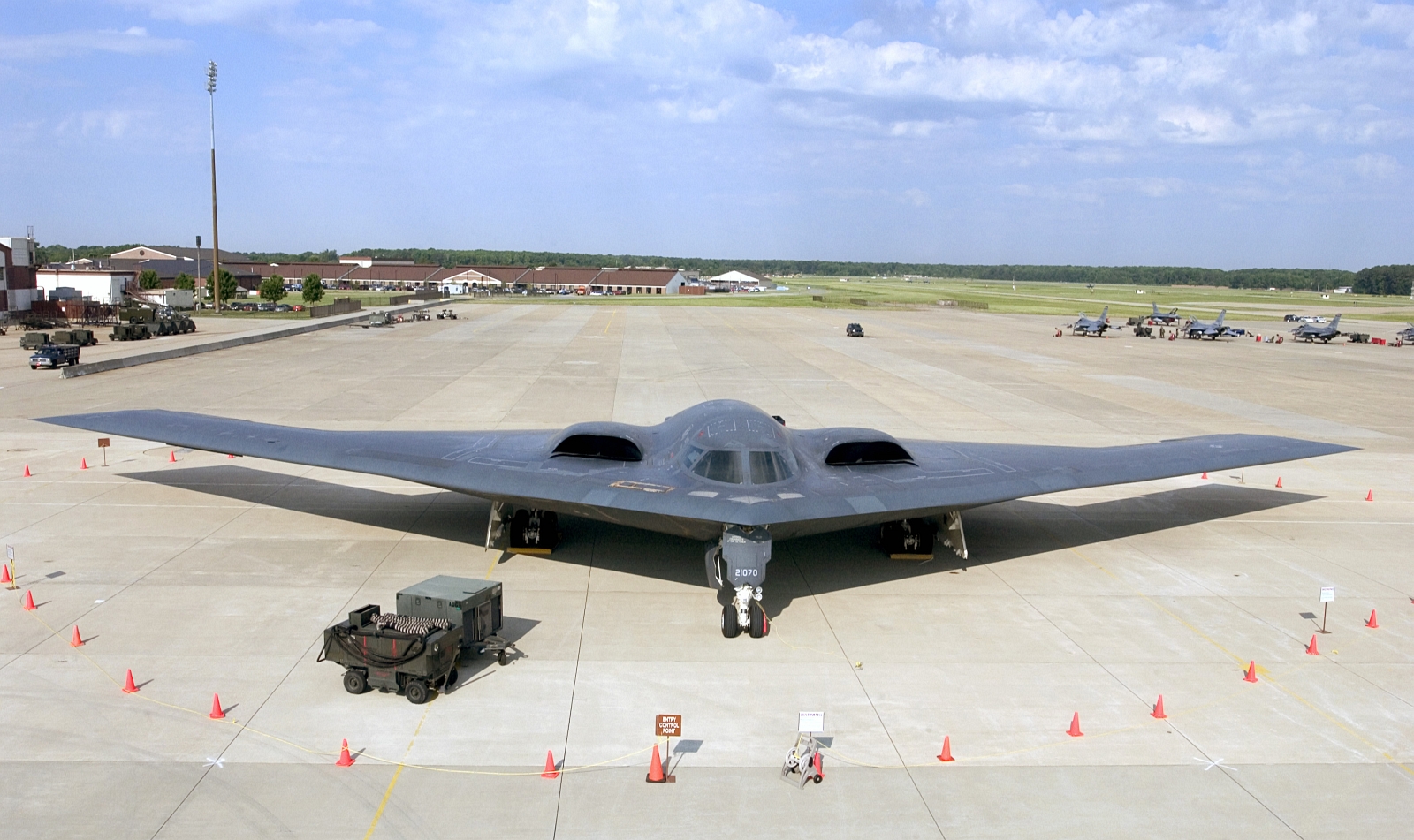 U.S. Air Force B-2 Spirit stealth bomber sitting on the flight line at Langley Air Force Base, Virginia, USA. Via http://ChamorroBible.org/gpw/gpw-200905.htm (medium, large)

The Photographer
Staff Sgt. Eric T. Sheler, United States Air Force
---
TOPICS: Foreign Affairs; Government; News/Current Events; US: Virginia
KEYWORDS: b2; bomber; langleyafb; spirit; stealth; usaf
---
Navigation: use the links below to view more comments.
first previous 1-20, 21-40, 41-46 last
---
To: EnjoyingLife; All
---
To: hoagy62
42
posted on
02/26/2013 4:42:21 AM PST
by
Cyber Liberty
(I am a dissident. Will you join me? My name is John....)
---
To: Colorado Cowgirl
Don't forget we have the U.S. Air Force ICBM's, with 450 delivery vehicles that can deliver 550 nuclear warheads. And U.S. Navy has SLBM's, with 288 delivery vehicles that can deliver 1,152 nuclear warheads in 30 minutes or less.
No don't you remember? obungo promised pootin' that he'd have more leeway after the election. By the time he's done all we'll have are ragged guys drafted from SEIU and the press corp in suicide vests screaming allahu dooby doo while their wives ululate from behind their burkas.

43
posted on
02/26/2013 4:59:50 AM PST
by
Sirius Lee
(All that is required for evil to advance is for government to do "something")
---
To: yarddog
You are mostly Correct Sir! While the Horten brothers did not invent the concept, they got interested in flying wings in the interwar period as glider pilots.
The original workable theory behind the flying wing can be traced back to a Frenchman, Alphonse Penaud, in the 1870's time frame.
But the Hortens claim to fame is that they were the first to produce stable flying wing gliders and then the HO 229.
The only know surviving copy is in pieces in the Smithsonian. It's been scheduled for restoration and some work is underway.
And this radar model is in San Diago.
44
posted on
02/26/2013 6:20:46 AM PST
by
Freeport
(The proper application of high explosives will remove all obstacles.)
---
To: Cyber Liberty
Sorry, a no go. The XB-70 is conventional three surface design.
It's greatest design feature though is that it is the first aircraft to be purposely designed to take into account and use the wave rider effect found in super sonic flight.
The YF-12 and SR-71 are the first aircraft to experience the effect, and Kelly Johnson did add some ability to the SR-71 to make use of the effect, but not to fully exploit it.
The XB-70 needed to utilize the effect if it was to achieve the range and speeds required.
45
posted on
02/26/2013 6:29:08 AM PST
by
Freeport
(The proper application of high explosives will remove all obstacles.)
---
To: hoagy62
Had to go to youtube and watch the XB70 episode again. I'd forgotten that one survived. Have got to find the time to visit Wright -Pat
---
Navigation: use the links below to view more comments.
first previous 1-20, 21-40, 41-46 last
---
---
FreeRepublic.com is powered by software copyright 2000-2008 John Robinson