---
To: markomalley
Hey! I'm no reactionary feminist or anything... but why can't we instate 'THE RULE' here? I want pics!
Equal rights!
Sarah
---
To: Sarah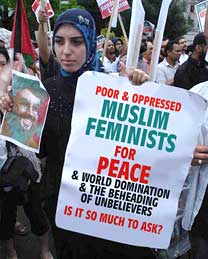 ---
To: Sarah
Exactly! Where are the pictures? ;-)
25
posted on
04/17/2013 5:42:55 AM PDT
by
stayathomemom
(Beware of kittens modifying your posts.)
---
To: Sarah; MinuteGal; stayathomemom; Marie
Sorry Ladies.
It would be a sin against the prophet Mohammed for you to cast your eyes upon them.

32
posted on
04/17/2013 6:40:37 AM PDT
by
gettinolder
(Pursue the enemy relentlessly to the limit of every man's endurance.)
---
To: Sarah
"Hey! I'm no reactionary feminist or anything... but why can't we instate 'THE RULE' here? I want pics!
Equal rights!
Sarah'
Way to go Sarah, whats good for the goose is good for the gander. lol
---
To: Sarah
Consider the culture before you ask. Remember, what you call handsome, may no be the same in their culture...

36
posted on
04/17/2013 6:46:50 AM PDT
by
Red Badger
(Want to be surprised? Google your own name......Want to have fun? Google your friend's names........)
---
FreeRepublic.com is powered by software copyright 2000-2008 John Robinson