~ The FReeper Canteen Presents ~
~ Remembering Our Troops!! ~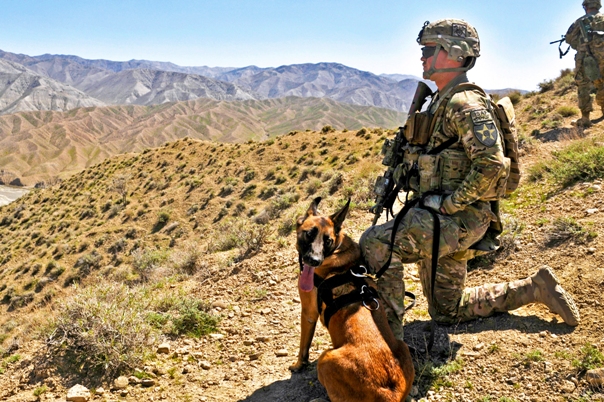 LAIKA'S LOOK
U.S. Army Sgt. Justin R. Pereira, right, and Laika 5, a military working dog trained to detect tactical explosives, provide security as Afghan border police break ground on a new checkpoint in the Spin Boldak district of Afghanistan's Kandahar province, March 25, 2013. Pereira and Laika 5 are assigned to the 2nd Infantry Division's 2nd Battalion, 23rd Infantry Regiment, 4th Striker Brigade Combat Team. U.S. Army photo by Staff Sgt. Shane Hamann







Canteen Mission Statement
Showing support and boosting the morale of
our military and our allies' military
and family members of the above.
Honoring those who have served before.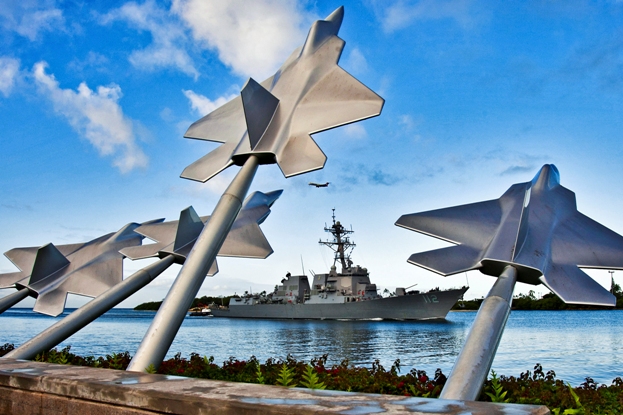 MISSING MAN
The guided-missile destroyer USS Michael Murphy passes by the Missing Man Memorial on Joint Base Pearl Harbor-Hickam in Pearl Harbor, March 29, 2013. The destroyer is named after Lt. Michael P. Murphy, the first person to be posthumously awarded the Medal of Honor for actions in Afghanistan, and the first member of the U.S. Navy to receive the award since the Vietnam War. U.S. Navy photo by Petty Officer 3rd Class Diana Quinlan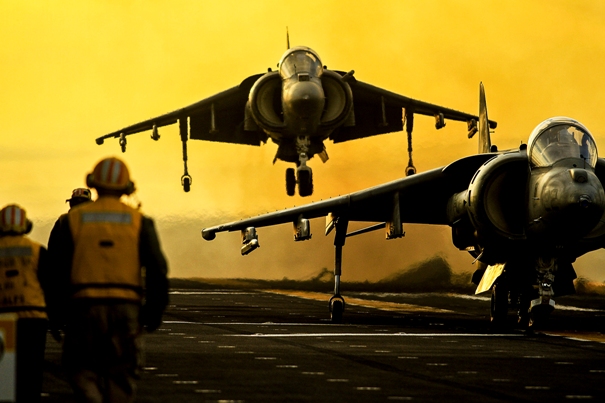 HARRIER HEIGHT
An AV-8B Harrier performs a vertical takeoff from the flight deck of the amphibious assault ship USS Boxer in the Pacific Ocean, March 28, 2013. The Boxer is under way conducting training off the coast of Southern California. The harrier is assigned to the Marine Attack Squadron 214. U.S. Navy photo by Petty Officer 2nd Class Oscar N. Espinoza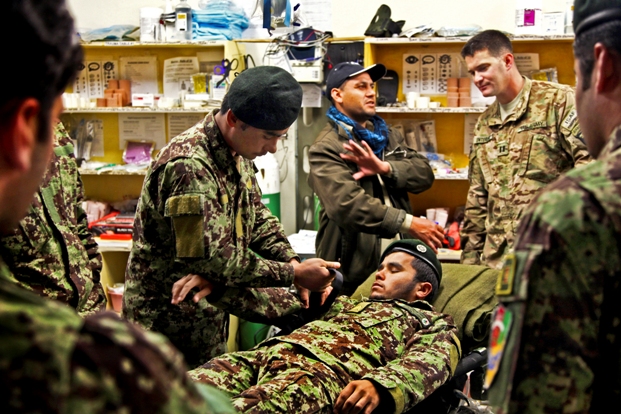 TEACHING MEDICS
U.S. Army Capt. Seth Enterline, second from right, observes as an Afghan soldier teaches fellow combat medics how to apply a tourniquet to an upper extremity during medical training on Forward Operating Base Joyce in Afghanistan's Kunar province, March 18, 2013. Enterline is assigned to the 2nd Brigade, 201st Corps Security Force Advisory and Assistance Team. U.S. Army photo by Spc. Ryan Hallgarth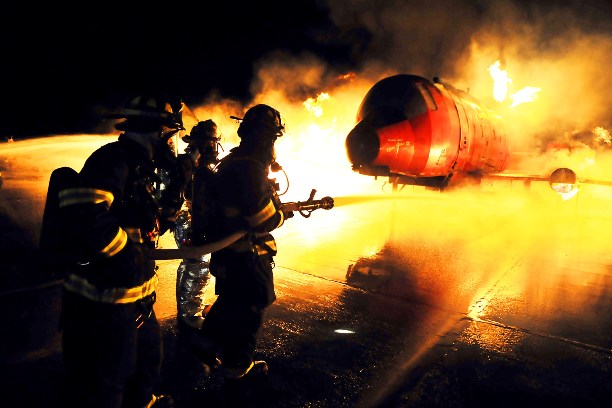 HOT SPOT
Air Force and civilian firefighters train together to remove simulated victims from a mock aircraft burning at 1,200 degrees on Francis S. Gabreski Air National Guard Base in Westhampton, New York, April 2, 2013. The airmen are assigned to the 106th Civil Engineering Squadron. U.S. Air Force photo by Senior Airman Christopher Muncy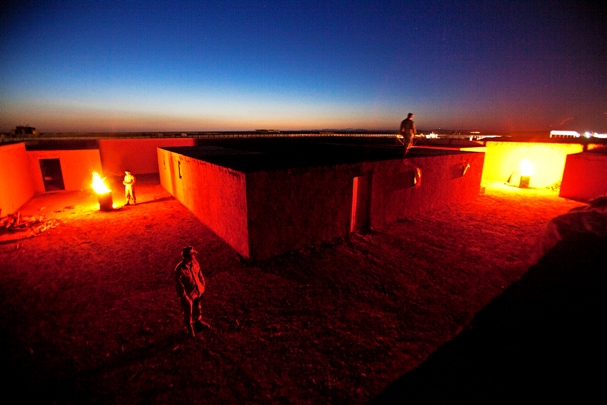 COMPOUND FIRES
U.S. Marine Corps instructors light fires in a compound during training to counter improvised explosive devices on Camp Leatherneck in Helmand province, Afghanistan, April 3, 2013. The Marine instructors are assigned to the 2nd Combat Engineer Battalion. U.S. Marine Corps photo by Sgt. Tammy K. Hineline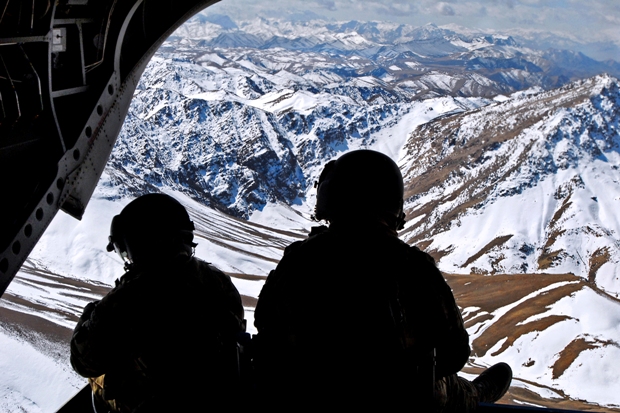 MOUNTAIN WATCH
U.S. soldiers watch from the rear ramp of a CH-47 Chinook helicopter while flying over the mountains in the Khas Uruzgan district of Afghanistan's Uruzgan province, March 16, 2013. The soldiers are crew chiefs, who along with Afghan commandos, provided security for a government-led shura, or meeting. U.S. Army photo by Sgt. Jessi Ann McCormick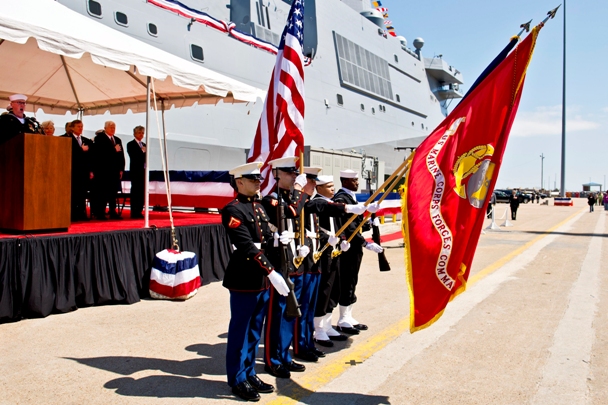 USS ARLINGTON COMMISSIONING
The color guard parades the colors during the commissioning ceremony for the amphibious transport dock ship USS Arlington on Naval Station Norfolk in Norfolk, VA, April 6, 2013. As the third Navy vessel to bear the name, the Arlington commemorates the lives lost and the heroism demonstrated in the aftermath of 9/11. U.S. Navy photo by Petty Officer 3rd Class Frank J. Pikul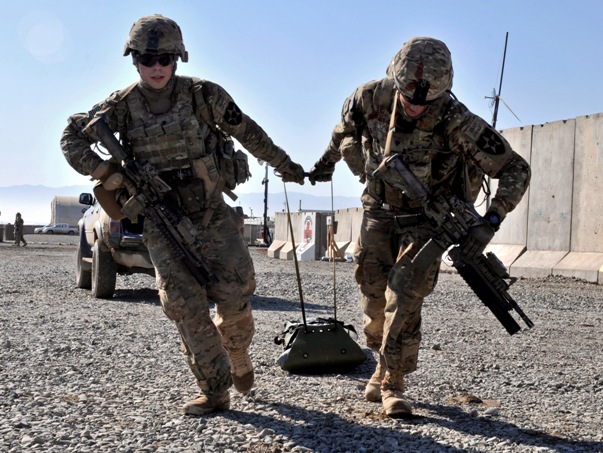 TOMAHAWK TUG
U.S. Army Spcs. Matthew W. Brew, left, and Kirk Calabrese drag a sandbag-filled litter simulating a casualty during the Top Tomahawk competition on Forward Operating Base Spin Boldak in Afghanistan's Kandahar province, March 29, 2013. Brew and Calabrese are assigned to the 2nd Infantry Division's 2nd Battalion, 23rd Infantry Regiment, 4th Striker Brigade Combat Team. U.S. Army photo by Staff Sgt. Shane Hamann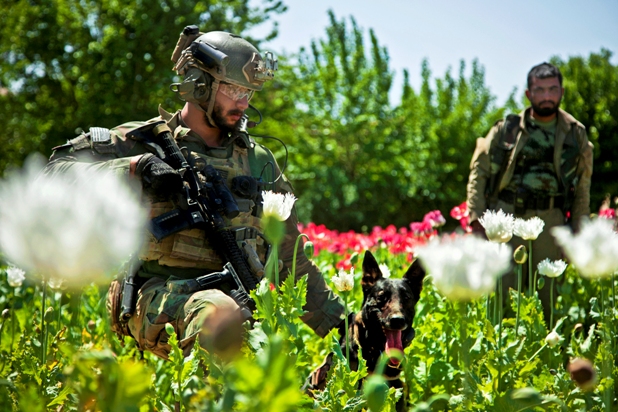 FLOWER FIELD
A U.S. Marine Corps Special Operations team member and his military working dog, Wilbur, maintain security from a field for Afghan army forces helping Afghan local police build a checkpoint in Helmand province, Afghanistan, April 3, 2013. U.S. Marine Corps photo by Sgt. Pete Thibodeau

Please remember that The Canteen is here to support
and entertain our troops and veterans and their families,
and is family friendly.