Interesting how the McKinney camp tried to play down this visit by saying they knew nothing about it, while the AJC is probably going to blow this up on tomorrow's news.

Fahrakahn visiting won't attract any new McKinney voters, only turn certain black voters away from McKinney while re-energizing Jews and whites to vote and GOPers to cross over.

It is clear that Jihad Cindy did not want this news to get out. Good thing AJC is always looking for a way to take her down.

Vote Majette

Interesting how the McKinney camp tried to play down this visit by saying they knew nothing about it, while the AJC is probably going to blow this up on tomorrow's news.

McKinney's known Farrakhan's been coming since July 23. She can't claim she had no knowledge of his visit: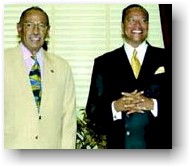 CAPITOL HILL (FinalCall.com)--Fresh on the heels of his peace mission overseas and having just briefed Assistant Secretary of State William Burns on his mission, the leader of the Nation of Islam July 23 reported to his own community through its elected representatives of the Congressional Black Caucus (CBC).
<snip>
On domestic issues, the leader of the Nation of Islam said he would go to Georgia to help politicize Black people to their own self interests and the need to retain Rep. McKinney.
The American Israel Public Affairs Committee (AIPAC) successfully helped to defeat incumbent Rep. Earl Hilliard (D-Ala.) in June. AIPAC joined other pro-Israel groups in helping to pour over $1 million into an aggressive ad campaign against the five-term lawmaker. Rep. Hilliard was targeted for his call for a balanced U.S. policy in the Middle East and enjoyed substantial support from Arab Americans. Rep. McKinney faces former judge Denise Majette, who is also Black, in the Georgia congressional primary.
"Cynthia keep doing it and keep strong," Min. Farrakhan said to the outspoken lawmaker, during the July 23 meeting. "There are many more that you don't see that recognize the truth of what you said," he continued, referring to Rep. McKinney's questions about what the White House knew before Sept. 11 terror attacks on the U.S. Later it was revealed that there had been some indicators and signs of potential attacks and that the White House and government agencies had received some information.
"We are going to fight like hell for you," Min. Farrakhan said to Ms. McKinney. "We were late with Congressman Hilliard to our regret, sorrow and loss. But dear Rep. McKinney, we will not let this happen again without the best fight that all of us can put forward," he said.
The Minister called the defeat of Mr. Hilliard an immeasurable loss for the Black community. But, he added, that if Mr. Hilliard, who was in attendance, wanted to return to office, he believed it could happen in the next election cycle.
"I am saying this to all of you, that any time we send a man to Congress, we don't send him there to represent Israel. We send him there to represent the suffering Black community. It is absolutely abhorrent that AIPAC would spend money to unseat a Black man who speaks for the interests of Black people. We are going to stop this, because it is you (Rep. McKinney) now, then if any one of you dare speak, you are next. You have to stand up as men and women for your people, otherwise we have no right to have any hope in you," he stressed.
Rep. McKinney, who is seeking her sixth term, has come under vicious attack, coupled with numerous death threats over her call for hearings on Capitol Hill to investigate prior knowledge, if any, of the Bush administration regarding the Sept. 11 attacks and votes related to rollbacks of civil liberties.
"I filed a dissent July 22, as the only 'no' vote in the House Armed Services Committee on the War on Terrorism bill, a bill that authorized another $10 billion for war," Ms. McKinney told The Final Call. The bill included worrisome language that encourages military personnel to work with local law enforcement, she noted.
Rep. McKinney thanked Min. Farrakhan for his kind words and his call for CBC members to be free to act on their convictions. She also thanked Rep. Conyers for bringing the Minister to members of the Black Caucus.
She also believes the media intentionally misreported her words about Sept. 11 and the White House.
Min. Farrakhan cited AIPAC's role in the unseating of former Illinois Congressman Gus Savage and others. "Everybody who does not agree with all of the tax payer dollars that Israel receives each year is called anti-Semitic. Why don't we say, 'you (AIPAC) are anti-Black?' " Min. Farrakhan asked. "Because they have done more to prove that they are anti-Black than any of us have done to prove that we are anti-Semitic, including Louis Farrakhan."
Fortune magazine ranks AIPAC as the fourth largest lobby group in the country. Since the 1989-90 election cycle, pro-Israel interests have contributed $41.3 million in individual, political action committee and soft money contributions to federal candidates and party committees. More than two-thirds of that total, or $28.6 million, has gone to Democrats, according to Open Secrets, a Washington, D.C.-based watchdog group.
"I want to come to Georgia, wherever your district is and outside your district, and I want to tour, speaking in churches and town halls; wherever I can get to speak, to alert the Black people and the White people to what is actually happening here. The country has already been taken and now we have to take it back," Min. Farrakhan said.
Legislators able to attend the briefing were: John Conyers, Cynthia McKinney, Maxine Waters (Ca.), Eva Clayton (N.C.), Earl Hilliard (Ala.), Carolyn Kilpatrick (Mich.), Julia Carson (Ind.), Gregory Meeks (Fla.), Shelia Jackson-Lee (Tx.), Sanford Bishop (Ga.), Mel Watt (N.C.).
Photo: Rep. John Conyers and Min. Farrakhan at meeting with CBC
Credit: Eric Ture Muhammad