---
This was raid number 5 on St Nazaire by the 8th. News of the target for the day produced visible dismay among the assembled crews of the previously untested 305th Bomb Group commanded by the redoubtable Curtis Lemay. A fairly good feel for the mission can be obtained by reading pages 240-45 of Lemay's autobiography 'Mission With Lemay'. (This is a difficult but important book about the USAAF in WW2. Difficult as McKinley Cantor did a hurried and not very good job editing the transcriots of taped narrative by Lemay. One neeeds a good history of the war in the air such as Freeman's 'The Mighty Eighth' or the appropriate volumes of the official 'The Army Air Forces in WW2' to fully understand the context of Lemay's remarks. Warren Kozak's 'Lemay' provides a good chronological narrative and covers this action on pp102-5.
Lemay mentions the 305th lost two B-17's on this raid but dseems unaware of the saga of Sgt MaGee.
Unlike in Korea or Viet Nam captured injured USAAF personnel were treated as well as personnel from the GAF would have been.

---
To: robowombat
I read that story quite a few years ago. I did not realize he was so badly hurt tho.
Around 20 years ago, a paratrooper dropped on a training mission at Eglin AFB. His chute did not open but he fell in a muddy field and miraculously survived.
---
To: robowombat
I was a 4 year old kid when WWII ended - living in a 'trailer court' a half-mile from the front gate of Biggs AFB in El Paso TX - where for months I watched thousands of planes from the war being flown in for 'mothballing.' Several barely made it, coming in smoking and motors failing.
In those days I would go (with parents) a half block away to a big bar that was the first place to get a drink after leaving Biggs. There I listened to many a story from newly discharged AF pilots, gunners, mechanics, etc - many wounded with missing legs, arms.
One of them lost a leg after his plane came apart, he fell out of the sky with no 'chute' and landed on a barn-roof, then a large pile of hay inside.
I heard a great number of stories in those days, a few of them making a near-indelible life-long impression on memory.

---
To: robowombat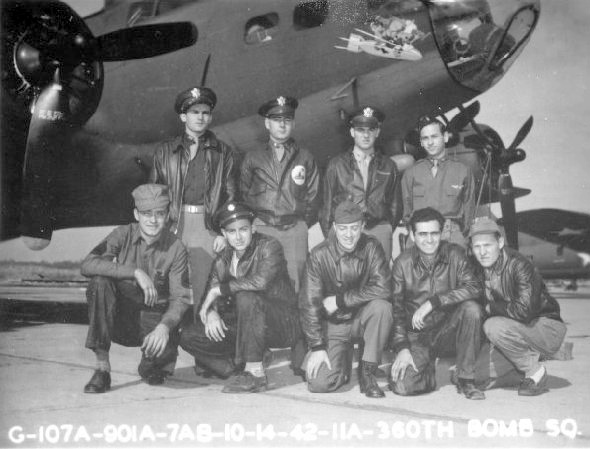 The original crew 10/14/42.
The original nose art.
S/Sgt. Alan Magee

---
To: robowombat
My uncle survived the crash of his B-17 in January, 1944. He spent the remainder of the war in a POW camp.
I've always regretted that I never got a chance to hear about it from him.

---
FreeRepublic.com is powered by software copyright 2000-2008 John Robinson