Today the FReeper Foxhole invites you to visit the home of the skeptical, irrascible, doubting, iconoclastic Captain Critical, aka Captain Barb, whose pontificating will try to amuse, bemuse, irritate and generally annoy anyone bold enough to stay long enough to read the random ramblings of a self appointed distaff critic of anything and everything from new age to old age, from god to goddesses, and from here to infinity. And who will continue to remind you that women are veterans too!

Did you know that there are almost two million women veterans? From the American Revolution to Panama, Bosnia, Kosovo, and more, women have served in some way in every conflict. Not that they were legal in the early days. History tells us that thirty three thousand women served in World War One and almost 500,000 took part in World War Two. During the Korean era 120,000 women were in uniform and seven thousand were deployed in theater during Viet Nam. During Desert Storm seven per cent of the total U.S. forces deployed were women - over forty thousand of them. So on these pages you will find the history and accomplishments of those women who have served this country - voluntarily - since it's beginning.

Amazing women, do amazing things.

More about women in war:


Revolutionary War Women
Civil War Women
The War of 1812 and Spanish American War
World War One Women
World War Two Women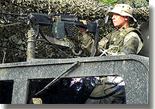 They Also Served -WASP, Spec. Svcs.
Post WWII and Korea Women
Women in Vietnam
Women in Grenada and Panama
Women in Desert Storm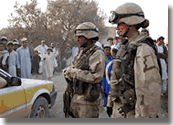 Somalia, Bosnia and More
Operation Desert Fox
The Military Academies
Women in the National Guard
They Gave Their Lives

Women Prisoners of War
Famous Women in Arlington National Cemetery
Gender Integrated Training
Women Who Were Spies
Military Women Pilots

Myths, Fallacies and Urban Legends
21st Century Combat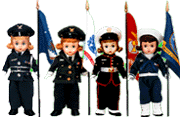 Click on the graphic to visit Captain Barbara A. Wilson's, USAF (Ret) Site

If you want to know anything about women in the Military,
this site is the best I've ever seen