pcottraux

Since May 2, 2005



A long, long time ago, I was an official unofficial amateur cartoonist on FR. The archives of all my FReeptoons are at the bottom of the profile page here.


The (Retired) FReeptoons ping list:




Goodgirlinred; Army Air Corps; scott7278; LucyT; TheresaKett; Rca2000; Nowhere Man; Irish_Thatcherite; phatoldphart; pookie18; TrueKnightGalahad; PaulaB; misty4jc; A message; synbad600; The Phantom FReeper; Maximus_Ridiculousness; Rocky; Bethbg79; Hoodlum91; areafiftyone; 4CJ; Dark Skies; DollyCali; Victoria Delsoul; Fred Nerks; DHak; Echo Talon; infidel29; rdb3; Fierce Allegiance; Jemian; caryatid; Monkey Face; wildcatf4f3; MsMoose; Severa; phantomworker; proud_yank; AmericaUnite; ottersnot; RockinRight; shezza; PROSOUTH; A knight without armor; Bigtom85; Solamente; Al Simmons; Supernatural; rzeznikj at stout; SFC Chromey; txroadkill; politicket; Hildy; my_pointy_head_is_sharp; phoenix0468; kattracks; JJR RNCH


The Cryptozoology Ping List: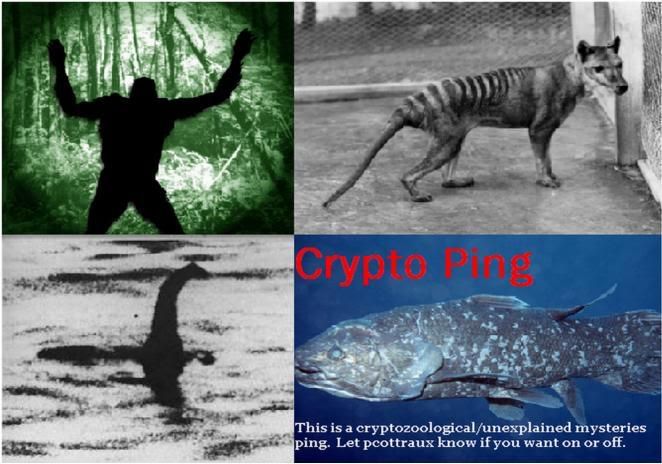 Angelas; presidio9; Idisarthur; Hegemony Cricket; A knight without armor; new cruelty; SunkenCiv; Jhohanna; S0122017; Alas Babylon!; Antoninus; Renfield; LanPB01; SandfleaCSC; Potowmack; Rightwing Canuck; Daralundy; gnarledmaw; 75thOVI; CurlyBill; To Hell With Poverty; Politicalmom; corbie; Xenalyte; IllumiNaughtyByNature; beezdotcom; Blzbba; Marius3188; PalestrinaGal0317; Awestruck; Inyo-Mono; Brujo; Vision; SJackson; Archangel86; NavyCanDo; Rev. Pogo; soundbits; curmudgeonII; ForOurFuture; garbageseeker; Conservomax; GunRunner; FreeManWhoCan; Sloth; Esther Ruth; Grizzled Bear; AtomicBuffaloWings; ExSoldier; Redcitizen; Non-Sequitur; Mmogamer; Churchjack; Walkingfeather; Kevmo; WorkingClassFilth; Fabian; Fedora; albee; jsh3180; bukkdems; sneakers; Gil4; PLMerite; Yellow Rose of Texas; Flavius; Artemis Webb; SquidPup; MoochPooch; akorahil; JJR RNCH; GovernmentIsTheProblem; Chipper; dragonblustar; Do Be; texas booster; Hydroshock; Old_Mil; BostonianRightist; Olephart; Carilisa; Berlin_Freeper; gopheraj; buschbaby; T. Buzzard Trueblood; sevenbak; The Ghost of Rudy McRomney; happinesswithoutpeace; manapua


And now the reason you probably came here:
THE FREEPTOONS ARCHIVE!!!!
The Shark Is In Trouble
What to Make of Miers?
Back After A Long Break: The Mysterious Empress
More Pathetic Than the Media
The New Movie
Al Gore Goes Berserk
The Iraq Elections
Someone's Ahead of the Shark
Hurricane Wilma Controversy
Lost Another One
A Wonderful Announcement
The Donkey Needs Advice
Paris Is Burning
Celebrity Gossip
Senate Stampede!
He Hates Bush
A Terrible Assignment
The Visit to Moveon.org
The Good Ol' Days
Reminiscing
Nancy Pelosi's Revenge
Saddam's Trial
The Latest Al-Zawahiri Tape
The Christmas Card
ACLU Visit
The Christmas Strip
ZOT Graphics Special
Iran's President's Committee
Bush's New Year's Resolution
Meeting with Vicente Fox
Belafonte's New CD
Ted Kennedy Has a Breakdown
Pakistani Outrage
Bin Laden's Greatest Hits
"The West Wing" Canceled
Hillary and the Plantation Speech
The Shark Has a Stalker
Anti-Islamic Cartoonists
The Danish Media
The Odd Couple
Franken for Senator
The Chosen One
Those Guys Have Issues
The UAE Ports Thing
The Grudge Match of the Century
Who's Your Money On?
Clooney Wins the Oscar
The 50th FReeptoon!
Milosevic
Saddam Documents
Disposing of Iraq's WMDs
The Cindy Sheehan Movie
Illegal Immigrants
Replacing the Donkey
A Job for the Burro
The OTHER Illegal Aliens
Conquering the Planet
The Elephant Takes a Break
Helen Thomas
Muslims...In Space
Zarqawi's Funniest Bloopers
President of Al-Q'aida
Grandpa Murtha
Shark and the Secret Box
Korea's Day of Grory
Enough is Enough!
The Biggest Story of the Year
The Media's Idea of How to Win a War
A Good Use for Children
Iran Cartoon Contest
Mr. Assad
Rest in Peace: A Tribute
Guest Speaker
Clinton's Legacy
North Korea Has Nukes Now
Streisand Gets a Nose Job
The End