Saoirse
("sear + sha)
Irish word saoirse "freedom, liberty." It has only been used since the 1920s and has strong patriotic overtones.
It has become a very popular baby girl name in Ireland in recent years.
(Yes, I know I spelled it wrong, Saoirise. A typo when I entered it. What am I gonna do about it?!)
"Tell me what you love and I'll tell you who you are."
Emigrated to Los Angeles, CA from the west of Ireland (US Citizen). I am a proud US Military Supporter. I love this great country!
"Freedom is not free, but the U.S. Marine Corps will pay most of your share."
~Ned Dolan

Please pray for our Military. The current Administration is doing its best to break the backs and morale of the finest fighting machine that God has ever created!
Let Freedom Ring
Ladies and Gentlemen, the sound of Freedom!
**********************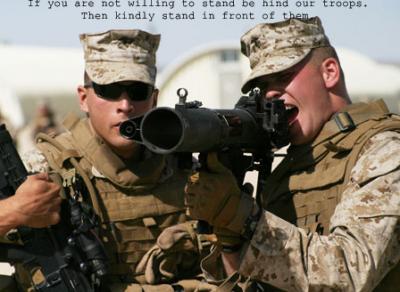 OORAH and Semper Fi !!!!
*******************************
To know where you're going you must know from where you came.
The Soldier's Song - Words / Lyrics
We'll sing a song, a soldier's song,
With cheering rousing chorus,
As round our blazing fires we throng,
The starry heavens o'er us;
Impatient for the coming fight,
And as we wait the morning's light,
Here in the silence of the night,
We'll chant a soldier's song.
Chorus:
Soldiers are we, whose lives are pledged to Ireland;
Some have come from a land beyond the wave.
Sworn to be free, No more our ancient sire land
Shall shelter the despot or the slave.
Tonight we man the gap of danger
In Erin's cause, come woe or weal
'Mid cannons' roar and rifles peal,
We'll chant a soldier's song.
In valley green, on towering crag,
Our fathers fought before us,
And conquered 'neath the same old flag
That's proudly floating o'er us.
We're children of a fighting race,
That never yet has known disgrace,
And as we march, the foe to face,
We'll chant a soldier's song
Sons of the Gael! Men of the Pale!
The long watched day is breaking;
The serried ranks of Inisfail
Shall set the Tyrant quaking.
Our camp fires now are burning low;
See in the east a silv'ry glow,
Out yonder waits the Saxon foe,
So chant a soldier's song.
Scenes from the west of Ireland
Cowabunga! Surf's up in Ireland O'dude!
Grace O'Malley, the Pirate Queen of Ireland


(Gráinne Ní Mháille)
Coffee: the Breakfast of Champions
You can't kiss an Irish girl unexpectedly. You can only kiss her sooner than she thought you would.


---Irish Saying
************************
Joey's on the Street Again
'Cause I'm A Blonde
Blonde Star
Don't Stop Believing
Courtesy of the Red White and Blue
************************************************************************************************************************
Please pray for this beloved Marine.
Staff Sergeant Frank Wuterich, USMC
A leader who was caught in an insurgent ambush in Haditha, Iraq. A hellhole firefight ensued during the city wide planned attack by the insurgency on November 19, 2005, and still miraculously brought all but one of his men home alive. He is now being persecuted by the Marine Corps and the US Government for doing the job he was trained AND asked to do.
"War is cruel and you cannot refine it."

~General William Tecumseh Sherman, US Civil War,1864
A tribute of Thanks to all those who have made the ultimate sacrifice for our Nation and its freedom.
"Though he brings grief, he will show compassion,
so great is His unfailing love."


Lamentations 3:32
"For we do not have a High Priest who cannot sympathize with our weaknesses, but was in all points tempted as we are, yet without sin. Let us therefore come boldly to the throne of grace, that we may obtain mercy and find grace to help in time of need."
Hebrews 4:15-16
"These things I have spoken to you, that in Me you may have peace. In the world you will have tribulation; but be of good cheer, I have overcome the world. "


John 16:33
"I am the way, the truth, and the life. No one comes to the Father except through Me."


John 14:6
"May love and laughter light your days,
and warm your heart and home.
May good and faithful friends be yours,
wherever you may roam.
May peace and plenty bless your world
with joy that long endures.
May all life's passing seasons
bring the best to you and yours"