---
First three months of trade data with China for 2018 are in. YET ANOTHER ALL-TIME RECORD DEFICIT
Foreign Trade, US Department of Commerce ^
Posted on 05/06/2018 1:22:49 PM PDT by cba123
Well the first quarter data for 2018 is done.

---
TOPICS: Chit/Chat
KEYWORDS: america; china; trade

Not good.

America seems to be headed toward YET ANOTHER RECORD TRADE DEFICIT with China.

Trump's webpage has been quiet over the weekend.

He's now meeting with the team, which was just in China, for talks about our ever-worstening trade situation.

---
To: cba123
---
To: cba123
Why would you expect it to reverse itself in the first quarter of 2018? People will buy American goods once American goods are available as substitute products for Chinese imports at comparable prices. That hasn't happened yet and it will take time for even the smallest change. Trump's tax changes will help, but it will take time to gear up after decades of benign neglect by the clowns in Washington who think it's a good idea to paint business as the bad guy. If they want to see the bad guy in all this, all they need do is look in the mirror.
---
To: cba123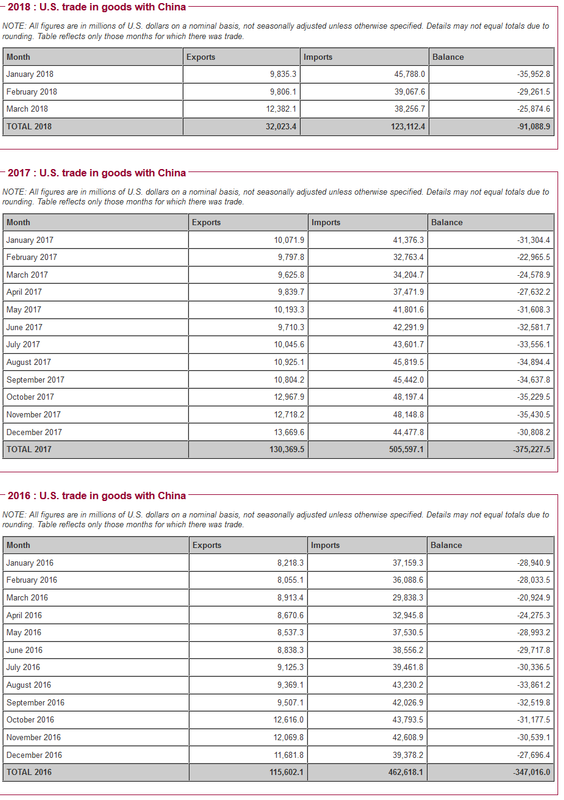 4
posted on
05/06/2018 2:32:19 PM PDT
by
Theoria
(I should never have surrendered. I should have fought until I was the last man alive)
---
FreeRepublic.com is powered by software copyright 2000-2008 John Robinson