---
Aladdin: Why Will Smith's Blue Genie Looks So Bad In Live-Action
Screen Rant ^ | 02/11/19 | Kayleigh Donaldson


Posted on 02/12/2019 12:52:08 AM PST by Simon Green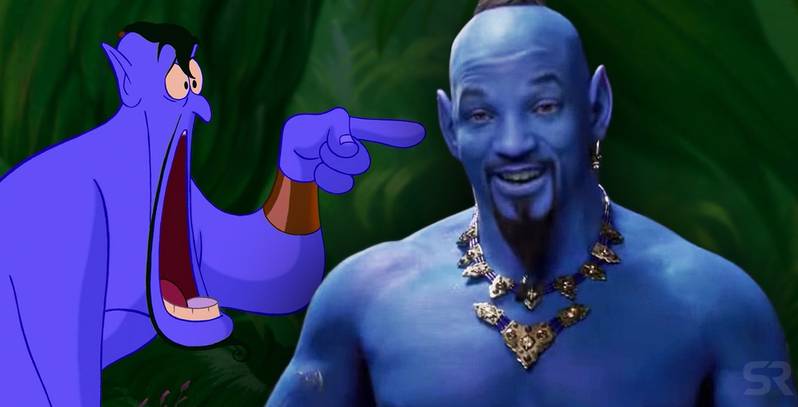 The first reveal of Will Smith in full blue mode as the Genie in Disney's live-action Aladdin remake has not gone down well with fans. While The Walt Disney Company's current strategy of live-action remakes of their animated classics has yielded glorious profits, the end results haven't been so beloved in more critical terms. So far, the movies have been met with responses ranging from surprisingly good (The Jungle Book) to OK (Cinderella) to highly mediocre (Beauty and the Beast). However, with audience demand so high and the benefits so strong for the company, they've been given no reason to slow down with this plan. 2019 alone will see 3 live-action remakes release in theaters: The Lion King, directed by Jon Favreau; Dumbo, directed by Tim Burton; and Guy Ritchie's Aladdin.
Aladdin is the film of this trio that has been on the shakiest ground since its announcement. Eyebrows were raised at every turn, from the unusual choice of director to the casting to the questions over how Disney would handle a story set in the Arab world. The casting of Will Smith as the Genie was divisive but made sense in the grander scheme and offered some real star power to a movie whose ensemble is mostly made up of unknowns. The first reveal of Smith as the (non-blue) Genie proved underwhelming, with many wondering if we would ever see the character as he appears in the animated film. And then we saw blue Will Smith.
The latest Aladdin TV spot prominently features Smith in blue form, and the reactions were, to put it mildly, not great. Indeed, the image of large shirtless Will Smith with blue skin, a pointy black beard and long ponytail atop a bald head has already become Twitter's favored meme of the week. For fans of the original concerned that Aladdin might not be able to pull off the translation to live-action, the new trailer did not inspire any hope. Smith is not the only problem the new footage features, but it remains the most prominent and the sheer strangeness of it highlights a problem the movie and Disney cannot ignore: The genie looks bad.

---
TOPICS: TV/Movies
KEYWORDS: blueface; disney; genie; willsmith
---
Navigation: use the links below to view more comments.
first 1-20, 21-38 next last
---
---
---
---
---
---
---
---
---
---
---
---
---
---
---
---
---
---
---
---
---
Navigation: use the links below to view more comments.
first 1-20, 21-38 next last
---
---