We won't go quietly where the Deep State wants to take ALL of us - NO to their gun grabbing, their staged riots to frame patriots
Free Republic veterans have told us how it was in the early days of the forum. You organized rally's meet ups, phone campaigns, protested etc. Together you raised your voices to make things happen.
How Did You Do IT?

We must DO IT AGAIN to keep our Republic FRee.
Virginian patriots are being set up by Deep State actors. They need us to support them and all of us need to support President Trump. The federal government has natural limits to the power it exercises over states and this fact is being used to shut down conservatives.
Virginia is just the starting point; the Deep State wants to set a precedent for your state. Those who want to rule over us are watching how we react to their abuses in Virginia.
Have you seen Tweets regarding the actions of the Governor of Virginia? (see below). Just as other Deep State governors are going to watch and learn from Virginia, we need raise our voices unless we want their tactics to come to our states. If we stop this now, we will not have to work 10 times harder when they come our states.
They are extremely desperate because their attempts to remove President Trump are failing. But we are far more determined than they are.
Here's a few examples of the gun grab and the cages they are preparing for WE THE PEOPLE:
"On Monday they will stage an attack where provocateurs acting as 2a supporters will harm antifa on camera; MSM and Northam will call for a crackdown and justify themselves."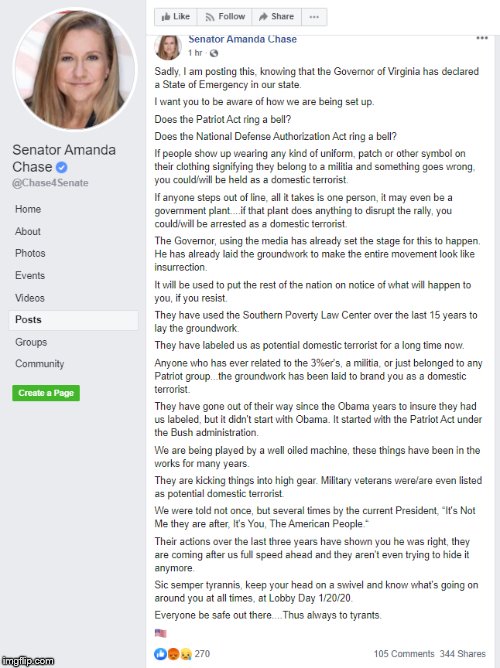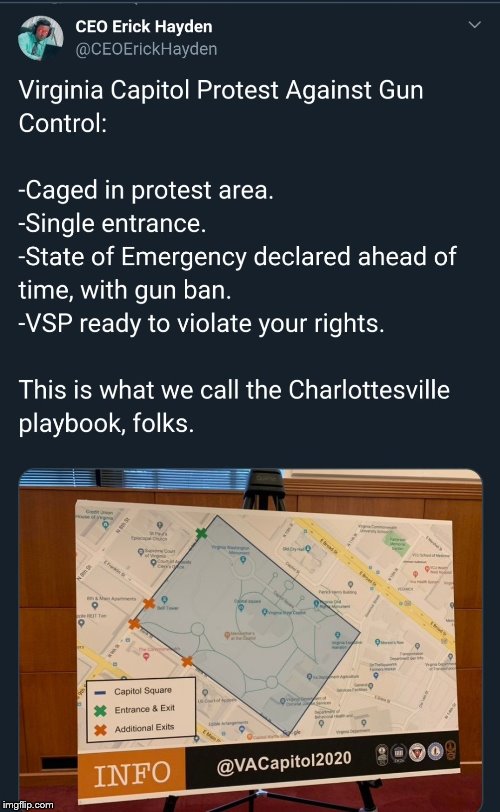 FReeper Patriots, SHOW US HOW IT'S DONE
I will do my best but I want strategie to have the most impact from my efforts.
We have seasoned FReepers; we have new blood with new ideas, we have people of every level of experience in between. We have people with communications expertise, political savvy. We want our efforts to be strategic and have maximum impact.
IDEAS. We need your experience, your professional skills. Frankly, if we don't show the Deep State holdovers that we will flood their phone lines, stage Social Media campaigns, protest their presence, any legal public action needed to drive them from office, our states are next in line.
They are acting like Obama is still president. Remember when his staff eagerly said, President Obama is ready to RULE?
LETS say "NO" to OBAMA wanna-bees. LETS LET THEM KNOW THAT OBAMA Is GONE. LETS TELL THEM WE DON'T HAVE "RULERS", we elect leaders. And any elected official either supporting or silent regarding the abuses going on now in Virginia shouldn't bother running for office again anywhere, ever.
We must act now - Virginians need us and the Deep State is WATCHING.
PLEASE SHARE YOUR KNOWLEDGE BELOW.