---
Path To Supporting Our Troops: Week 214, Olney, 02-13-2010
February 14,2010


Posted on 02/14/2010 9:53:44 AM PST by trooprally

We've been roughly plowed out of our subdivisions since late Thursday with the roads being rutted with up to 5" of snow pack. And the main roads were down to pavement but you unexpectedly loose lanes driving down them. But we survived. And our red banner survived. And we were back out on the corner in Olney.

BELOW LEFT: Lurker Bill doing our reenactment of the Iwo Jima flag raising. Iwo Jima Vet Glenn BELOW RIGHT: appreciated our efforts. Note that the snow mound is higher than the banner, and the banner is on the 'grassy knoll' about 2 feet higher than the street.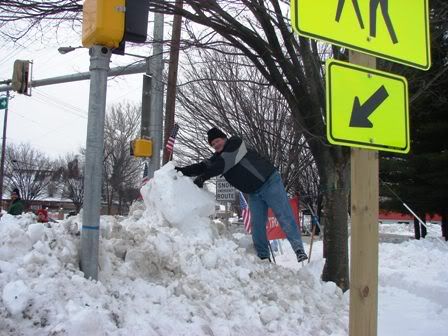 Patriots in Olney this windy and chilly Saturday include Glenn (USMC, WWII), Halsey (USMC, Korea), Carl (Army, Vietnam), Lurkers Bill and "D" and Cindy_True_Supporter, Fraxinus and [Mrs] Trooprally and myself.
Pictures by [Mrs] T
BELOW LEFT: Cindy_True_Supporter on the Path To Supporting Our Troops. BELOW RIGHT: Path is getting deeper!!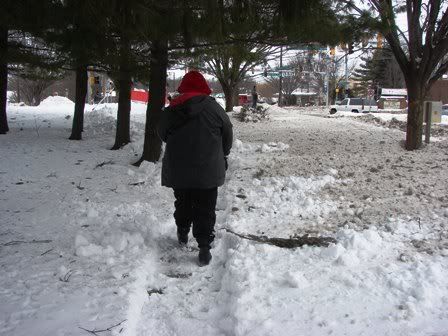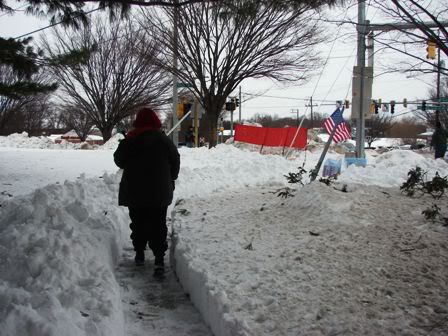 BELOW: Cindy_True_Supporter makes it to Robert Frost's proverbial Diverging paths . BELOW RIGHT: Cindy_True_Supporter takes the path to our right flank and joins Fraxinus on the snow mounds. Keeping safety in mind, a level area was stomped down far enough away from the road to keep them from falling into said road. The white snow behind them is the original snow fall and is knee deep.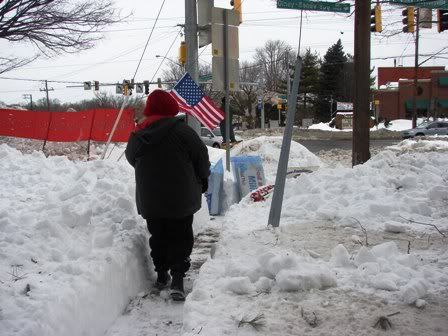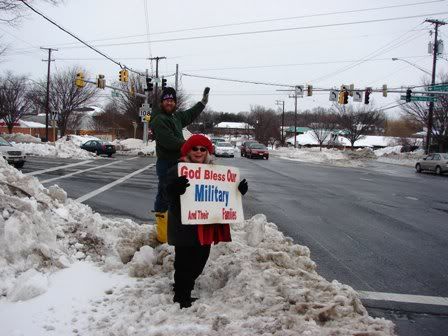 BELOW LEFT: Lurker Bill shoveling off planter. BELOW RIGHT: Halsey, Lurker Bill and me on planter. A small section of the sidewalk was cleared by the shopping center's management but to get to our position is a long walk to our vehicles vs the short walk we shoveled out. Plus our path served both flanks.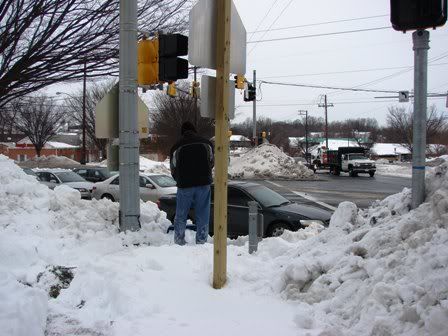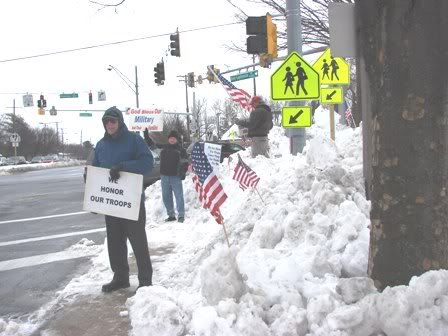 BELOW LEFT: Carl also made it. Even with his cane he walked our path to the planter and then climbed down to the walk. BELOW RIGHT: And Lurker D made it. FYI, no moonbats today.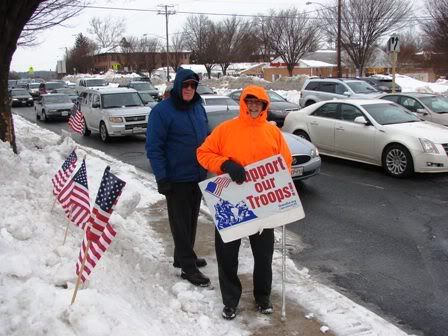 BELOW: Maryland hired some of New York's snow blowers. This is a big, loud and lumbering vehicle. It took the whole intersection and several minutes to make its turn. Originally we thought the blower was going to continue south so Fraxinus and Cindy_True_Supporter left their position and joined the patriots on our left flank. They were standing on the mound that was actually in the street and directly in the path of the blower. And the blower throws the snow a good 30 feet.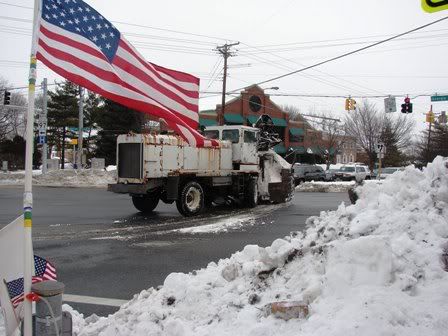 WARNING TO FREEPERS ATTENDING OLNEY
Some new money making have been installed on north bound Georgia Avenue right before you enter the main business district. Slow your speed after the light at King William Drive.
And a new one has been placed just south of Brookeville, between Brookeville and the Longwood Community Center.




REMEMBER
Next Saturday, same place, Georgia Avenue, MD Rte. 97 and MD Rte. 108 in Olney
NEW TIME - 10:15 AM to 11:45 AM


As always, the D.C. Chapter's rules for protesting will be in effect. Briefly, they are: No violence, no profanity, no racism, no provocations, obey the law and treat all law enforcement officers with respect.
But a lot of verbal engagement in Olney is always welcome.

---
TOPICS: Activism/Chapters; Free Republic; US: Maryland; US: Virginia
KEYWORDS: aar; military; mobilizingmothers; moonbats; opinfinitefreep; patriotism; peaceactionmc; rally; supportourtroops
---
---
---
---
---
---
---
---
---