---
iMacMan's Great Pics and YES 3DJoy - There Is a [Mrs] T: Week 215, Olney, 02-20-2010 – Pic Heavy
February 25,2010


Posted on 02/25/2010 4:50:13 PM PST by trooprally

Being sarcastic, but YES 3DJOY, there is a [Mrs] T and iMacMan's pictures prove it!!

BELOW LEFT: [Mrs] T putting flags on snow mound. BELOW RIGHT: And waving to a passing supporter.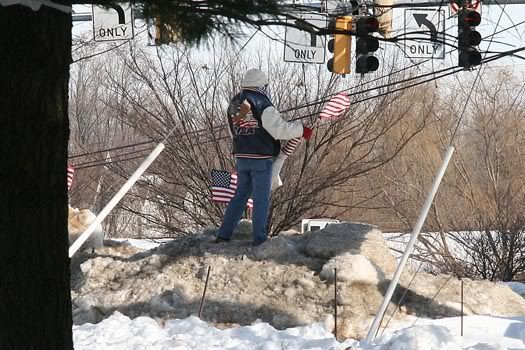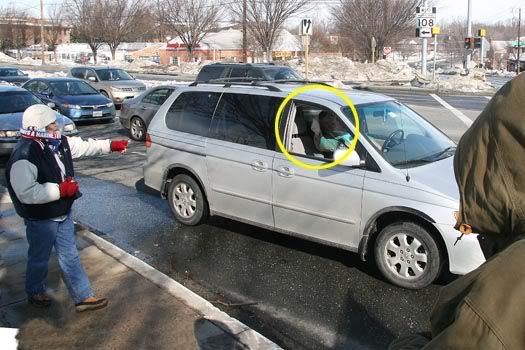 BELOW LEFT: PleaDeal, recognize [Mrs] T's USMC scarf?? BELOW RIGHT: Dueling picture taking with iMacMan.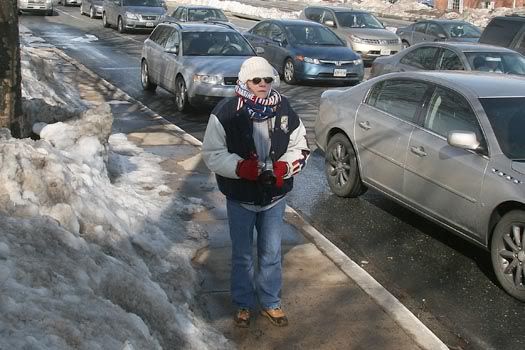 Patriots in Olney this Saturday include Dave (Army, WWII) and friend Janet, Glenn (USMC, WWII), Halsey (USMC, Korea), Carl (Army, Vietnam), Lurkers Bill and "D" and Cindy_True_Supporter, iMacMan and [Mrs] Trooprally and myself.
Pictures by iMacMan and [Mrs] T are mixed together.
BELOW LEFT: There iMacMan is, on the planter, with Lurker Bill over Halsey's shoulder. BELOW RIGHT: Full Monte of Lurker Bill. I'm "lurking" in the back ground.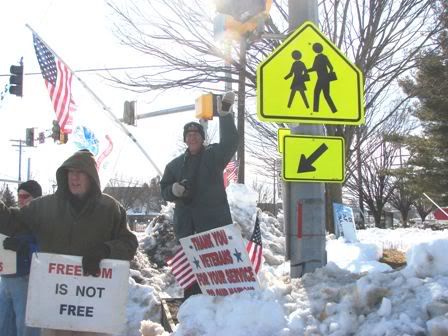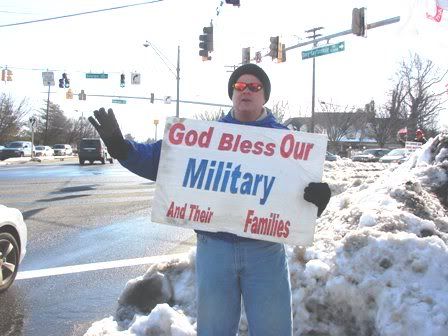 BELOW: The sisters below had to walk on the moonbat's side of the street since our corner was snow over. But their spirit is still with us.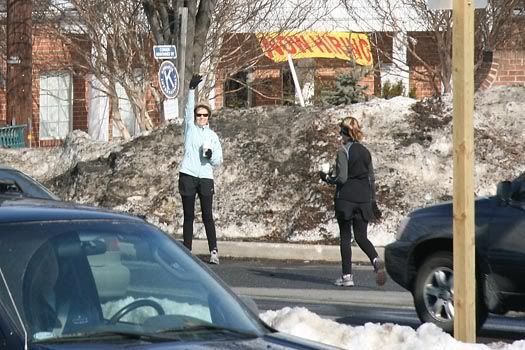 BELOW LEFT: Me with Carl on a snow mound. Carl's a tough cookie. He got out on the mound even though he has to use a cane to get around. BELOW RIGHT: The Legionnaires and others were on our right flank this week. They include Cindy_True_Supporter (Legionnaire), Lurker "D", Dave, Janet and Glenn. The shopping center's management actually cleared part of this State owned public walk before running up against the 8 foot mound. Note that this is a 'look down' view of our right flank since [Mrs] T is on top of the snow mound.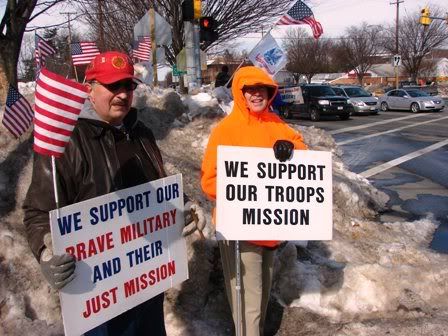 BELOW LEFT: Me with Lurker Bill unfurling flag. BELOW RIGHT: Flags were all we were able to set up today.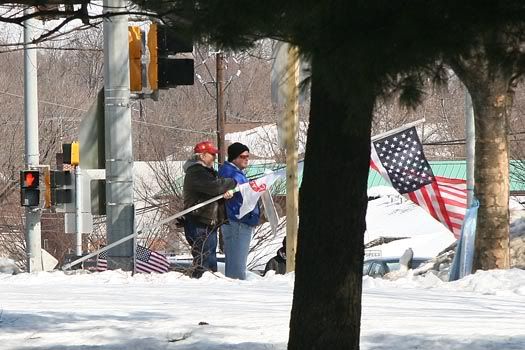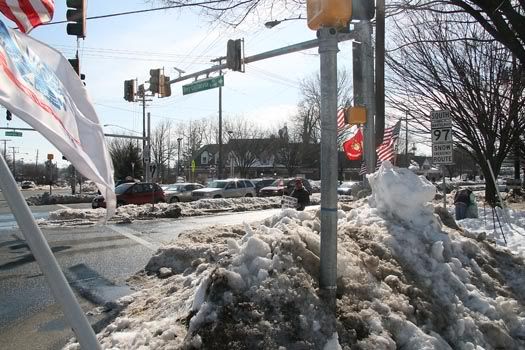 BELOW: Lone moonbat made it this week.
NOW


iMacMan's GREAT PICS OF PASSING SUPPORTERS!!!!
File with all of iMacMan's and [Mrs] T's pics HERE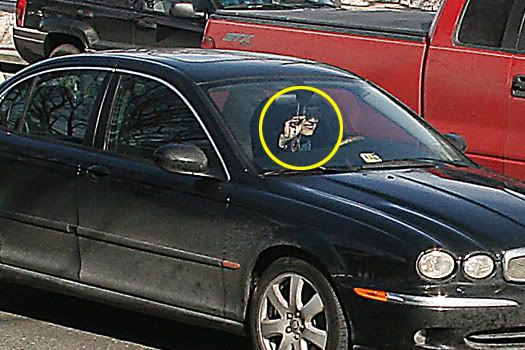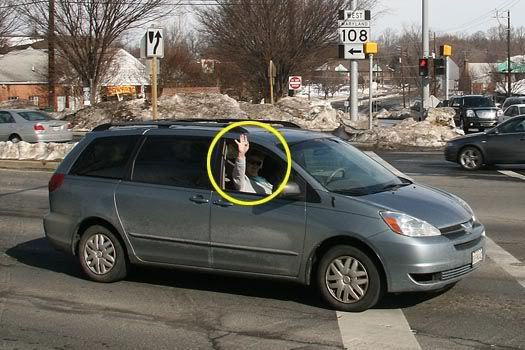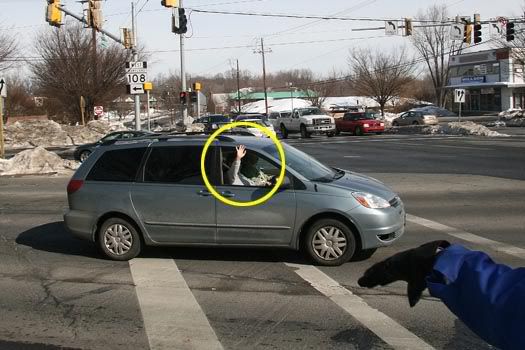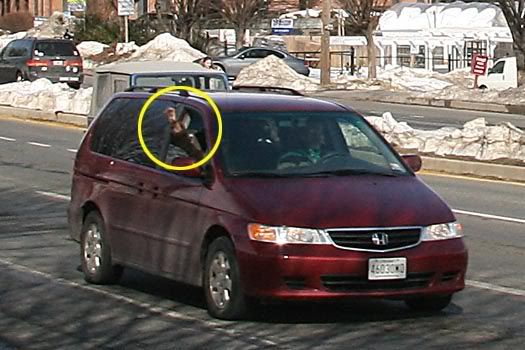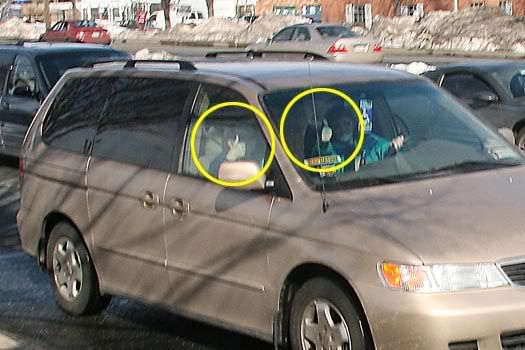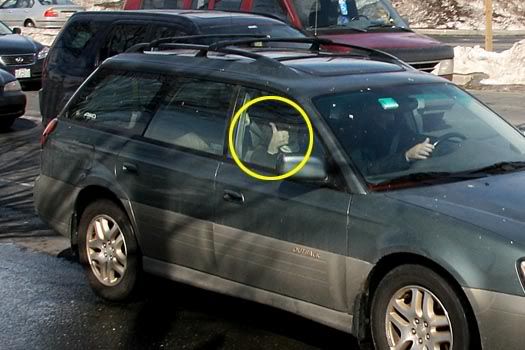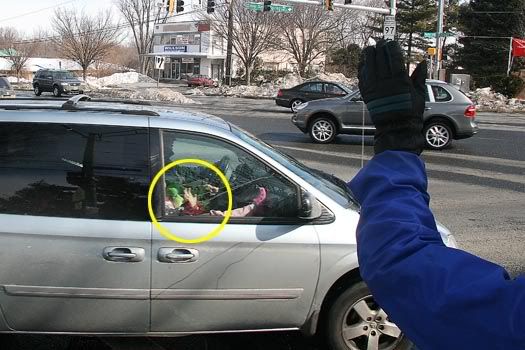 WARNING TO FREEPERS ATTENDING OLNEY
Some new money making have been installed on north bound Georgia Avenue right before you enter the main business district. Slow your speed after the light at King William Drive.
And a new one has been placed just south of Brookeville, between Brookeville and the Longwood Community Center.




REMEMBER
Next Saturday, same place, Georgia Avenue, MD Rte. 97 and MD Rte. 108 in Olney
NEW TIME - 10:15 AM to 11:45 AM


As always, the D.C. Chapter's rules for protesting will be in effect. Briefly, they are: No violence, no profanity, no racism, no provocations, obey the law and treat all law enforcement officers with respect.
But a lot of verbal engagement in Olney is always welcome.

---
TOPICS: Activism/Chapters; Free Republic; US: Maryland; US: Virginia
KEYWORDS: aar; military; mobilizingmothers; moonbats; opinfinitefreep; patriotism; peaceactionmc; rally; supportourtroops
---
---
---
---
---
---
---
---
---
---
---
---
---
---
---
---
---
---
---