---
Winter Creeps Into Our FReeps - Olney, MD - Wk 307, Dec. 10, 2011
Posted on 12/15/2011 3:36:41 AM PST by trooprally
As everyone is aware, winter is creeping closer. In the western parts of Maryland there has been several "measurable" snow falls. I know, several inches is nothing compared to some places, but here in Maryland, it is the talk of the day.
The colder weather is still bearable but the wind today made it uncomfortable. The flags looked good though.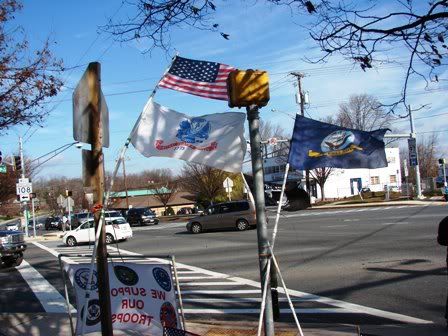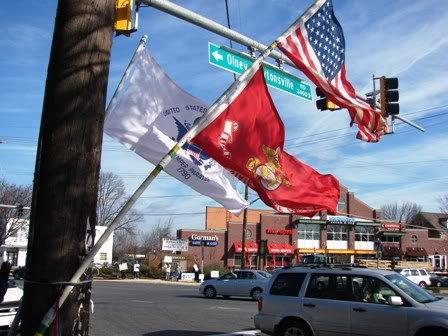 BufordP - This flag is for you.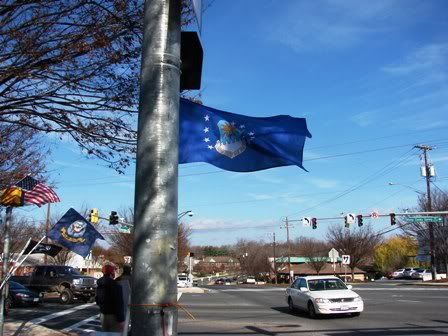 Patriots in Olney on this Saturday are: Lurker Bill and FReepers Fraxinus, GunsAreOK, iMacMan, [Mrs] T and myself.
iMacMan has been out with us the last month or so. iMac is a "cold weather" FReeper since he cannot make it during the warmer summer months. With the Friday night Walter Reed rallies no longer happening, Cindy-True-Supporter does not make it to Olney on a regular bases. It is tough to travel a little over an hour one way to stand with us for an hour.
But Cindy-True-Supporter did travel to Florida this past weekend. During our years at Walter Reed, she "adopted" Juan, a wounded warrior. His family was not local so they could not always be with Juan through his recovery. This weekend Juan received the keys to a house specially adapted for him through Homes for Wounded Warriors Project. He drove himself to the house in a Hertz rental that had been adapted for people with physical difficulties. What Juan did not expect was a Patriot Guard Riders and police escort to his house, and the neighbors had banners and flags lining the last 2 blocks to his house, and the neighbors also had a big party and speeches for him. Cindy said that she was over whelmed by the whole event. Sorry, no pictures of this event.
Back to a cold and brisk Olney.
BELOW LEFT: iMacMan and Fraxinus BELOW RIGHT: Fraxinus, iMacMan and GunsAreOK.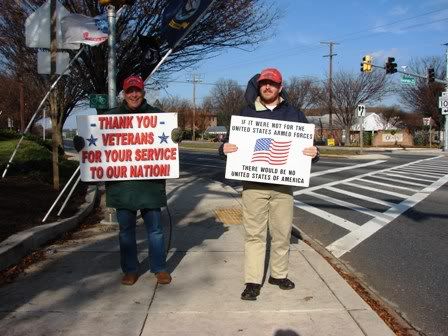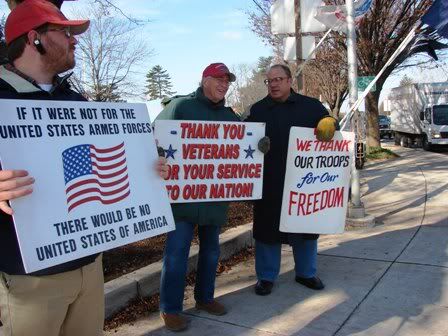 BELOW LEFT: Myself and Fraxinus. Being a small sociable group, one does not have to walk far to talk with each other. BELOW RIGHT: Lurker Bill found time to FReep with us while the turkey for the DC Chapter Christmas Party was in the oven.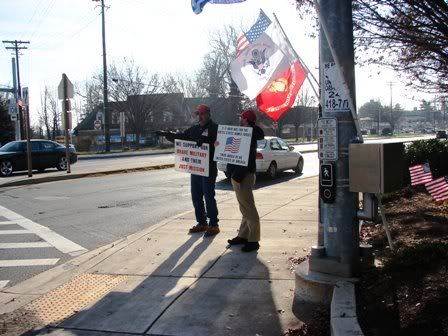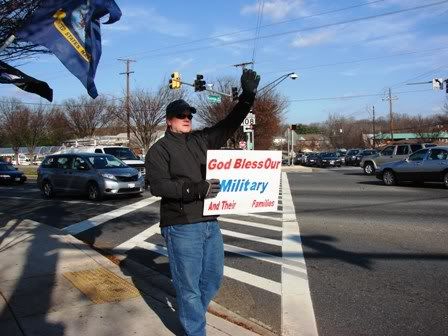 ---
TOPICS: Activism/Chapters; Free Republic; US: Maryland; US: Virginia
KEYWORDS: aar; military; mobilizingmothers; moonbats; opinfinitefreep; patriotism; peaceactionmc; rally; supportourtroops
---
---
---
---
---
---
---
---