---
Supporting Our Troops - Olney, MD - Wk 308, Dec. 17, 2011
Posted on 12/21/2011 4:35:08 PM PST by trooprally
Patriots in Olney on this Saturday are: Legionnaires Halsey (USMC - Korea) and Carl (Army - Vietnam), Lurkers Bill and Deb and FReepers Cindy_True_Supporter, Fraxinus, GunsAreOK, iMacMan, [Mrs] T and myself.
Nothing special to report today. Just another great time to support our troops and visit with friends.
BELOW LEFT: Lurker Deb and Cindy_True_Supporter. BELOW RIGHT: Me & Fraxinus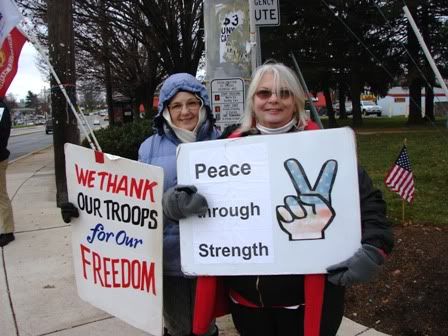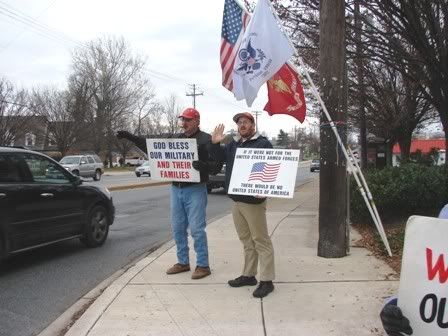 BELOW LEFT: Fraxinus, GunsAreOK and iMacMan BELOW RIGHT: Halsey and Carl. BOTTOM: Lurker Bill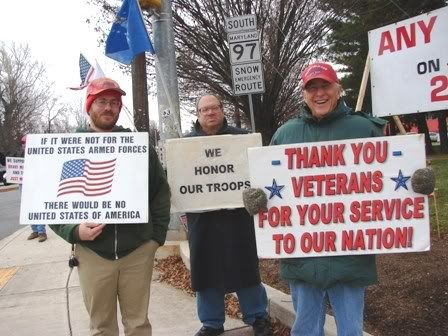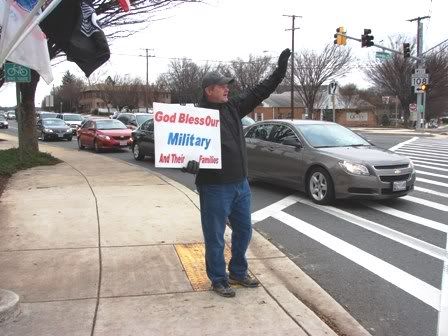 And of course the moonbats are still out, mixing messages just like the "occupiers" that they support.

---
TOPICS: Activism/Chapters; Free Republic; US: Maryland; US: Virginia
KEYWORDS: aar; military; mobilizingmothers; moonbats; opinfinitefreep; patriotism; peaceactionmc; rally; supportourtroops
---
---
---
---
---
---
---
---
---
---
---
---