---
NEW YEAR'S EVE Support for Our Military - Pic Heavy - Olney, MD - Wk 310, Dec. 31, 2011
Posted on 01/05/2012 7:06:17 AM PST by trooprally
Seven Patriots supported our troops in Olney this morning of New Year's Eve. Our special guest today was 3DJoy who brought up some warm southern temps for the DC area the past 10 days. Some spring bulbs even started to come up. While I was in the sun, I had to remove my jacket. Of course when the shade over took my spot, it got a little chilly and back on went the jacket.
We also had a "newbie" today. Martin from [Mrs] T's and Cindy_True_Supporter's American Legion Post. Martin had such a good time waving, talking with every one and was so impressed with the honks and waves of support for our troops, he said that he will be back.
Seven patriots this week include Legionnaires Halsey (USMC - Korea), Martin (Navy), Halsey (USMC - Korea), 3DJoy, Fraxinus, [Mrs] T and myself.
Before I get into the pictures, I want to remind everyone the this Saturday, Jan. 7 is OLNEY's 6 Year Anniversary. If you ever thought to come out to Olney, this would be a good Saturday to be there. Weather permitting, we will be erecting the Walter Reed MOAB. Temps will be around 50, we will have some donuts and coffee.
We start setting up around 10AM, with the moonbats arriving at 10:30. We stay till they leave, around 11:30, and are packed up by 11:50.
Unlike Walter Reed, we have missed only one Saturday at Olney. This was for Christmas Day, 2010. When the FReepers and Lurkers could not be in Olney because of other Saturday events in DC like the first 9/12 Rally and Beck's 8/28 Rally, the Legionnaires held down the fort.
BELOW LEFT: After 4 weeks with a very large Christmas Tree for Sale sign in the way of the Red Banner's support poles, the banner is back up. BELOW RIGHT: Patriots in Olney. Fraxinus is behind someone, somewhere.
BELOW LEFT: Warm weather FReeper 3DJoy BELOW RIGHT: Fraxinus and 3Djoy
BELOW LEFT: Legionaries Martin and Glenn BELOW RIGHT: Halsey and Martin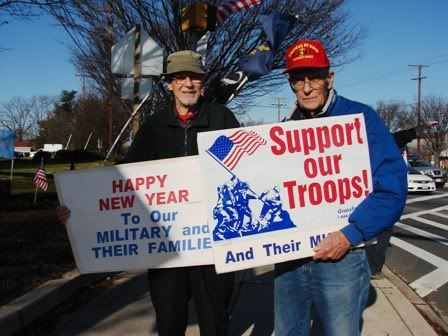 BELOW LEFT: Lurker Bill BELOW RIGHT: Me and 3DJoy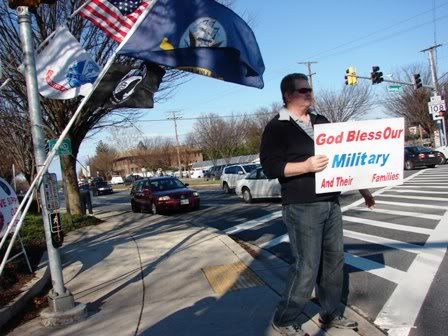 AND NOW OUR GREAT SUPPORTERS. [Mrs] T captured many more but these are the best.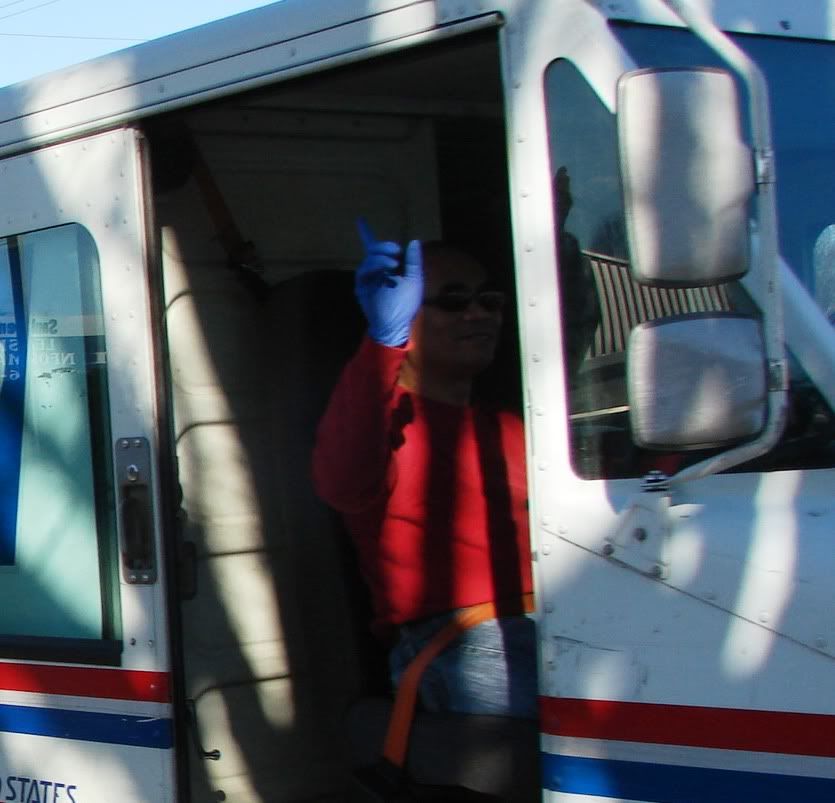 ---
TOPICS: Activism/Chapters; Free Republic; US: Maryland; US: Virginia
KEYWORDS: aar; military; mobilizingmothers; moonbats; newyearseve; opinfinitefreep; patriotism; peaceactionmc; rally; supportourtroops
---
---
---
---
---
---
---
---
---
---
---
---
---
---
---
---