---
SIX YEARS and Still Strong in our SUPPORT FOR OUR MILITARY - Olney, MD-Wk 311, Jan 07,2012 Pic Heavy
Posted on 01/13/2012 5:12:16 PM PST by trooprally
The DC Chapter brought in the New Year with Olney's 6 Year Anniversary in Support of Our Troops.
The 8 patriots this week include Legionnaires Glenn (USMC - WWII), Halsey (USMC - Korea), Lurker Jim (Army - Vietnam Vet), Cindy_True_Supporter, Fraxinus, iMacMan, [Mrs] T and myself.
BELOW: And for our special occasion, we brought the MOAB out. iMacMan and I are putting it together. We were told NO donuts or hot chocolate until it is up. Weather was nice out today, at least at the start. While setting up I had my jacket off. After a while the wind picked up and it got chilly.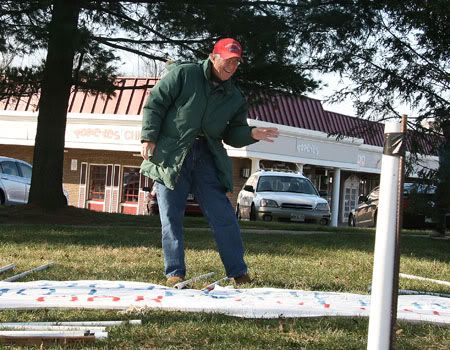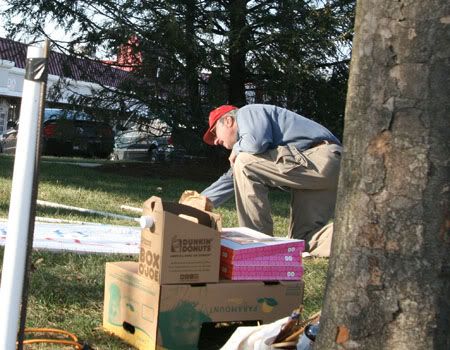 BELOW LEFT: Fraxinus and Cindy_True_Supporter enjoying the morning. BELOW RIGHT: Cindy_True_Supporter: "Oh HI! You are taking pictures?" Cindy's sign is in response to the moonbat's "War is not the answer".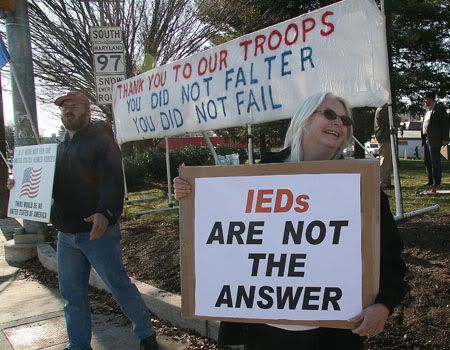 BELOW LEFT: Me, Lurker Jim and taadaa - !! [Mrs] T and iMacMan alternated taking pictures today. Another first - pictures of both [Mrs] T and iMacMan in the same AAR. BELOW RIGHT: Me recognizing a passing supporter who gave us a wave.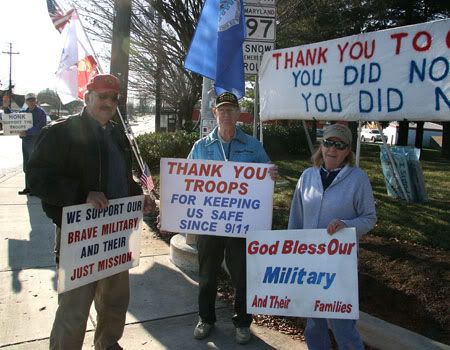 BELOW: Halsey, Micheal, and Glenn. Michael came up to our rally wondering if we knew how to get in contact with WWII Vets who witnessed the Nazi concentration camps. I turned over the conversation to Halsey, the Legion's Post Commander, and Glenn, a WWII VET but in the Pacific.
BELOW: OUR FAITHFUL SUPPORTERS.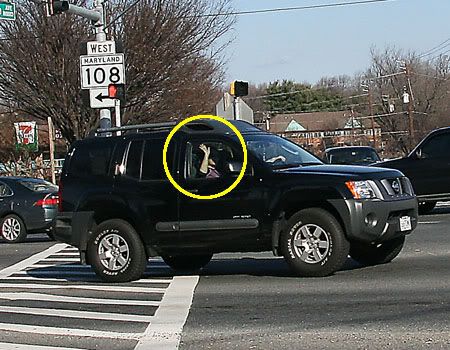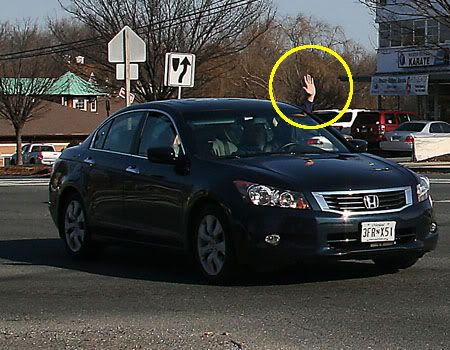 BELOW LEFT: "2 for the money" by taxing others! BELOW RIGHT: 6 for the occupy pr##ks.
---
TOPICS: Activism/Chapters; Free Republic; US: Maryland; US: Virginia
KEYWORDS: 6yearanniversary; aar; anniversary; military; mobilizingmothers; moonbats; opinfinitefreep; patriotism; peaceactionmc; rally; supportourtroops
---
---
---
---
---
---
---
---
---
---
---
---