---
Finally - REAL COLD WEATHER for Supporting Our Military - Olney, MD-Wk 312, Jan 14,2012 Pic Light
Posted on 01/17/2012 5:37:26 PM PST by trooprally
I had to laugh when I opened the photobucket file for this week. [Mrs] T said that she didn't take a lot of pictures. But only FIVE - it just made me laugh. Part of the reason was that the camera got so cold so quick that the batteries lost their umph. The other reason was [Mrs] T's trigger finger also got real cold even though she was layered with foot and hand warmers.
How cold was it? 25 degrees with a moderate wind. Do I hear violins from some of you in North Dakota? I bet you do not stand on a corner for an hour.
But the honks and wavers were great. The passing supporters honked even as we were setting up.
The rest of the weekend was great. After the FReep it was two days of a warm fire and play offs. Except for the Ravans winning, we had a good time. GO GIANTS!!!
The Fantastic 4 today were Lurkers Bill & Jim, [Mrs] T and myself.
BELOW LEFT: Lurker Jim BELOW RIGHT: Me
BELOW LEFT: Lurker Bill BELOW RIGHT: And Lurker Bill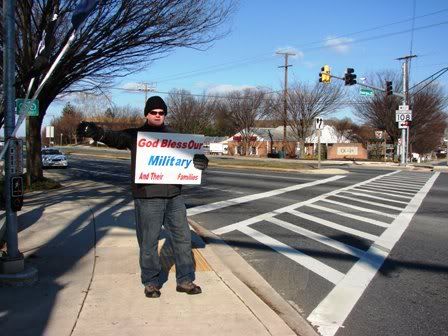 BELOW LEFT: Picture No. 5 - a lone moonbat.
Long range forecast for Jan. 21st : Mid forties, 50% chance of snow or rain. Oh Boy!

---
TOPICS: Activism/Chapters; Free Republic; US: Maryland; US: Virginia
KEYWORDS: aar; military; mobilizingmothers; moonbats; opinfinitefreep; patriotism; peaceactionmc; rally; supportourtroops
---
---
---
---
---
---
---
---
---
---
---
---
---
---
---
---
---
---
---