---
To: FourtySeven
We have enough monthlies signed up now to cover 44.202% of the FReep-a-thon goal.
I have set a goal of attaining the next higher 10% level instead of addressing the total we need to raise.
By setting smaller goals we can attain each new goal more easily. It's not so daunting.
It's hard to address the way you have come up with to support the forum. There is no bad way to do it, but preferably it seems best to shoot for the goal of having enough people sign with the forum, that it has on it's books complete coverage for it's quarterly needs.
The way you have it set up, it's on your bank's books, not FR's books. I am responding in general terms as per the ideal, the goal we need to achieve, so I'm not advocating FReepers do what you are, but please don't take this as an insult.
Yes your way is creative and works for you. If everyone did it that way though, it would defeat the goal we're trying to achieve here. MONTHLIES on FR's books.
As for the donation amounts, they are $5, $10, $20, $34, $68, $100, & $250.
Right under each you will see roughly how many donation we need at each level to meet our next goal plateau.
Of course those amounts and numbers of donors are not static. Any combination that gets us to our next level is good.
12
posted on
02/27/2018 5:32:39 PM PST
by
DoughtyOne
(01/26/18 DJIA 30 stocks $26,616.71 48.794% > open 11/07/16 215.71 from 50% increase 1.2183 yrs..)
---
To: FReepers; FRiends; Patriots; Deplorables
FREE REPUBLIC IS FUNDED SOLELY BY
YOUR DONATIONS
PLEASE CLICK BELOW AND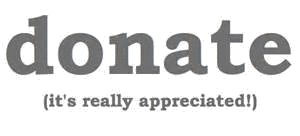 BECOME A MONTHLY DONOR AND HELP END FREEPATHONS
---
To: DoughtyOne
15
posted on
02/27/2018 5:52:12 PM PST
by
Salvation
("With God all things are possible." Matthew 19:26)
---
To: DoughtyOne
Ah ok thanks now I understand. Thanks for taking the time to respond so carefully!
---
FreeRepublic.com is powered by software copyright 2000-2008 John Robinson