---
Masked men attack Jesuit University in Nicaragua (Left Attacks Jesuits!?)
America (Jesuit review) ^ | May 29, 2018 | Antonio De Loera-Brust


Posted on 05/29/2018 5:32:34 PM PDT by Mrs. Don-o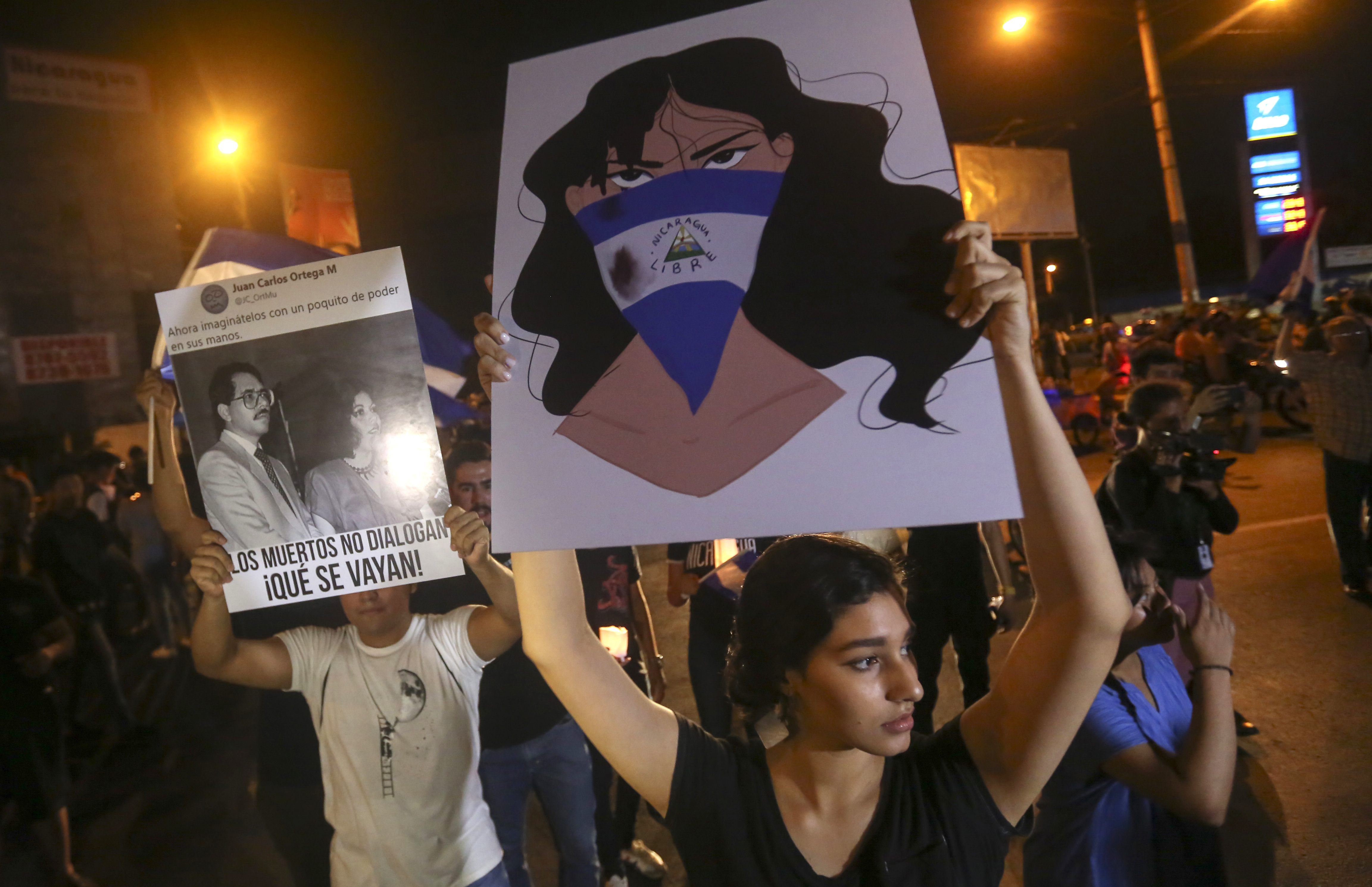 In this April 24, 2018 photo, demonstrators protest in honor of those who have died during anti-government protests in Managua, Nicaragua.
Since protests directed at the Sandinista government in Nicaragua began in April, the Jesuit-run University of Central America has been a hub of student activism and, as a result, a target of violence. On Sunday, Father Jose Alberto Idiaquez, S.J., the rector of U.C.A., condemned the latest attack on his university as government-sponsored.
In a statement addressed to the Nicaraguan people, Father Idiaquez announced that U.C.A.'s campus in Nicaragua's capital city of Managua was attacked on May 27 at 12:45 a.m. by a group of masked men in vans. The attackers shot a mortar at two campus guards.
"Although they did not manage to hurt or kill our watchmen, this was their intent, based on the charge of gunpowder used and the nearness of the shot," Father Idiaquez said in his statement.
Father Idiaquez described the attack on U.C.A. as "cowardly" and said the attackers were "armed with impunity guaranteed to them by the current government."
"The U.C.A.," he said, "loyal to its Christian principles, will continue to urge what it has been urging our people: justice for the dozens murdered [by the state] and a democracy that guarantees the entire citizenry of our country true peace and development."
Anger and unrest in Nicaragua began in mid-April after the government announced cuts to the nation's social security system. Despite the proposed changes being quickly canceled, protests have continued, motivated in part by the tough government crackdown against them. The Inter-American Commission on Human Rights has expressed human rights concerns and has accused the Sandinistas of inciting its political supporters to acts of violence against protesters. At least 76 people have been killed in Nicaragua since the unrest began. More than 900 have been injured.
Among the dead is 15-year-old Álvaro Manuel Conrado Davila, a Jesuit High School student, who died on April 20 after being shot in the throat with a rubber bullet at close range by police.
Popular anger has become broadly directed at the government of former Sandinista guerrilla leader Daniel Ortega. Critics have accused the Ortega government of electoral fraud, corruption and subverting the independence of the legislature and judicial system.
The Catholic Church has attempted to mediate the crisis by bringing together representatives of the student protesters and government. On May 23, however, Cardinal Leopoldo Brenes announced the suspension of the church-sponsored talks, citing a lack of progress.

---
TOPICS: Foreign Affairs; News/Current Events
KEYWORDS: jesuits; nicaragua; ortega; sandinistas
---
---
---
---
---
---
---
---
---
---
---
---
---
---
---