---
Activists File Title IX Complaint Against Georgetown Professor Christine Fair(Call For Death,Etc...)
Breitbart ^ | 10-12-1018 | Tom Ciccotta


Posted on 10/12/2018 8:27:25 PM PDT by blam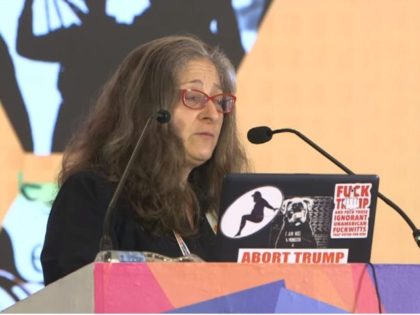 An activist group has filed a Title IX complaint against Georgetown University Professor Christine Fair, who came under fire earlier this month for calling for the deaths and castration of several GOP senators. "Look at [this] chorus of entitled white men justifying a serial rapist's arrogated entitlement," Fair wrote in the tweet on September 29. "All of them deserve miserable deaths while feminists laugh as they take their last gasps. Bonus: we castrate their corpses and feed them to swine? Yes."
Since then, Fair's Twitter account has been briefly suspended and reactivated. Now, the National Coalition for Men has filed a Title IX complaint against Fair. "The National Coalition for Men condemns in the strongest terms possible the violent and ugly behavior of Christine Fair, a Georgetown professor who has openly called for violence and terrorism against men as a class (and several specific men)," the group wrote in their complaint before providing the text of the since-deleted tweet.
The National Coalition for Men had previously filed a Title IX complaint against Northeastern University Professor Suzanne Danuta Walters, who published a column in the Washington Post entitled "Why Can't We Hate Men?"
So men, if you really are #WithUs and would like us to not hate you for all the millennia of woe you have produced and benefited from, start with this: Lean out so we can actually just stand up without being beaten down. Pledge to vote for feminist women only. Don't run for office. Don't be in charge of anything. Step away from the power. We got this. And please know that your crocodile tears won't be wiped away by us anymore. We have every right to hate you. You have done us wrong. #BecausePatriarchy. It is past time to play hard for Team Feminism.
(snip)

(Excerpt) Read more at breitbart.com ...
---
TOPICS: News/Current Events
KEYWORDS: carolchristinefair; christinefair; districtofcolumbia; feminists; georgetownu; gop; hatespeech; northeasternu; senators; suzannedanutawalters; tenacioushellpussy; titleix; violence; washingtoncompost; washingtonpost
---
---
---
---
---
---
---
---
---
---
---
---
---
---
---
---
---
---
---
---