---
To: MountainWalker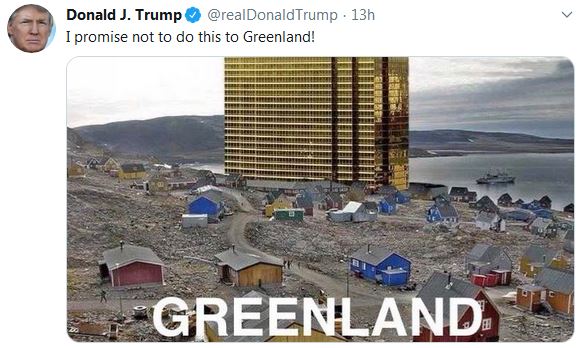 16
posted on
08/20/2019 5:45:08 PM PDT
by
McGruff
(If you hate our Country, or if you are not happy here, you can leave!)
---
To: McGruff
Looks like a good place for the new UN building.
34
posted on
08/20/2019 6:18:34 PM PDT
by
TangoLimaSierra
(To the Left, The truth is Right Wing Extremism.)
---
To: McGruff
Take away the Trump Tower and it's hard to come up with a more depressing picture. Not a tree in sight, or even a shrub. Greenland is truly a godforsaken place. The Danes should pay us for taking it off their hands.
---
To: McGruff
When I saw that I was in shock. THEN I LAUGHED AND LAUGHED... :D
100
posted on
08/21/2019 4:13:53 AM PDT
by
Caipirabob
(Communists...Socialists...Fascists & AntiFa...Democrats...Traitors... Who can tell the difference?)
---
FreeRepublic.com is powered by software copyright 2000-2008 John Robinson