---
To: wredlich
The watch is a very weak stretch.
OTOH, I'd bet that there isn't a member of the President's Secret Service detail who could positively identify that shooter as Obama in that picture. Too much of the face is hidden.
Could be any left handed mulatto.
9
posted on
02/02/2013 3:43:10 PM PST
by
Cletus.D.Yokel
(*Catastrophic Anthropogenic Climate Alteration: The acronym explains the science.)
---
To: Cletus.D.Yokel
I'd be careful with accusations based upon a watch in a photo. This one has a white face as well.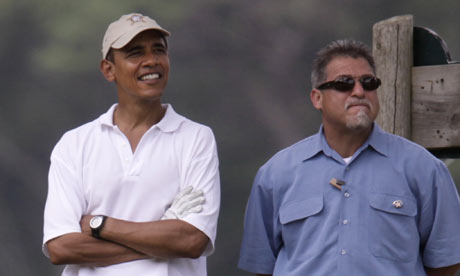 ---
To: Cletus.D.Yokel
It's Obama, but the photo is staged and fake. Here's why.
1. Look at how he's holding the shotgun, his eyes are below the plane of the barrel.
2. Look at the timing of the photo. The gun has just been fired by miliseconds. Note the obvious velocity of the discharge out of the barrel while the magnaport "smoke" is coming out at a much lower velocity. Sorry, but the porting will be expelling gas at the exact same velocity as the end of the barrel.
3. He's not a shooter. If he was, his posture would be different and his shoulder weld to the stock would be lower and tighter.
Fake photo is a fake just like the idiot holding it. He's no shooter.
46
posted on
02/02/2013 4:49:29 PM PST
by
BCR #226
(02/07 SOT www.extremefirepower.com...The BS stops when the hammer drops.)
---
To: Cletus.D.Yokel
The watch is a very weak stretch.
It's not the watch he was wearing on the day the picture was supposedly taken
52
posted on
02/02/2013 5:06:07 PM PST
by
Oztrich Boy
(I think, therefore I am what I yam, and that's all I yam - "Popeye" Descartes)
---
To: Cletus.D.Yokel
Actually, there are websites that track very intimate details of the watches presidents wear. they really offer a significant time line. In this case, i have no idea, other than most of the ones i, quickly, checked have no inventory of the watch in the photograph.
56
posted on
02/02/2013 5:31:15 PM PST
by
IllumiNaughtyByNature
($1.84 - The price of a gallon of gas on Jan. 20th, 2009.)
---
FreeRepublic.com is powered by software copyright 2000-2008 John Robinson