---
Art Appreciation/Education "class" #10 on Postmodernism.
8/29/05 | republicanprofessor


Posted on 08/29/2005 4:49:19 PM PDT by Republicanprofessor

Free Republic: Art Appreciation/Education "class" #10: Postmodernism

Now it is time to truly finish these mini-lectures on the development of modern art with this final lecture of Postmodernism. Andy Warhol and other Pop artists may have made the first forays into Postmodernism, and some textbooks begin their postmodern sections with Pop Art. But I like to save Postmodernism for the 1980's and thereafter. One question to consider is whether postmodernism (or at least its validity) might have come to a screeching halt on 9/11, (when thinking people realized that there were indeed evil people in the world and that the "relativism" of postmodern theory no longer had validity).

It is at this point that politics becomes more connected with the art world. As I am writing this, I am wondering how much of postmodernism may have developed in reaction to Reagan (with whom, of course, most liberal artists disagreed). Postmodernism is not my specialty for several reasons: I dislike the content, forms and politics of Postmodernism. Instead, I prefer what I see as an honest depth of meaning and fascinating visual forms of the European Expressionists, Cubists, Early American Modernists, Abstract Expressionists and others. Postmodernists react against both the whole meaning and the beautiful visuals of these "modern" artists, and I not only disagree with postmodern theory, I dislike the work. So please take all that I write here with a huge grain (or tub) of salt.

I believe postmodern theory began with literature and then spread to the visual arts. This may, in part, explain the lack of interesting visual forms in the artworks, since theory is paramount. The literary theories of Foucault, Decan and others motivated this section of art history. Most of this theory is pretty unreadable (I think). In short, it is written that there is no absolute truth, that history changes according to one's perspective, that the meaning in language can be deconstructed and de-contexturalized. (This is also the most fun theory to mimic: just write a few long, twisted sentences with post-structuralism and other big words and you're all set.) Jameson and others wrote long diatribes on the qualities of postmodernism. I'll try to point out a few of the more accessible ideas with the images shown below.

David Salle (and his friend Julian Schnabel) were two of the hottest postmodern artists. (Schnabel actually had a few works of visual interest; but he has now become immersed in Hollywood as a director, doing a movie on Basquiat, the graffiti artist, in 1997.) Salle epitomizes the theory of postmodernism. Before even reading what I write, what meaning can you see in this work? How do the images relate to one another to enlighten us as to our place in the world?
What? You don't "get" it? Well, join the rest of the world. In fact, the images are not supposed to cohere to convey a particular meaning. The intellectuals theorize that our world and society today are broken in meaning and that our lives have no meaning. We are driven by the media, which itself portrays a broken and alienated world. When we watch TV, such as the Super Bowl or our favorite dramas, the action is often broken up to sell us beer, detergent, feminine hygiene products, chips, SUVs, etc., etc. We are thus programmed to go right out and buy just those very things.
Thus Salle's images purposely do not relate: there is a tacky piece of wallpaper or fabric, a head of Lincoln, a woman's rear end, a boat that recalls the one in which Monet painted his river series, etc. (Gee, can you tell that Salle used to work for a pornographic magazine before his big break as an "artiste?") His work is not only offensive to women but poorly painted as well. Look at the shape of the woman's side: big blobby marks, no sensitivity at all.
What I don't get is the contradictions between the values of the intellectuals and their elitist attitudes. Salle's work is about as unfeminist as you can get, but no feminists attacked his work because it was quintessentially postmodern and popular with the liberal art world. (Gee….what an unusual idea: inconsistent liberals and feminists who support whatever Democratic chauvinist males, like Kennedy, do just because they are democrats….) In postmodern works, there is a use of purposely tacky materials, particularly by the famous German Sigmar Polke. The intellectuals support tacky materials in these artworks, but I am sure that they would never have these materials in their own homes. Similarly, they resent the domination of media in our lives: the advertisements that program what we do, what we buy, where we live, etc. But do I see the intelligentsia turning off their televisions? I don't think so. They probably have the biggest home theatres of anyone.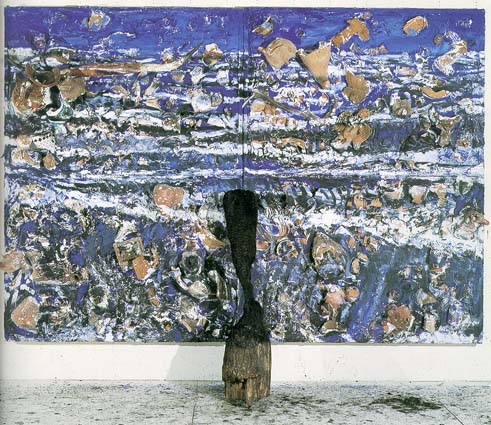 Polke's Watchtower 1984 and Schnabel's Self Portrait and Sea
Julian Schnabel actually has some works of visual interest. His style included the use of broken plates (which is hard to decipher within these internet images). His use of black velvet is also a pointed critique of velvet Elvis paintings. Yet, in his work of Warhol, there is a poignancy; and in his sea image, there is a density of detritus which has more power to me that the (empty and insulting) works of Salle. The sea image was actually created just before that summer in the '80s when hospital trash and needles were washing up on the beaches of Long Island. In that sense, his massed painting was more than a little prescient.
Another aspect of Postmodernism shows a sense of parody as well as the scattered, "schizophrenic" and non-holistic images we just looked at. Thus some of the worst postmodern works will have images of such as Mickey Mouse juxtaposed with other images that don't add up. I don't have a ready Mickey Mouse image (but I do remember seeing one in the past), but I do have Warhol's own image of Munch's Scream.
Part of Postmodernist theory notes that our lives are lived second-hand through the media, especially if one is in the heartland of our country. In terms of art history, the major museums are in New York and other major cities (most of which are on the East or West Coasts), and I am indeed lucky that I have visited many such museums frequently. Sherrie Levine takes aim at the secondary images reproduced in art history books, most of which were the only visual source of images in the mid-west, where she grew up. (This was before the internet erupted with even more images, most of which are still inadequate to convey the magical presence of real artworks.) In some of her shows from the eighties, she would show works by Mondrian, Kirchner and Monet that she had photographed third-hand from poor reproductions from art textbooks. The "purity" of the original colors are severely compromised in these third-hand reproductions, so that Mondrian's works show orange, pink and turquoise instead of pure yellows, reds and blues. All the images are the same size: 8"x 10" or 11" x 14", thus further distorting the original intentions of the artists. I saw a show of her works in the Matrix galleries at the Wadsworth Atheneum at some point in the eighties and I was singularly unimpressed.
One work that I was able to find on line is Levine's version of Duchamp's Fountain (or urinal) done in gold. Gee, what a great improvement, with such wonderfully subtle art historical references. Don't you agree?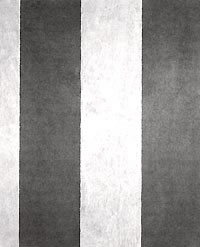 Sherrie Levine a copy of Duchamp's Fountain and Broad Stripe 1985. I could not find the other images I mentioned, and I don't know if the right image should be in color or not.
Feminists also have a part to play in Postmodernism. Cindy Sherman is actually fairly creative. In her photographs of "scenes" from an apparent story, she is the actress, make-up artist, costumer, director, scene designer and photographer. What is amazing is the diversity of character she is able to create. It is indeed hard to believe that these images are of the same woman. In her latest works, she is also quoting from other masterpieces (perhaps as Manet quoted in his Dejeuner sur l'herbe from 1863). But Robert Hughes once nailed that which had long bothered me in her work: I'm paraphrasing here, but he noted that Sherman has a breadth of images, but she has no depth and no center. We have no sense of the inner person she is, because she is all surface and flux. This is, of course, exactly the problem with the values of Hollywood and art world "personalities." They have to change their images so much, for each film or artwork, that they hardly know who they are. Thus they cannot share a meaningful image of humanity as all great works of art have communicated in the past.
an early image of Sherman
from 1985
Barbara Kruger is also a prominent feminist postmodern artist. Her works also point up problems and contradictions in our culture. As a woman, I like the message within Your Gaze Hits the Side of my Face. All too often, women are immediately judged by how they look: is she hot, ugly, fat, thin? I've heard that men don't even listen to plain or overweight women, while they might listen more receptively to a lecture by a reasonably attractive women. Men are judged by what they do; women have always been judged by how they look. Kruger's work uses a mediocre work of sculpture to show how the gaze bounces off the face, after judging such a face as beautiful or not.
Now, my problem with Kruger is the visuals. Her message may be apt, but the artworks seem to me to be little more than graphic design. And the message is not always coherent. You Invest in the Divinity of the Masterpiece, the (tiny image here) take-off on Michelangelo, was created in the height of the art market in the 1980s, when three van Gogh paintings set records for auction prices, culminating at $84 million for one of his works of irises. Kruger seems to be criticizing such madness, reproducing Michelangelo's Creation of Adam from the Sistine Chapel. She is also critiquing the fact that "divinity"(and thus creativity) passes from a male god to a male Adam. However, my problem with this work is its inconsistency; I accept the male "creativity" point, but I don't think that the Sistine Chapel at the Vatican will be up for auction any time soon. If she wants to make an "investment" point, it might have been apt to use an actual work that had just been auctioned.
Others, such as Jenny Holzer, reproduce banal sayings scrolled in (often) red lights in various locations, frequently in museums. I expect one is supposed to be enlightened by the wisdom in these sayings, but usually I am just relieved to read to the end of the scrolling. And scrolling itself is postmodern: broken and quoted. One does not see the phrase as a whole, but in incomprehensible parts.
I think the vacuity of Postmodernism shows several things, among them the lack of imagination of most contemporary artists and the related lack of absolute values in liberal culture. After 9/11, I had indeed hoped that maybe liberal artists would look at the world afresh and re-consecrate traditional values, bringing those back into the art world. Didn't the bombing show absolute hatred and evil, harm to the innocent, etc.? But the liberals don't see it this way. America is still to blame, of course. (I was similarly wrong in 1989 when I thought that liberals would reconsider Reagan after the Berlin Wall fell; I had hoped liberals would then understand and respect the result of his arms build-up.)
What Postmodernism shows is that exhibiting contemporary artists work in a pack, taking up the values of the pack and disseminating them in similar forms, just as academic artists did in the end of the nineteenth century. There is not much hope for new artistic visions when one looks at the famous galleries and the artworks they show.
However, I think there is hope in the art world, perhaps because I am a "practicing" artist (as well as professor, critic and art historian). I think there are hopeful and original works being created out there, but I think they may be created in the more rural and independent areas (where one can be free of the "pack" mentality). As is common in art history, I think that works of value will emerge and be appreciated in the future, and these empty and un-creative works of Postmodernism will sink and vanish into the trash can of movements past and gone.

---
TOPICS: Arts/Photography; Education
KEYWORDS: appreciation; art; class; education; holzer; kruger; levine; postmodernism; salle; schnabel; sherman; warhol
---
Navigation: use the links below to view more comments.
first 1-20, 21-25 next last
---
---
---
---
---
---
---
---
---
---
---
---
---
---
---
---
---
---
---
---
---
Navigation: use the links below to view more comments.
first 1-20, 21-25 next last
---
---