---
Review of C&R CZ-82 Pistol
None | 19 September 2009 | Lurker


Posted on 09/19/2009 4:30:14 PM PDT by Lurker

I promised a review of my latest firearm acquisition, so here it is.

It's a CZ-82 pistol purchased under my C&R License from J&G Sales in Arizona. The ad promised a CZ-82 in "good to very good" condition, one magazine, a cleaning rod, and a holster.

Here's what I received: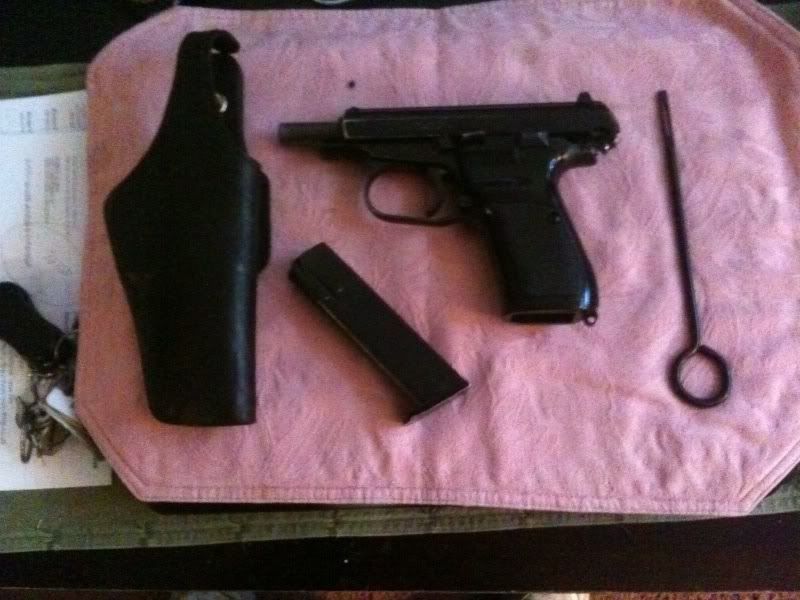 As you can see it's a pistol, magazine, a decent leather holster, and a cleaning rod just as advertised. Total price for one example was $209.00 plus shipping.
I also ordered 500 rounds of Silver Bear 94 grain Jacketed Hollow Point ammunition for $125.00 plus shipping. Extra mags run about $30.00 each, plus shipping.
The pistol arrived within 5 business days and the ammo arrived the same day on a separate UPS truck.
The pistol was 'well oiled' to say the very least, but there was thankfully no trace of cosmoline anywhere. So a thorough cleaning was in order before a trip to the range.
It is an all steel pistol and weighs just a hair under 28 ounces unloaded. It's chambered for the 9X18 Makarov cartridge which is NOT interchangeable with 9MM Luger (Parabellum, or 9X19) ammunition. Use ONLY 9X18 Makarov ammo in this pistol.
The magazine release and the safety are both ambidextrious. The pistol functions in either single action or double action mode. One can safely carry it with a round chambered and the hammer down, with the safety in the "Off" position. Or it can be safely carried "cocked and locked" with the safety in the "On" position. The controls are a bit small, but they're well placed and I had no trouble operating them.
I'd say that this pistol is in 'good to very good' condition. The bore is clean and bright and the pistol shows some honest holster wear as evidenced by this image.
One can easily imagine this thing riding on the hip of a Czech Police Officer or Border Guard every day. Mechanically the pistol is sound. Field stripping it is a breeze. As that information is easily available on the web I won't go into it here.
I started out at 21 feet with a full magazine of the Russian hollow point ammo. I'd have to rate accuracy as pretty darned good for a surplus service pistol.
Here's a pretty typical groupt at 21 feet:
I take complete responsibility for the shots outside the 5X.
The single action trigger pull has some creep but it breaks cleanly. I'd guesstimate it at about 5 pounds or so. The double action pull is pretty long but it also breaks cleanly.
Here's a typical group at 30 feet:
A quick note on loading the magazines. Capacity is 12 rounds, but it's a cast iron b**** to get those last two in there. After 3 or 4 mags I opted to load 10 just to save wear on my thumb. I'm going to look around for a loading tool. Function wasn't affected in the least with 10 rounds instead of 12 in the mag.
Functionally in one hundred rounds I experienced NO failures to fire, NO failures to eject of any kind, and only 2 failures to feed and those were in the first 4 magazines. I discovered the source of that issue. The rounds MUST be seated well against the back of the magazine.
So a quick, sharp rap against the table to insure that the rounds are well seated in the magazine took care of the problem. I experienced no further failures to feed. Not too bad considering this pistol was designed for FMJ ammo.
The feed failures were quickly remedied by a quick rack of the slide and the pistol was back in action.
The 9X18 Russian Silver Bear 94 grain hollow point bullet leaves the barrel at between 935 and 1005 fps according to my chronograph. That's quite a spread but I'm chalking that up to Russian quality control more than anything. This is definetely NOT match grade ammo.
With these figures we're looking at between 180 to 200 ft/lbs of energy delivered. While definetely on the lower end of the scale it's acceptable for self defense work at close range with proper shot placement.
Bottom line? For about $400.00 US I got a good shooting solid little service pistol. This example will get a DuraKoat finish applied (thanks to Squantos for the tip), and ride in the Camelback I keep under the seat in my truck.
While I wouldn't feel as well armed as I would carrying a Colt or Springfield XD in .45, this pistol would certainly be 'good enough' in my view.
I'd recommend picking one or two of these nice little examples of Czech craftsmanship up if you have the opportunity.

---
TOPICS: Chit/Chat; Hobbies; Military/Veterans; Miscellaneous
KEYWORDS: banglist; cz82; gunreview
---
Navigation: use the links below to view more comments.
first previous 1-20, 21-40, 41-60, 61-72 next last
---
---
---
---
---
---
---
---
---
---
---
---
---
---
---
---
---
---
---
---
---
Navigation: use the links below to view more comments.
first previous 1-20, 21-40, 41-60, 61-72 next last
---
---