---
To: Polarik
I have no doubt that this was created in a lab, and dumped in the worst pig stye in Mexico.
Got it .... now how do you prove that it was made in a lab?
Hate playing devil's advocate, but extraordinary claims require extraordinary proof. Serious question btw.

35
posted on
04/28/2009 9:13:22 PM PDT
by
Centurion2000
(We either Free America ourselves, or it is midnight for humanity for a thousand years.)
---
To: Centurion2000; LucyT
Here is an exerpt from the comment made by AdmSmith:
http://www.freerepublic.com/focus/news/2239276/posts?page=26#25
The present virus has the following 8 components in its RNA, with origin:
PB2 Avian North America PB1 Human circa 1993 PA Swine Eurasia +/- HA Swine North America NP Swine Eurasia +/- NA Swine Eurasia MP Swine Eurasia NS Swine Eurasia +/-
Mixtures of these RNA components do not occur by accident.
Who might have done this?
Baxter International Inc
Hat tip to Scythian for this info:
Baxter, a biochemical & pharmaceutical corporation located near Chicago, was found to have shipped live avian flu viruses mixed with vaccine material to medical distributors in 18 countries. The "mistake" was discovered by the National Microbiology Laboratory in Canada. The World Health Organization was alerted and panic spread throughout the vaccine community as health experts asked the obvious question: How could this have happened?
Guess which company has already started working on a vaccine for swine flu? If you guessed, Baxter, then you guessed right. But, they're not the only ones suddenly working on a vaccine.
Xenova Biomanufacturing
is another possible suspect here.
Here's the Swine Flu case map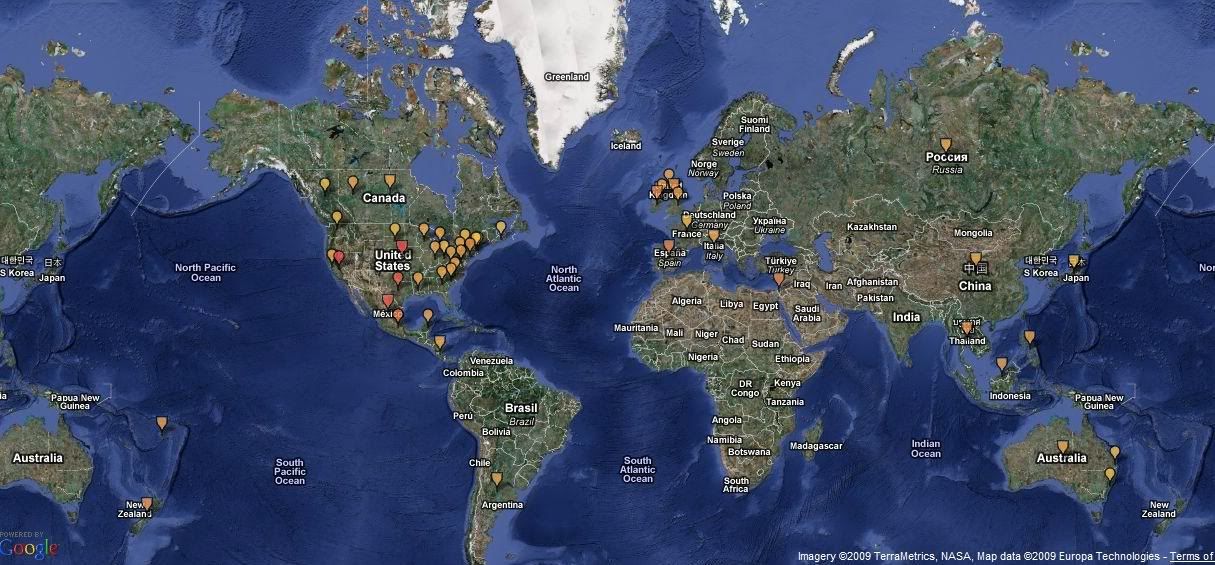 ---
FreeRepublic.com is powered by software copyright 2000-2008 John Robinson