---
America The Beautiful (Part I)
American Rattlesnake ^ | July 30, 2011 | Gerard Perry


Posted on 07/30/2011 11:03:00 AM PDT by OddLane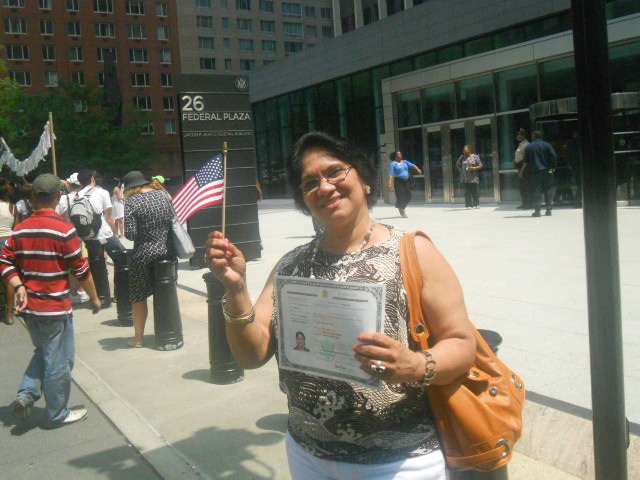 This woman is smiling because she is a newly naturalized American citizen. I caught her exiting the Jacob K. Javits Federal Building, which houses an office of the United States Citizenship and Immigration Service.
This was the site of the Jericho Walk,a sometimes amusing, often exasperating parade of horribles, from illegal alien advocacy groups, to members of the Service Employees International Union, to actual illegal aliens, demanding that we recognize their "right" to violate violate our laws, in sharp contradistinction to the process followed by the jubilant East Indian woman seen at the beginning of this photo-essay. The irony of choosing an Israeli biblical hero to represent a consortium of groups seen routinely at pro-Hamas, anti-Israeli rallies.

(Excerpt) Read more at american-rattlesnake.org ...
---
TOPICS: Government; Local News
KEYWORDS: americanrattlesnake; immigration
I'm not sure if the palm fronds were a nod to Islam, or simply a continuation of the tortured analogy to the struggles of the enslaved Hebrews. Lord knows, there were plenty of those, the most offensive among them being a group of marchers tied together with fake chains. Get it? Bondage?

---
To: OddLane
... a youth observer from the Marxist National Lawyer's Guild seemed to be pleased with my presence.
That's because you're a cutie-pie, G.

2
posted on
07/30/2011 11:31:24 AM PDT
by
Tax-chick
(Do you know why I love reptiles? It's because they don't play guitars.)
---
To: Tax-chick
3
posted on
07/30/2011 11:39:37 AM PDT
by
OddLane
(If Lionel Hutz and Guy Smiley had a lovechild together, his name would be "Mitt Romney." -KAJ)
---
To: Tax-chick; SunkenCiv; arasina
4
posted on
07/31/2011 9:50:08 AM PDT
by
OddLane
(If Lionel Hutz and Guy Smiley had a lovechild together, his name would be "Mitt Romney." -KAJ)
---
FreeRepublic.com is powered by software copyright 2000-2008 John Robinson