---
Art Appreceiation/Education "class" #7: American Modernism
7/11/01 | republicanprofessor


Posted on 07/11/2005 5:04:13 AM PDT by Republicanprofessor

So we have studied Cubism, Expressionism and Surrealism in Europe. What was happening in America? At first, as we saw earlier, the American Ash Can School thought they were the most modern school. They sponsored the Armory Show in 1913 and brought over the Europeans from Cezanne through Kandinsky, and as a result the American works looked a bit backward.
Robert Henri Snow in NY 1902 and Kandinsky Improvisation 28 1912
But some Americans were intrigued by the Armory show, and a few knew about European modernism before 1913. In fact, the famous photographer Alfred Stieglitz pioneered more than just photography. In the first decade of the new century, he started a gallery called "291" (from its address on Fifth Avenue). This was the very first modern art gallery in NYC; and he brought over works by Cezanne and many others, including watercolors by Rodin.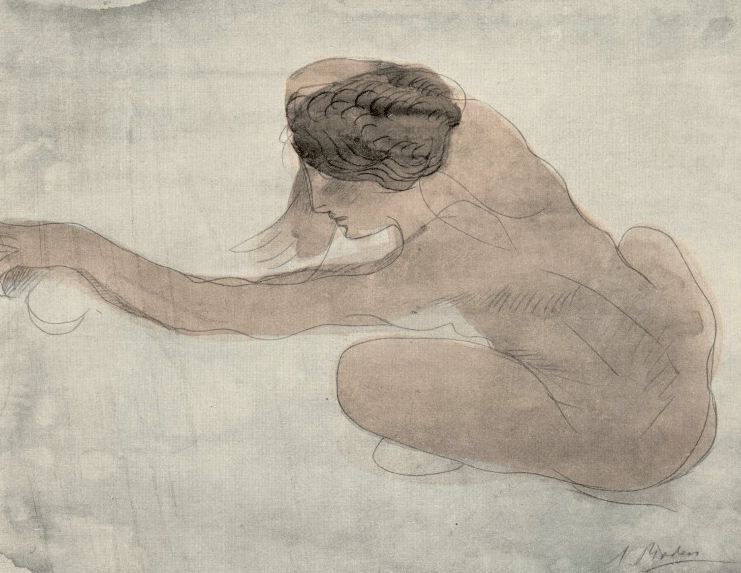 Stieglitz, one of his many images of Georgia O'Keeffe and one of Rodin's watercolors
Soon he gathered a group of artists around here, and these artists can be referred to as the Early American Modernists or the Stieglitz Group. He had an amazing eye, and in 1917 he was shown the early watercolors of Georgia O'Keeffe (purportedly saying that he had finally seen "a woman on canvas"). (See the images below.) He also supported and exhibited the works of Arthur Dove, Marsden Hartley, John Marin and many more.
Now, my question to all of you is this: how have these American artists taken and absorbed the ideas of Cubism, Expressionism and even Surrealism to make an unique style of American art? What content do the Americans add to these styles to reflect quintessentially American history and values?
Dove Nature Symbolized c. 1911 and his Me and the Moon1937
Arthur Dove (1880-1946) was one of the first in the WORLD to explore non-objective art. (That's art without an object from which to "abstract.".) He actually called his works "concretions" because he didn't like the word "abstraction." His Nature Symbolized #2 reflects the American landscape in pastel, with Cubist planes and perhaps some Expressionistic emotion. I see this as reflecting a hill with pine trees (or other trees) on a very windy day. But others could just as easily see other things. Me and the Moon was actually inspired by swing music of that decade. Dove also lived on a house boat for many years, so I think he captured the effect of waves and fog very well.
I also love the work of Marsden Hartley (1887-1943). He never really found a home, emotional or otherwise. He went to Germany in 1913 and did these incredibly powerful abstractions glorifying the marching German army before WWI. One of these has many hidden symbols and is a memorial to one soldier he loved, Karl von F. The flat power of these works is just as advanced as the Cubists (who were just beginning Synthetic Cubism as this time) and the German Expressionists. In fact, he exhibited with Kandinsky, Marc and the Blue Rider.
Portrait of a German Officer 1914 and his 1914Indian Fantasy, which is one of the American works of the time that are less well known.
So, how do you think the American public liked the German works when they were exhibited in 1913 and 1914? Perhaps they felt a bit as we feel about Saddam Hussein's palaces now (except that the latter are much tackier and not exactly on the "cutting" edge…unless you consider what he did to his own people to get so wealthy…but that's another story). When his exhibitions flopped, Hartley retired to Provincetown and did more quiet works. Later, he went to Maine and came as close to a "home" as possible. But, again he was dogged by personal tragedy. The fisherman he fell in love with was also killed at sea. At this point, his more representational work is more in line with the more conservative depression-era Regionalism of the time, like that of Benton, Wood, and others. But I still love his images of Mt. Katahdin and the ocean (as well as the fisherman, but I couldn't easily find an image of that.)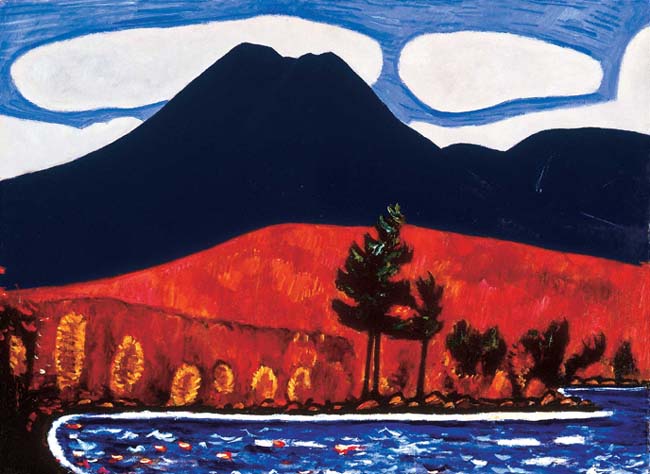 Hartley Provincetown Abstraction 1916 Mt. Katahdin 1939-40 Thomas Hart Benton Ballad of the Jealous Lover
Another strong American Modernist is John Marin (1870-1953). His work is cubist, but he keeps more integrity of the objects. His work in watercolor is awesome, and I especially like the works done from Stonington, Maine.
John Marin Brooklyn Bridge Fantasy and his Schooner Yachts, Deer Isle, Maine 1928
Georgia O'Keeffe (1887-1986), although many years younger than Stieglitz, married Stieglitz in the twenties. Her early watercolors are some of her finest works. Evening Star reminds me of a sunset over water. She is infamous, of course, for her flower images. She blew them up big because she felt that no one ever noticed flowers. The Jack in the Pulpit series shows how she moved progressively toward abstraction in this.
O'Keeffe Evening star IV 1917 Jack in pulpit III, Jack in pulpit IV, and Jack in pulpit V
Later, she moved to Taos, NM. Her works of skulls capture the beauty and deathly power of the dessert.
I would also like to include the Precisionists here, although they are not part of the Stieglitz group. Charles Demuth (1883-1935) did some fascinating, abstract portraits of many, including William Carlos Williams, as in the very famous Number 5 in Gold, below. This is from a short, imagist poem by Williams about a firetruck:
The Great Figure
Among the rain
and lights
I saw the figure 5
in gold
on a red
fire truck
moving
tense
unheeded
to gong clangs
siren howls
and wheels rumbling
through the dark city
William Carlos Williams (1883-1963)
Sour Grapes: A Book of Poems
Four Seas Company, Boston, 1921
Can you see the images in the painting, plus the cryptic references to WCW? Like Marin, Demuth was inspired by Cubism, but his objects also remain intact. Another favorite is My Egypt, below, which gives the same monumental power to our industrial and agricultural forms as Egypt's pyramids are renown for. (If someone can tell me exactly what these forms are, I'd appreciate it. They look like grain elevators to me, but I'm not certain.) Note how much whole the images are than in Braque's cubist work. Demuth lays rays of light over the solid images. The rays are almost like spotlights in some works.
Demuth My Egypt vs. Frenchman Braque's cubist Violin and Pitcher
The last precisionist of importance was Charles Sheeler (1883-1965). He, too, was influenced by Cubism, as you can see in the powerful play of flat planes. However, he kept his objects very whole indeed. Can you tell why Sheeler and Demuth are called Precisionists? Not only is their work very precisely rendered, with firm lines and shapes and a good deal of realism. But they also celebrated the utopian view of factories as our salvation. These images of the River Rouge plant in Detroit are powerful. This is where the Model A was manufactured, with the raw materials (iron, sand, etc.) going in one end and out the other came a complete car. Very different assembly than you see today, when the various small parts are delivered just in time to be installed.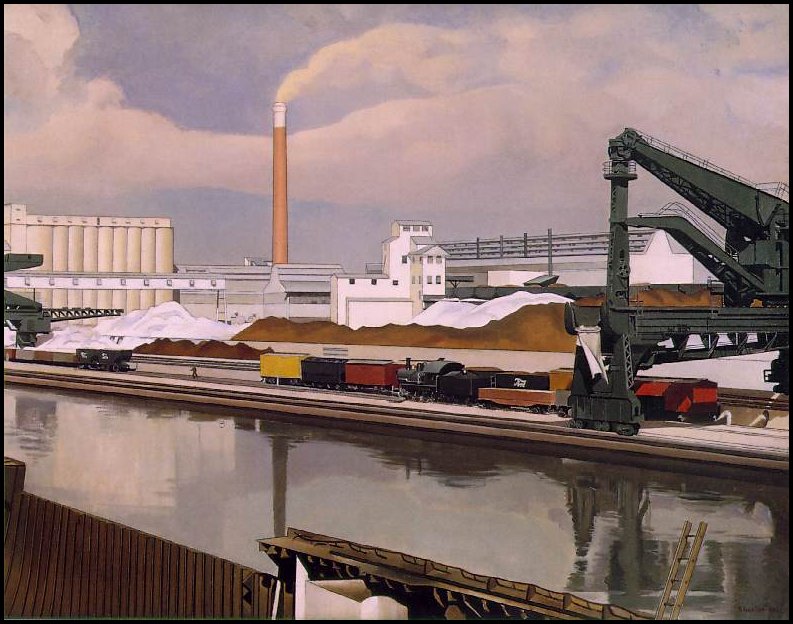 Sheeler River Rouge plant seen in American Landscape 1930
Diego Rivera (1886-1957), the Mexican socialist painter, was also intrigued by the River Rouge plant and some of his awesome murals are at the Detroit Institute of the Arts, see below. Of course, his mural of Man at the Crossroads (on the right below) was jack-hammered off the wall at Rockefeller Center because of the inclusion of Lenin. Even though I don't agree with him politically, I do like his work. And I liked the movie Frida done of his lover and wife, Frida Kahlo.
Rivera, Detroit and Rockefeller murals and detail of the latter.
I also highly recommend Ed Harris' movie Pollock before our next "class," perhaps as a summer film. Ed Harris worked 8 years from research to the script to acting and directing this film. I've done a great deal of work on Pollock myself, and all the stories that I knew about (including the ruinous dinner), were all true to life. He was a troubled man who really made a breakthrough in art. I'll get to this next time, either within a week or at the end of August.

---
TOPICS: Arts/Photography; Education
KEYWORDS: americanmodernism; appreciation; art; class; demuth; dove; education; hartley; marin; okeeffe; rivera; sheeler; stieglitz
---
Navigation: use the links below to view more comments.
first 1-20, 21-24 next last
---
---
---
---
---
---
---
---
---
---
---
---
---
---
---
---
---
---
---
---
---
Navigation: use the links below to view more comments.
first 1-20, 21-24 next last
---
---