---
Day Two ~ "Death to Obama Dude" disappeared?
August 14, 2009 | Incredulous Joe


Posted on 08/14/2009 11:49:48 AM PDT by incredulous joe

I'm just a plain old law abiding citizen.



Since I obey our nation's laws, I was curious if we have yet to hear any information about the nutter holding the "Death to Obama" sign at Senator Ben Cardin's Townhall on Wednesday, August 12th, 2009?



Seems to me that we should have a name and a profile for this fellow by now? He should have appeared before a judge and, I would imagine should be held without bail.



Dangerous folk like "Joe the Plumber" have all of their personal information released to the public when they so much as suggest a simple question to Barack Obama.



What gives? When will we learn more about this fellow?



Maybe we should get Brian Ross or Leslie Stahk on the job for us to find out who this man may be and what happened to him?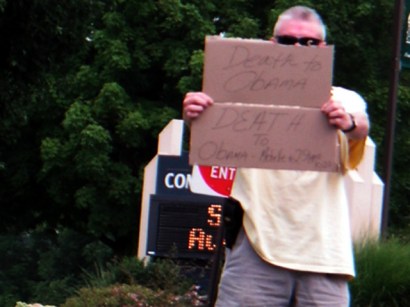 ---
TOPICS: Chit/Chat
KEYWORDS: cardinrally; coverup; hagerstown; mediablackout; mysteryman; noname; nutter; obamaplants; pravdamedia; rulesforradicals; stalinisttactics
---
Navigation: use the links below to view more comments.
first 1-20, 21-40, 41-46 next last
---
---
---
---
---
---
---
---
---
---
---
---
---
---
---
---
---
---
---
---
---
Navigation: use the links below to view more comments.
first 1-20, 21-40, 41-46 next last
---
---