---
To: SeekAndFind
Detroit: The Triumph of Progressive Public Policy
http://www.mackinac.org/article.aspx?ID=10743
Excerpt:
Imagine a city where all the major economic planks of the statist or "progressive" platform have been enacted:
* A "living wage" ordinance, far above the federal minimum wage, for all public employees and private contractors.
* A school system that spends significantly more per pupil than the national average.
* A powerful school employee union that militantly defends the exceptional pay, benefits and job security it has won for its members.
* A powerful government employee union that does the same for its members.
* A tax system that aggressively redistributes income from businesses and the wealthy to the poor and to government bureaucracies.
Would this be a shining city on a hill, exciting the admiration of all? We don't have to guess, because there is such a city right here in our state: Detroit
For a video tour of Detroit go to:
http://www.youtube.com/watch?v=pz_vDOrqOOQ
30
posted on
09/26/2009 6:33:58 PM PDT
by
preacher
(A government which robs from Peter to pay Paul will always have the support of Paul.)
---
To: preacher
MORE PICS OF ABANDONED BUILDINGS IN DETROIT TODAY ( SOME OF THE BUILDING SHELLS LOOKED NICE, MUST HAVE BEEN GRAND DURING ITS HEYDAY) :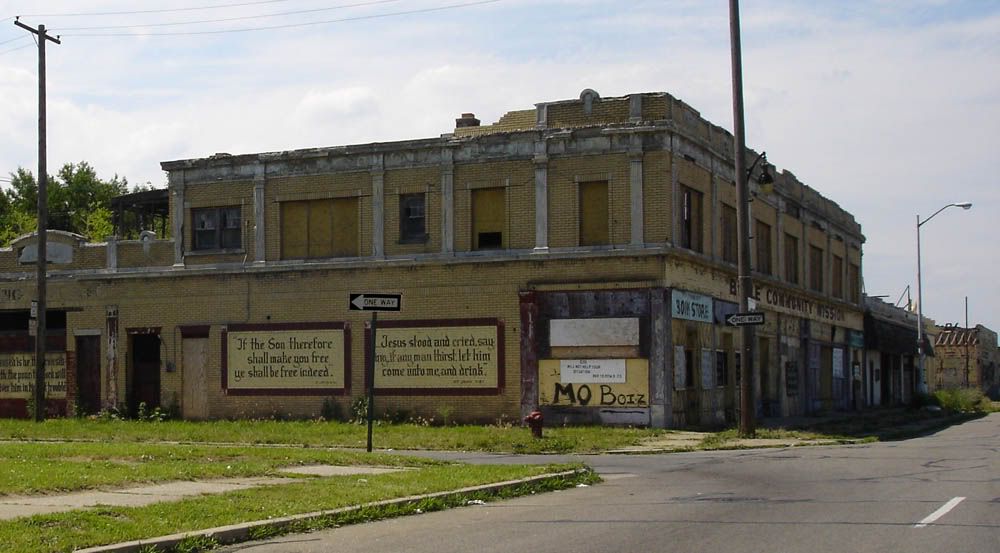 ---
To: preacher
I was born and raised in Detroit. It was called the Venice of America...Every street was lined with huge elms trees and in the summer when you drove down the street it was like a tunnel of green...and that was the majority of the streets in Detroit. There was no public housing and the colored (that is what Afro-Americans were called and didn't find it offensive) area's were well kept. No graffiti streets clean and anyone could walk in any area's without fear.My graduating class was 500 kids and about 25 % black...some a lot smarter than I was and education was important to both races.
What started Detroit down was forced busing...There was a principal of a colored school that went on TV greatly offended that whites in Washington thought his children could only learn if they sat next to a white kid...Many that could leave, both black and white left for the suburbs. That left the poor, both black and white and no tax base. With the riots of the 60's, business's moved out...Coleman Young was a racist and ran that town for about 20 years. When he finally was gone, so was Detroit...Everything was the white man's fault...just like today....He told those that committee crimes in the city to go out past 8 Mile(the border for Detroit) and commit crimes on the white folks...
Gee, I wonder why it has become a hell hole...

---
To: preacher
For a video tour of Detroit go to:
http://www.youtube.com/watch?v=pz_vDOrqOOQ
Thanks for the link. I thought it was odd that the (foreign) film-makers appear to blame Detroit's destruction on "globalization." But the fact is, Detroit wasted away because it refused to globalize, refused to change at all. The unions liked the unsustainable system too much. First the car companies, and finally the government itself. The city just collected taxes and padded its friends until the producers ran away and the money ran out.
The marvel is only how a corrupt little game where one entity is protected at the expense of the others—unions—can fail to adapt before other people's money stops coming in. The process took a long time, until there's barely anyone left to turn out the lights.

---
FreeRepublic.com is powered by software copyright 2000-2008 John Robinson