---
To: JustAmy; Billie; GodBlessUSA; La Enchiladita; Lady Jag; yorkie; jaycee; Diver Dave; LUV W; ...
HAPPY THURSDAY TO AMY'S PLACE!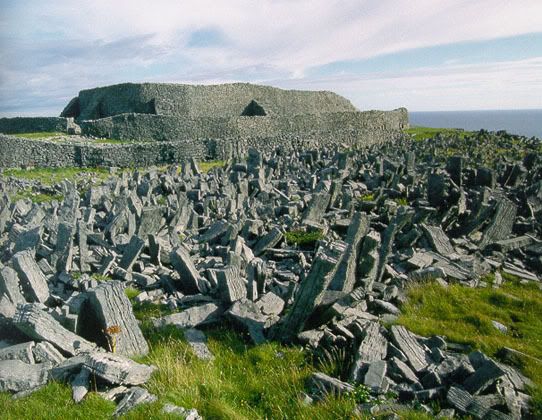 ---
Dún Aonghasa , Megalithic Fortress, Inishmore, Co. Galway, Ireland
Enjoy your Thursday!!!

Lamh Foistenach Abu!
2
posted on
07/01/2010 4:16:30 AM PDT
by
ConorMacNessa
(HM/2 USN, 3/5 Marines, RVN '69 - St. Michael the Archangel, defend us in battle!)
---
To: ConorMacNessa
Happy Thursday, Conor.
Thank you for sharing the graphics of Beautiful Ireland. Seeing these images makes me sad that it is one of many, many places that I've never been.
Hey ... there are still about 15 of our states that I haven't seen. That has long been one of my goals. At this point I plan to visit them via the Internet. :)
Wishing you a beautiful, sunny Thursday.
4
posted on
07/01/2010 4:48:20 AM PDT
by
JustAmy
(Remove Boxer, Pelosi and Reid. Vote to stop Socialism.)
---
To: ConorMacNessa
Good Morning Conor, wishing you a great July 1st! Hard to believe its already July!
That is quite a fortress! Guess I will never see Ireland but it would be nice.
14
posted on
07/01/2010 6:33:46 AM PDT
by
jaycee
(("His eye is on the sparrow and I know He watches me."))
---
To: ConorMacNessa
Happy Thursday




Good Morning!

Love,
ML/LTOS
21
posted on
07/01/2010 6:56:48 AM PDT
by
left that other site
(Your Mi'KMaq Paddy Whacky Bass Playing Biker Buddy)
---
To: ConorMacNessa
Thank you for maintaining and posting many happy, beautiful, poems, photographs, happy thoughts, and all sorts of joyful ideas. It provides a cheerful corner, of retreat from the cares of the world for a bit of time.
Thank You, Amy and all posters.
God bless us in our day, may we ever look to God and His Holy Word, for our good, in Jesus name, amen.
575
posted on
07/09/2010 10:27:58 AM PDT
by
geologist
(The only answer to the troubles of this life is Jesus. A decision we all must make.)
---
FreeRepublic.com is powered by software copyright 2000-2008 John Robinson