You can shoot .223 in your NATO chambered rifle, but don't try shooting 5.56 in a rifle that is chambered strictly for .223 ammo. The NATO dimensions are a little more generous.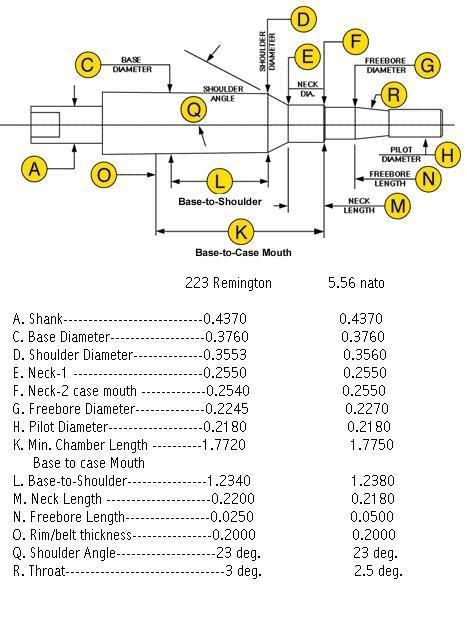 ( ignore 'N' - I'm pretty sure they're the same )

The dimension that matters most is the Freebore Length, 'N'. They're not the same, either on your chamber diagram or on others I've seen. The NATO freebore, or "Leade" is longer in the NATO chamber than the .223, and this is where the crap can hit the fan.
NATO ammo can assume that there is more freebore, which means that they can use ammo with longer bullets.
Put a cartridge with a longer bullet or longer OAL into a .223 chamber and if the bullet seats into the lands, the pressure goes way up in a hurry... and that's where the serious problems will start. There's nothing wrong with a bullet touching the lands, PROVIDED you make allowances for this situation.
eg, Benchrest shooters sometimes set up their chambers so the bullet is touching the lands while in the case, but they reduce their loads to account for this.
A conventional loaded cartridge that does not give the bullet any room to start moving before contacting the lands (even as little as three to five thou) is going to see the case pressures go above what you're expecting. Possibly way above what you're expecting.
Here's a comparison of various reamers from different reamer sources and chambers based off the chart you posted:
http://www.ar15barrels.com/data/223-556.pdf
Now, complicating the situation further is the issue of what the loading specs for the two cartridges specify as max pressure in a nominal load. The .223 Remington is SAAMI spec'ed to max pressure at 55,000 psi pressure, whereas the NATO 5.56 is spec'd to have a max average pressure of 58,000+ psi. In the case of "+ psi" I have seen data that shows some NATO loads running pressures up to 60,000 PSI.
Typical brass cases in a properly headspaced chamber should be able to support 60,000 PSI - they'll probably start showing signs of pressure (flattened primers, etc). However, most brass cases start to fail at about 70,000 PSI. What is happening with the NATO ammo is you're losing your margin of safety to prevent a case failure by how hot they're loaded. Add in the sudden increase in pressure brought about by a bullet being pushed into the rifling from insufficient freebore, and you can see how putting a NATO 5.56 round in a .223 chamber could result in a case failure (and possibly worse).