---
To: IronJack
Allen briefing the VP the body language is very telling there is respect here which was not evident with GWB with the head of FEMA last week.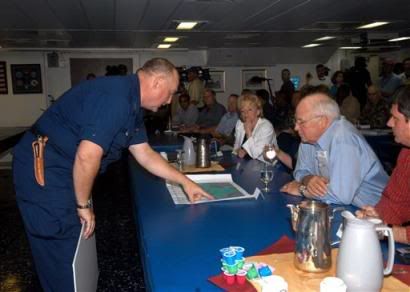 U.S. Coast Guard Chief of Staff Vice Adm. Thad W. Allen, left, briefing Vice President Dick Cheney, right, on the status of Hurricane Katrina relief efforts aboard the amphibious assault ship USS Iwo Jima, Thursday, Sept. 8, 2005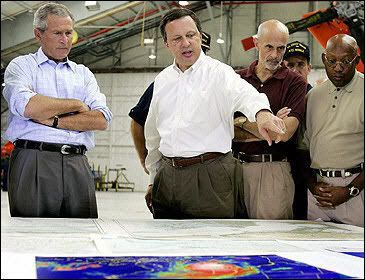 President George W. Bush talks about Hurricane Katrina disaster relief with FEMA Director Mike Brown; Michael Chertoff, Sec Homeland Security, and Alphonso Jackson, Sec Housing and Urban Development. Sept. 2, 2005

---
To: snugs
I believe Honore is a hard-nosed, "git-er'-done" military commander. In the field, where aggressiveness is a virtue, he's the man for the job. But in the glare of the press, with the military coming under fire from hacks and flacks, the last thing the administration needs is a man swatting the beehive. Vice Admiral Allen is just as no-nonsense as Honore, but far more well-spoken and smooth. He doesn't tolerate any more BS than the General, but he halts it with a little more finesse.
In the same vein, I saw Chertoff slap down a reporter the other day when the boob pressed him about the FEMA director's reassignment. His response was basically "I just got done explaining that as clearly as I could in English. I'm not going to do it again." Then he went on to the next question.
What I'm saying is that these men should be free to do what they do best. Gen. Honore's best work is NOT on the podium, but in the trenches.

---
FreeRepublic.com is powered by software copyright 2000-2008 John Robinson