---
To: Nathan Zachary
I just had a "heated" debate with my daugher-in-law who watched the movie and whose first impression was that these guys are bitter. She took environmental science at college but couldn't really refute the movies claims, but said the scientists were nobodies or were wrong according to her textbook (which she will show me eventually). People can get very emotional about this stuff.
---
To: Blind Eye Jones; Nathan Zachary; Ultra Sonic 007
"People can get very emotional about this stuff."
That's one of the things that puzzles me. The emotionalism.
You'd think the world was coming to an end or something.
Global warming will expand the temperate zone and the growing seasons. It will unlock glaciated areas to agriculture. It will allow freer navigation in the Northern Hemisphere.
It's true that wide areas which are low-lying will have to be abandoned, but we will have centuries to accommodate the migrations.
It's not the end of the world. It's just change.

63
posted on
03/25/2007 10:39:37 PM PDT
by
NicknamedBob
(I know where I have gone wrong, and I can cite it, chapter and verse.)
---
To: Blind Eye Jones
"People can get very emotional about this stuff."
Clearly.
I mean I get emotional when people deny the moon landing say.
I am all for scientific process and proper handling of this issue, but many are quick to blame it on humanity and to jump to conclusions of future doom and demand drastic actions be taken. Or as with Gore, riding a political surfboard on the global warming caused by man wave. A wave he helps create and profits from. That is not science.
People with degrees hard earned can be quite condesending and judgmental when you challenge them.
I demand reasonable scientific proof humans cause it, and even then, nobody can predict the future, they cannot claim to know the things they do that have not happened yet. Nobody has that power. They cannot predict the next three days weather accurately, let alone 100 years. They blew the hurricane predictions last year too. How can we trust that crappy record of prediction?
"In the United States of America, unfortunately we still live in a bubble of unreality. And the Category 5 denial is an enormous obstacle to any discussion of solutions. Nobody is interested in solutions if they don't think there's a problem. Given that starting point, I believe it is appropriate to have an over-representation of factual presentations on how dangerous (global warming) is, as a predicate for opening up the audience to listen to what the solutions are, and how hopeful it is that we are going to solve this crisis." -- Al Gore
"over-representation of factual presentations" is clearly NOT science and truly manipulative politics of fear.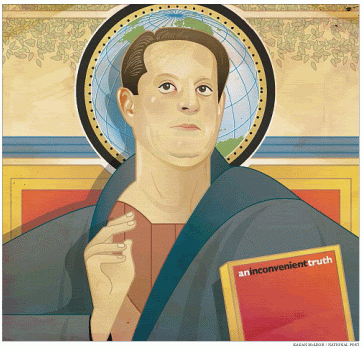 ---
FreeRepublic.com is powered by software copyright 2000-2008 John Robinson