---
To: wagglebee; Coleus; cpforlife.org
2
posted on
10/18/2007 9:42:31 AM PDT
by
Pyro7480
("Jesu, Jesu, Jesu, esto mihi Jesus" -St. Ralph Sherwin's last words at Tyburn)
---
To: Pyro7480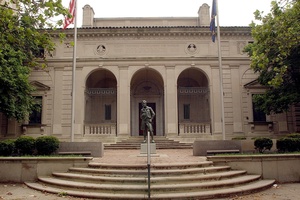 The Boy Scouts of America's Cradle of Liberty
Council has leased its site at 22d & Winter Streets
for $1 a year since 1928.
14
posted on
10/18/2007 9:49:52 AM PDT
by
restornu
(No one is perfect but you can always strive to do the right thing! PRESS FOWARD MITT!)
---
To: Pyro7480
How do they handle other nonprofit groups? Are they being discriminatory toward Scouts? Philly citizens need to get hot over this.
a barrage of opinion pieces, emails, and other means of letting the left know what we think are in order.

---
To: Pyro7480
I can't believe there is not one conservative building owner that could let the Scouts use their building free of charge!
I don't see why they have to pay any rent. The Grange used to let the Scout troops use their building free where I lived.

---
To: Pyro7480; Always Right; neverdem; JamesP81; truthluva; sheik yerbouty; Hoosier-Daddy; ...
Sick b@stards is right! This just proves what I predicted all along:
They must be satisfied that their agenda is solidly in the face of everything and everyone or else they will FORCE it on us.
---
FreeRepublic.com is powered by software copyright 2000-2008 John Robinson