---
Obama's 'missing' college thesis on Soviet nukes and his current defense policies (missile shield)
various sources | various authors


Posted on 03/08/2009 12:04:04 PM PDT by ETL

Obama and the case of the missing 'thesis'
By Jim Popkin, NBC News Senior Investigative Producer
July 24, 2008

excerpt:

The hunt for Obama's senior "thesis" began with a throwaway line in a newspaper article last October. The New York Times story, on Obama's early New York years, mentioned in passing that the presidential contender had majored in political science at Columbia and had spent his time "writing his thesis on Soviet nuclear disarmament."

Journalists began hounding Columbia University for copies of the musty document. Conservative bloggers began wondering if the young Obama had written a no-nukes screed that he might come to regret. And David Bossie, the former congressional investigator and "right-wing hit man," as one newspaper described him, took out classified newspaper ads in Columbia University's newspaper and the Chicago Tribune in March searching for the term paper.

Bossie came up dry, but said the effort was well worth it:

"A thesis entitled Soviet Nuclear Disarmament, written at the height of The Cold War in 1983, might shed some light upon what Barack Obama thought about our most pressing foreign policy issue for 40-plus years (U.S.-Soviet Relations)," he wrote in an e-mail to NBC News.

http://deepbackground.msnbc.msn.com/archive/2008/07/24/1219454.aspx
_________________________________________________

Here is the passage from the New York Times that the above article refers to:

"He barely mentions Columbia, training ground for the elite, where he transferred in his junior year, majoring in political science and international relations and writing his thesis on Soviet nuclear disarmament. He dismisses in one sentence his first community organizing job — work he went on to do in Chicago — though a former supervisor remembers him as 'a star performer.'"

Obama's Account of New York Years Often Differs From What Others Say
By JANNY SCOTT, October 30, 2007:
http://www.nytimes.com/2007/10/30/us/politics/30obama.html?ex=1351396800&en=631bf83f428647f9&ei=5089&partner=rssyahoo&emc=rss
_________________________________________________

From David Horowitz's FrontPageMag.com/DiscoverTheNetworks.org:
Profile: Institute For Policy Studies (IPS)

IPS's [Institute For Policy Studies] Washington, DC headquarters quickly became a resource center for national reporters and a place for KGB agents from the nearby Soviet embassy to convene and strategize. Cora Weiss headed one of the IPS's most successful forays -- into Riverside Church in Manhattan. She was invited there in 1978 by the Reverend William Sloane Coffin to run the church's Disarmament Program, which sought to consolidate Soviet nuclear superiority in Europe -- in the name of "peace." In 1982 Weiss helped organize the largest pro-disarmament demonstration ever held. Staged in New York City, the rally was attended by a coalition of communist organizations. During her decade-long tenure at Riverside, which became home to the National Council of Churches, Weiss regularly received Russian KGB agents, Sandinista friends, and Cuban intelligence agents. Weiss became infamous for her role in the psychological warfare conducted against U.S. prisoners of war held in the infamous "Hanoi Hilton" during the Vietnam War.

The Liberation News Service, which is a news source for hundreds of "alternative" publications nationwide (with antiwar, Marxist-oriented perspectives), was founded in 1967 with IPS assistance."

[lots more at link...]

http://www.discoverthenetworks.org/groupProfile.asp?grpid=6991
_________________________________________________

From the website of Riverside Church...

The Riverside Church
490 Riverside Drive
New York, New York 10027
212-870-6700

The Riverside Church is located on Manhattan's Upper West Side near Columbia University.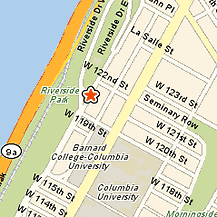 http://www.theriversidechurchny.org/about/?directions
_________________________________________________
"Obama graduated from Columbia University in 1983, and moved to Chicago in 1985 to work for a church-based group seeking to improve living conditions in poor neighborhoods plagued with crime and high unemployment. In 1991, Obama graduated from Harvard Law School where he was the first African American president of the Harvard Law Review."
http://obama.senate.gov/about/
_________________________________________________
Bill Ayers' education:
1987 - Ed.D, Columbia University, Curriculum & Instruction
1987 - M.Ed, Teachers College, Columbia University, Early Childhood Education
1984 - M.Ed, Bank Street College, Early Childhood Education
1968 - B.A., University of Michigan, American Studies
http://education.uic.edu/directory/faculty_info.cfm?netid=bayers
_________________________________________________
Bank Street College
Where We Are and How to Get Here:
Bank Street College is located on the Upper West Side of Manhattan at 610 West 112th Street, between Broadway and Riverside Drive.
Bank Street College is located in a bustling family and university neighborhood four blocks from Columbia University
http://www.bankstreet.edu/aboutbsc/visiting.html
_________________________________________________
Obama Pledges Cuts in Missile Defense, Space, and Nuclear Weapons Programs
February 29, 2008 :: News
MissileThreat.com
A video has surfaced of Presidential candidate Senator Barack Obama talking on his plans for strategic issues such as nuclear weapons and missile defense.
The full text from the video, as released, reads as follows:
Thanks so much for the Caucus4Priorities, for the great work you've been doing. As president, I will end misguided defense policies and stand with Caucus4Priorities in fighting special interests in Washington.
First, I'll stop spending $9 billion a month in Iraq. I'm the only major candidate who opposed this war from the beginning. And as president I will end it.[i.e. not win it]
Second, I will cut tens of billions of dollars in wasteful spending.
I will cut investments in unproven missile defense systems.
I will not weaponize space.
I will slow our development of future combat systems.
And I will institute an independent "Defense Priorities Board" to ensure that the Quadrennial Defense Review is not used to justify unnecessary spending.
Third, I will set a goal of a world without nuclear weapons. To seek that goal, I will not develop new nuclear weapons; I will seek a global ban on the production of fissile material; and I will negotiate with Russia to take our ICBMs off hair-trigger alert, and to achieve deep cuts in our nuclear arsenals.
You know where I stand. I've fought for open, ethical and accountable government my entire public life. I don't switch positions or make promises that can't be kept. I don't posture on defense policy and I don't take money from federal lobbyists for powerful defense contractors. As president, my sole priority for defense spending will be protecting the American people. Thanks so much.
Article: Obama Pledges Cuts in Missile Defense, Space, and Nuclear Weapons Programs:
http://missilethreat.com/archives/id.7086/detail.asp
"MissileThreat.com is a project of The Claremont Institute devoted to understanding and promoting the requirements for the strategic defense of the United States."
_________________________________________________
New Pentagon Report (March 2008):
China's Growing Military Space Power
By Leonard David
Special Correspondent, SPACE.com
March 6, 2008
GOLDEN, Colorado — A just-released Pentagon report spotlights a growing U.S. military concern that China is developing a multi- dimensional program to limit or prevent the use of space-based assets by its potential adversaries during times of crisis or conflict.
Furthermore, last year's successful test by China of a direct-ascent, anti-satellite (ASAT) weapon to destroy its own defunct weather satellite, the report adds, underscores that country's expansion from the land, air, and sea dimensions of the traditional battlefield into the space and cyber-space domains.
Although China's commercial space program has utility for non- military research, that capability demonstrates space launch and control know-how that have direct military application. Even the Chang'e 1 — the Chinese lunar probe now circling the Moon — is flagged in the report as showcasing China's ability "to conduct complicated space maneuvers — a capability which has broad implications for military counterspace operations."
To read the entire publication [29.67MB/pdf], see U.S. Dept of Defense:
http://www.defenselink.mil/pubs/pdfs/China_Military_Report_08.pdf
_________________________________________________
From the Sino-Russian Joint Statement of April 23, 1997:
"The two sides [China and Russia] shall, in the spirit of partnership, strive to promote the multipolarization of the world and the establishment of a new international order."
http://www.atimes.com/atimes/Central_Asia/HI29Ag01.html
_________________________________________________
Russia, China flex muscles in joint war games
Reuters: Aug 17, 2007
CHEBARKUL, Russia (Reuters) - Russia and China staged their biggest joint exercises on Friday but denied this show of military prowess could lead to the formation of a counterweight to NATO.
"Today's exercises are another step towards strengthening the relations between our countries, a step towards strengthening international peace and security, and first and foremost, the security of our peoples," Putin said.
Fighter jets swooped overhead, commandos jumped from helicopters on to rooftops and the boom of artillery shells shook the firing range in Russia's Ural mountains as two of the largest armies in the world were put through their paces.
The exercises take place against a backdrop of mounting rivalry between the West, and Russia and China for influence over Central Asia, a strategic region that has huge oil, gas and mineral resources.
Russia's growing assertiveness is also causing jitters in the West. Putin announced at the firing range that Russia was resuming Soviet-era sorties by its strategic bomber aircraft near NATO airspace.
http://in.reuters.com/article/worldNews/idINIndia-29030120070817?pageNumber=1&virtualBrandChannel=0
_________________________________________________
From the Russian News and Information Agency:
July 27, 2006
"'I am determined to expand relations with Russia,' Chavez, known as an outspoken critic of what he calls the United States' unilateralism, told the Russian leader, adding that his determination stemmed from their shared vision of the global order.":
http://en.rian.ru/russia/20060727/51913498.html
_________________________________________________
Venezuela Set to Develop Nuclear Power With Russia
September 29, 2008
CARACAS, Venezuela — President Hugo Chavez said Sunday that Russia will help Venezuela develop nuclear energy — a move likely to raise U.S. concerns over increasingly close cooperation between Caracas and Moscow.
http://www.foxnews.com/story/0,2933,429441,00.html
_________________________________________________
Venezuela's Chavez welcomes Russian warships
Nov 25, 2008
LA GUAIRA, Venezuela – Russian warships arrived off Venezuela's coast Tuesday in a show of strength aimed at the United States as Moscow seeks to expand its influence in Latin America. The deployment is the first of its kind in the Caribbean since the Cold War and was timed to coincide with President Dmitry Medvedev's visit to Caracas — the first ever by a Russian president.
http://search.yahoo.com/search?p=%22Venezuela%27s+Chavez+welcomes+Russian+warships%22&ei=UTF-8&fr=moz2
More Yahoo search results for Russia and Venezuela connections:
http://search.yahoo.com/search;_ylt=A0geu_X30pZJCJEAfCtXNyoA?p=Russia+Venezuela+bombers+tanks+arms&y=Search&fr=404_news
_________________________________________________
"the greatest geopolitical catastrophe of the [20th] century" -Russian leader Vladimir Putin on the collapse of the Soviet Union...
"World democratic opinion has yet to realize the alarming implications of President Vladimir Putin's State of the Union speech on April 25, 2005, in which he said that the collapse of the Soviet Union represented the 'greatest geopolitical catastrophe of the century.'
http://www.hooverdigest.org/053/beichman.html
_________________________________________________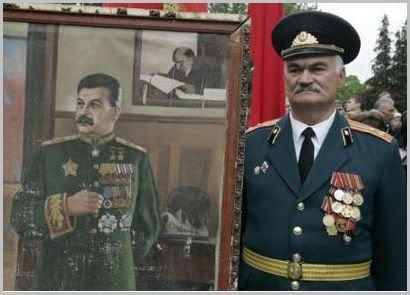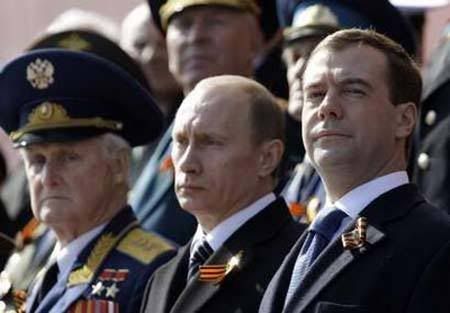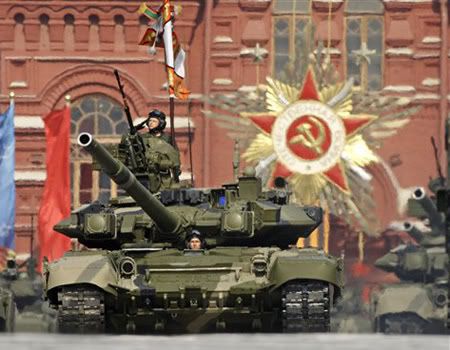 ---
TOPICS: Extended News; News/Current Events; Politics/Elections; Russia
KEYWORDS: columbiathesis; nucleardisarmament; obama; russia
---
Navigation: use the links below to view more comments.
first 1-20, 21-27 next last
---
---
---
---
---
---
---
---
---
---
---
---
---
---
---
---
---
---
---
---
---
Navigation: use the links below to view more comments.
first 1-20, 21-27 next last
---
---