---
To: americanophile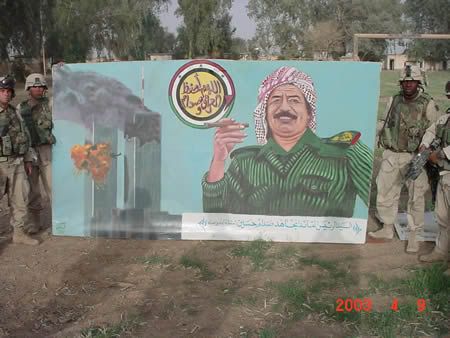 2
posted on
06/02/2009 6:32:59 PM PDT
by
b4its2late
(I love defenseless animals, especially in a good gravy.)
---
To: b4its2late
Hussein (not the POTUS, Saddam Hussein) was hanged because he messed with United States interests.
He attacked Kuwait and continued to target US forces in spite of the armistice he signed after hostilities ceased.
He paid suicide bombers families $25,000 a pop to murder Israelis innocent women and children and sheltered and provided a base for Alqueda terrorists.
He was the primary voice of islamofascism, was the only head of state in the last 50 years to USE CHEMICAL WEAPONS, and had a NUCLEAR PROGRAM that would have put the atom bomb in the hands of terrorists had it not been destroyed by ISRAELI and AMERICAN AIRSTRIKES.
After 9/11, a REAL AMERICAN POTUS put him out of his misery and SENT A MESSAGE TO THE RAGHEADS that you MESS WITH THE UNITED STATES AT YOUR PERIL.
This will end similarly.
The highest level of the United States Government has been infiltrated by foreign agents.
Even the liars, con men, and thieves who participated in the fraud to elect a foreign born communist crypto-muslim are rapidly becoming astounded at the chaos they have wrought.
Thus always to tyrants.
---
To: b4its2late
I remember when that picture appeared in the NY Post like it was yesterday. I thought for sure that picture of a gloating hussein appearing to take credit for 9/11 was good enough reason to take him out. Just because a direct link couldn't be found, doesn't mean there wasn't one.
---
FreeRepublic.com is powered by software copyright 2000-2008 John Robinson