---
To: Lando Lincoln; neverdem; SJackson; dennisw; NonValueAdded; Alouette; .cnI redruM; Valin; ...
Right to Offend More Important than Protecting the Offended
... Very few people showed a willingness to break ranks. Among them was comedian Rowan Atkinson ("Mr. Bean"), who in the context of a debate over British proposed incitement of religious hatred legislation, declared that "right to offend is far more important than any right not to be offended." And Somalia-born Ayaan Hirsi Ali, a secular Muslim woman then living in the Netherlands, responded with a manifesto that began with the words: "I am here to defend the right to offend."

But she was one of the few exceptions. Even the then-French president, Jacques Chirac, temporarily forgot that he represented the country of Sartre, Voltaire and Victor Hugo, and decreed that "anything that could offend the faith of others, especially religious beliefs, must be avoided."

Thus began the "de-escalation" that had been called for. The only problem is the other side isn't thinking about de-escalation. The fatwa against Salman Rushdie is still in effect, and the attempt to murder Kurt Westergaard last week wasn't the first attempt to carry out a death sentence for an instance in which no crime had been committed. Islam may be the "religion of peace" in theory, but it looks different in practice.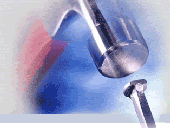 Nailed It!
Moral Clarity BUMP !


This ping list is not author-specific for articles I'd like to share. Some for the perfect moral clarity, some for provocative thoughts; or simply interesting articles I'd hate to miss myself. (I don't have to agree with the author all 100% to feel the need to share an article.)
I will try not to abuse the ping list and not to annoy you too much, but on some days there is more of the good stuff that is worthy of attention.
You are welcome to browse the list of truly exceptional articles I pinged to lately. Updated on November 15, 2009. on my page.
You are welcome in or out, just freepmail me (and note which PING list you are talking about).
Besides this one, I keep 2 separate PING lists for my favorite authors Victor Davis Hanson and Orson Scott Card.
---
To: Tolik
A "right to offend"??
There is no more a "right to offend" than there is a "right to shoot people".
If I must shoot someone in order to defend my life or someone else's, or if we must shoot a convicted murderer in order to avenge the taking of life, such shooting is incidental to the defense of the inalienable, God-given right to life, not the exercise of a "right to shoot people".
Similarly, if we offend our enemy in the course of defending ourselves from his assaults, such offense is incidental to the defense of ourselves, our nation, our heritage and way of life. THIS is our right, not some lily-livered "right to offend" manufactured by those whose careers consist of offending people!
We in the West have perverted liberty into license, and forgotten the entire purpose of freedom. Now the resulting societal rot has eaten so far that we're reaping the consequences. And the best semblance of manliness we can muster is a whiny, schoolgirlish "right to offend"? From a debate starring "Mr. Bean", no less?
If I were a muslim soldier, peering through the battle lines, watching British soldiers engage in slap-fights like this, I'd start cleaning up my uniform in preparation for the imminent victory parade.
Your pings are generally well worth reading and pondering, Tolik. But IMHO, this one belongs not under "Nailed It", but under "Bungling It". :-(
8
posted on
01/06/2010 10:54:00 AM PST
by
LearsFool
("Thou shouldst not have been old, till thou hadst been wise.")
---
To: Tolik
Thanks for the new tagline... :)
14
posted on
01/06/2010 11:38:15 AM PST
by
Mr. Jeeves
("The right to offend is far more important than any right not to be offended." -- Rowan Atkinson)
---
FreeRepublic.com is powered by software copyright 2000-2008 John Robinson