---
To: COUNTrecount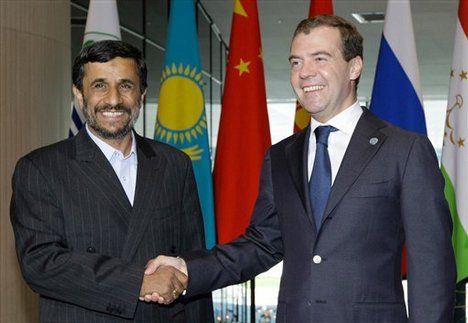 http://article.wn.com/view/2009/06/16/Iran_president_visits_Russia_despite_protests/
_____________________________________________________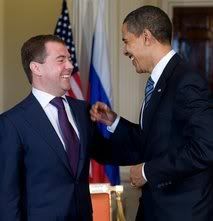 Russia's Medvedev hails "comrade" Obama
Associated Foreign Press (AFP) ^ | April 2, 2009 | Anna Smolchenko
"Russia's Dmitry Medvedev hailed Barack Obama as "my new comrade" Thursday after their first face-to-face talks"
http://www.france24.com/en/20090402-russias-medvedev-hails-comrade-obama
April 1, 2009:
"Obama, Medvedev pledge new era of relations":
http://news.yahoo.com/s/afp/20090401/wl_afp/usrussiadiplomacynuclear_20090401152002
_____________________________________________________

President Obama and Venezuela dictator Hugo
Chavez at the 2009 Summit of the Americas in Trinidad.
Note the "soul bro" handshake (my caption).
Obama, Chavez shake hands at Americas Summit:
http://www.newsvine.com/_news/2009/04/17/2698451-obama-chavez-shake-hands-at-americas-summit

27
posted on
02/11/2010 6:34:08 AM PST
by
ETL
(ALL (most?) of the Obama-commie connections at my FR Home page: http://www.freerepublic.com/~etl/)
---
Ahmedinejad, religious fanatic or "progressive" lefty?
From CBS-News, July 29, 2006:
Chavez Vows To 'Stand By Iran'
After Oil Talks In Tehran, Venezuelan Leader Called 'Brother' By Ahmedinejad
"Chavez pledged that his country would 'stay by Iran at any time and under any condition,' state television reported. Ahmadinejad said he saw in Chavez a kindred spirit." "'We do not have any limitation in cooperation,' Ahmadinejad was quoted as saying. 'Iran and Venezuela are next to each other and supporters of each other. Chavez is a source of a progressive and revolutionary current in South America and his stance in restricting imperialism is tangible.'":
http://www.cbsnews.com/stories/2006/07/29/world/main1847331.shtml

29
posted on
02/11/2010 6:37:40 AM PST
by
ETL
(ALL (most?) of the Obama-commie connections at my FR Home page: http://www.freerepublic.com/~etl/)
---
FreeRepublic.com is powered by software copyright 2000-2008 John Robinson