---
To: TigerLikesRooster
My compliments to the South Koreans: that was a very skillful and professional recovery job.
As I wrote earlier, (based on review of the Pohang class, and on stern section damage alone) the blast was placed (fore-aft) beneath the stack, possibly toward its forward end. And it was almost centered under the keel.
It's particularly useful that they recovered and photographed the stack section. I'll try piecing together a composite photo to see what that shows. If anything illuminating is revealed, I'll share it here......
My guess is that even the largest carrier would have difficulty surviving an explosion of that magnitude and placement.
~~~~~~~~
I hope the missing sailors' remains were all recovered.

---
To: TigerLikesRooster; TXnMA
Revision: Aft end of the stack....
---
To: TXnMA
This was no boiler explosion then. right?
The explosion happened under the ship if you are correct.
47
posted on
04/24/2010 10:41:28 AM PDT
by
GeronL
(http://libertyfic.proboards.com << Get your science fiction and fiction test marketed)
---
To: TXnMA
Incredible recovery job, the divers deserve every
accolade their country can give.
Imagine being underwater with those chains moving
around!
This will be studied for a long time.
Moving the USS.Cole was impressive but this is just
mind blowing.
54
posted on
04/24/2010 12:30:18 PM PDT
by
tet68
( " We would not die in that man's company, that fears his fellowship to die with us...." Henry V.)
---
To: TigerLikesRooster; GeronL; BIGLOOK; Grampa Dave; Robert A. Cook, PE; Doohickey
Here is a quick attempt at overlaying the three recovered sections of
Cheonan
on a silhouette elevation photo of the
Pohang
-class.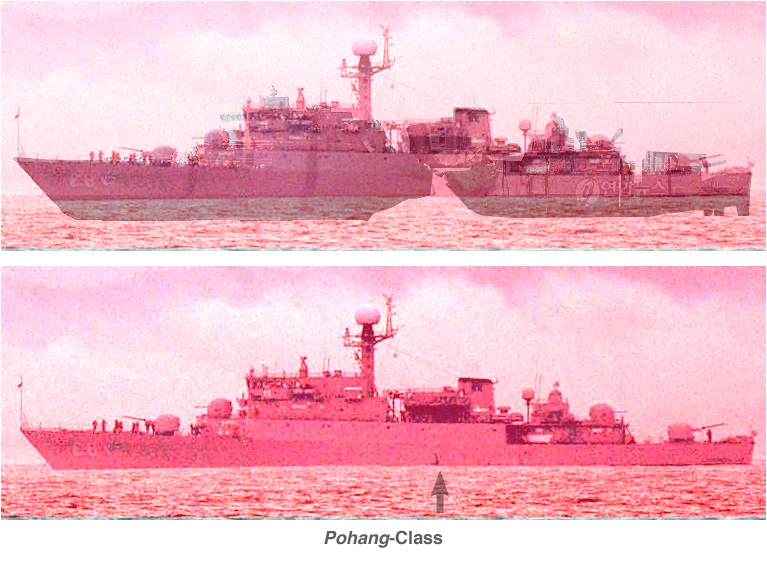 None of the recovery photos of bow or stern sections were directly abeam. The bow view I used was viewed from the port bow, and the stern view was port stern. This necessitated considerable image warping and stretching to "rotate" them to approach the silhouette view. The stack section was viewed from directly port abeam, and required only scaling to fit the silhouette.
There is obvious, massive below-waterline upward thrust, and the entire stack section was, apparently blown upward and separated. My original blast placement of forward of the stack appears to be the correct one.
Torpedo -- or (quite likely) a directly-placed contact charge...

---
To: TXnMA
Carriers are not invincible by any means, but they are tougher than many people give them credit for.
The USS Forrestal, a first generation supercarrier, had 10-12 1,000 lb bombs cook off, plus numerous smaller ordinance, and she was able to steam. Granted, as you said, a torpedo under the keel of any ship is difficult to survive. But, ships CAN be very tough, just look at the survivors of Bikini Atoll.
I agree with your analysis of the salvage...great job. I presume they covered up the exposed areas with tarps to prevent as much as possible, speculation. (Personally, I don't have to speculate, I am convinced.)
When I was a kid living in Subic Bay, PI, they towed in the remains of the USS Frank E. Evans that was sliced in half by the HMAS Melbourne. My bus went by that dock every day where the floating stern section was tied up, and I could never tear my eyes off of the exposed innards of the ship.
There is something disturbing about damage to a ship.
I have always been into aviation but seeing wrecked planes or even chopped up planes (as was done for SALT II) does not seem to have the same visceral effect on me that seeing damage to a ship does.
I read a book once years ago, and I have not been able to find it again since. It was a book that contained photographs of ships being broken up for scrap. Almost all of them were WWII ships, cruisers, battleships, carriers, destroyers, etc. There was a picture of a WWII heavy cruiser almost completely intact with all of its guns, superstructure, etc still intact, but the bow was removed just forward of the #1 turret.
That picture stuck with me. For some reason, it had the same effect on me as seeing a face with a missing nose. Very odd. I have always believed that ships do indeed have personality to them (I know it is a silly thing, but that is just the way I feel...I have always felt them to be "she" in a very non-inanimate way.)
I know other sailors who feel the same way, and some of those men who served on them in combat definitely feel that way. I have talked to men who to this day, shed tears at the loss of a ship.
---
FreeRepublic.com is powered by software copyright 2000-2008 John Robinson