---
To: smokingfrog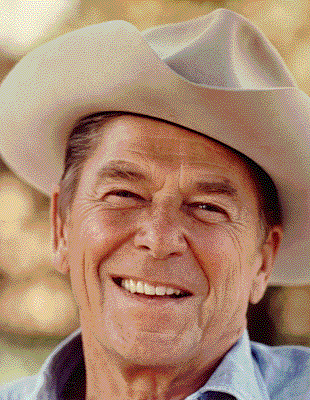 "Almost all the world's constitutions are documents
in which governments tell the people what their privileges are.
Our Constitution is a document in which
'We the people' tell the government what it is allowed to do.
'We the people' are free."
- President Ronald Reagan

11
posted on
06/05/2011 2:03:48 PM PDT
by
Diogenesis
( Vi veri veniversum vivus vici)
---
To: Diogenesis
I remember it all too well. Heard about it on the radio. Had just started to listen to Tammy Bruce not long prior, and back then she had a weekly show on Saturdays on KABC. I was sad, though glad he was no longer suffering, and I was ok until I heard the first segment of her show. Her opinion of him had dramatically improved from her days with N.O.W., and the last thing she did in the first segment of her show was to read the President's goodbye letter from 1994, where he first announced he had Alzheimers.
Well, she tried to read it. Choked up. Tried again to finish it. Broke down, apologizing to us listeners. Took the commercial break that was coming anyway, composed herself, and finished the letter. Did a wonderful tribute. Have been a fan of hers ever since. (2004 was my second year on Free Republic...I wasn't quite as active an activist as I am today.)
Took that Friday off to watch the memorial services, morning and evening. Was tempted to go to his library in Simi Valley, but there were so many people there, I talked myself out of it. (Simi Valley isn't too far from me) Someday I will go there.
20
posted on
06/05/2011 2:14:05 PM PDT
by
Christian4Bush
(Public Service Announcement. As of 6/5/11, 520 days 'til we take out the trash. (November 6 2012))
---
To: Diogenesis
I think that is my favorite picture of him. Funny how you can miss someone that you didn't personally know.. but I do.
---
FreeRepublic.com is powered by software copyright 2000-2008 John Robinson