---
U.S. warns Libyan rebels to get their act together
CNN ^ | August 1, 2011 | Elise Labott and Jill Dougherty


Posted on 08/01/2011 8:30:40 PM PDT by MinorityRepublican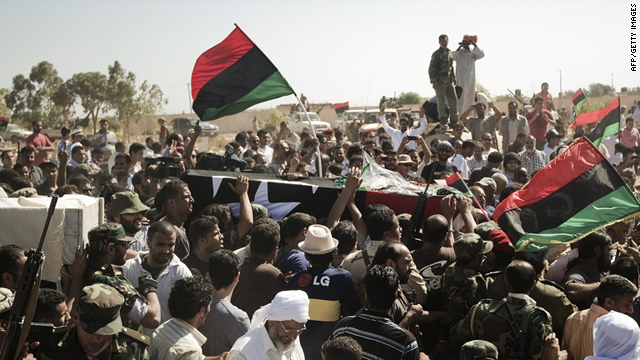 Libyan rebels carry the coffin of assassinated Army Chief Abdel Fatah Younis on July 29 in Benghazi, Libya.
Even as it prepares to hand over the Libyan embassy in Washington to the rebel government, the State Department is warning the Transitional National Council to get its act together.
An administration official told CNN the United States has warned the TNC that this is a "do-or-die moment" for the organization to carry out a credible and thorough investigation of the killing of its military commander, Abdel Fatah Younis. Last week's mysterious assassination has raised concerns that it might have been carried out by feuding groups within the rebels themselves.
"We do welcome the Transitional National Council's move to set up an impartial committee that will investigate the incident and we look forward to hearing the results," deputy spokesman Mark Toner told reporters Monday. "It's important that, given the fluidness of the situation on the ground, that the Transitional National Council work to ensure that it takes the right kinds of actions, such as an investigation into the death, and sends a clear and transparent message that they speak on behalf of the Libyan opposition and the Libyan people and that they are diligently carrying out their mandate."
The TNC has been rocked by internal divisions, with rival rebel groups battling each other. The divisions create a dilemma for the Obama administration, which recognized the rebel movement based in Benghazi as Libya's rightful government on July 15 at an international meeting on Libya in Istanbul. The move, done in coordination with the international community, paves the way for the United States to reopen the embassy, accredit diplomats and unfreeze billions of dollars in frozen assets.

(Excerpt) Read more at cnn.com ...
---
TOPICS: Breaking News
KEYWORDS: 0bamadaysnotweeks; 0bamaleadsfromhisass; 0bamawar; barrysquagmire; daysnotweeks; endlessgolfweekends; libya; nato; noflyzone; obama; obamadaysnotweeks; obamaswar; quagmire; warforoil; warpowers
---
Navigation: use the links below to view more comments.
first 1-20, 21-40, 41-44 next last
---
---
---
---
---
---
---
---
---
---
---
---
---
---
---
---
---
---
---
---
---
Navigation: use the links below to view more comments.
first 1-20, 21-40, 41-44 next last
---
---