---
New York high-rise residents warned of extra-strong winds
CNN ^ | August 27, 2011


Posted on 08/27/2011 9:36:42 PM PDT by MinorityRepublican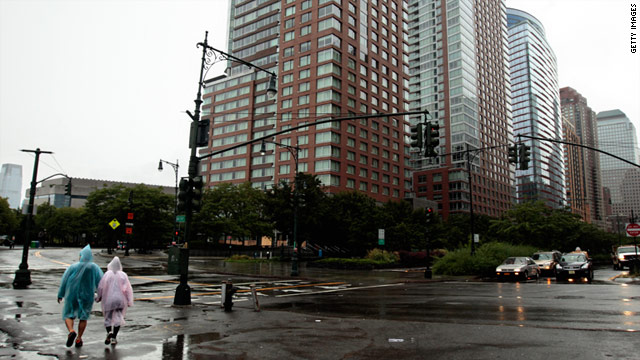 The National Hurricane Center warned that wind hitting upper floors will be stronger than those in most storms during Irene.
New York (CNN) -- The National Hurricane Center on Saturday warned residents of tall structures in the path of Hurricane Irene that the wind hitting upper floors will be stronger than those in most storms.
"As Irene moves through areas with high-rise structures, these structures will experience winds significantly stronger than indicated by the advisory intensity," forecasters said. "Winds at the 30-story level will likely be 20% higher than at the surface. And winds 80-100 stories up could be about 30% higher than the surface."
Irene was expected to reach the New York metropolitan area Sunday at hurricane strength. Winds were at 80 mph Saturday evening.
The center's analysis buttressed Mayor Michael Bloomberg's call for high-rise residents to stay away from windows if they live on the 10th floor or above. At the city's request, building owners were shutting down elevators Saturday. Reaching trapped residents would be a drain on police and fire who need to respond to "real emergencies," Bloomberg added.
In a hurricane the higher you go, the stronger the wind gusts. CNN meteorologist Sean Morris said the higher friction at the ground surface slows wind speeds.
According to the National Hurricane Center, forecasters started seeing the significant upper wind increase when the eye-wall collapsed over the Bahamas.
They also noted that there was little thunderstorm activity associated with Irene. Thunderstorms tend to bring the higher winds down to the surface, and with the lack of such activity the stronger winds are staying at higher levels.
As the storm re-emerges over the Atlantic late Saturday and moves northward, the colder waters also will aid in intensifying this effect.

(Excerpt) Read more at cnn.com ...
---
TOPICS: News/Current Events; US: New York
KEYWORDS: extra; extrastrong; highrise; hurricaneirene; irene; newyork; residents; strong; warned; winds
---
---
---
---
---
---
---
---
---
---
---
---
---
---
---
---
---
---