---
To: ConservativeStatement; Allegra; big'ol_freeper; Lil'freeper; TrueKnightGalahad; blackie; ...
With apologies...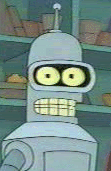 to
Unforgiven:
Little Bill Daggett: It's been a long time, Bob. You run out of Chinamen?

English Bob: Little Bill, well I thought you was, well I thought that you were dead. I see you've shaved your chin whiskers off.

Little Bill Daggett: I was tasting the soup two hours after I ate it.

English Bob: Well, actually, what I heard was that you got knocked off your bicycle, drunk...
of course, and that you broke your bloody neck.

Little Bill Daggett: I heard that one myself, Bob. Hell, I even thought I was dead...
'til I found out it was just that I was in Islamorada.

39
posted on
01/13/2012 5:57:04 PM PST
by
Bender2
("I've got a twisted sense of humor, and everything amuses me." RAH Beyond this Horizon)
---
To: Bender2
Bender you are bad
Love Unforgiven quote LOL!
He is okay
When I first hear about accident I went to TMZ.com first
65
posted on
01/13/2012 6:16:44 PM PST
by
SevenofNine
(We are Freepers, all your media belong to us ,resistance is futile)
---
FreeRepublic.com is powered by software copyright 2000-2008 John Robinson