---
To: DogByte6RER
We had one of these babies at my elementary school playground many years ago. A solitary kid, looking for diversion could play on it, but it was pretty heavy and two kids could give it a better twirl.
The real action started when children began to collect on the playground before the school day started and all ages were playing together. A mass of kids would mount the apparatus and another bunch would do the pushing. as it neared maximum speed a few, brave, older boys climbed inward on the radial supports and we all learned a little something about physics.
That mother picked up speed that we hardly believed possible. There were casualties nearly every day. Younger kids, overcome with the spirit of adventure, attempted the ride and discovered their physical limitations. Older, bigger kids discovered that you couldn't relax just because you had successfully teased the beast many times in previous days.
The teachers must have appreciated it because we would march into class, hearts pumping and ready for any challenge. The school nurse, in her starched white dress, must have enjoyed the job security every day. And we kids have never forgotten the joy of real play, exhilarating and challenging, requiring teamwork and occasional humility.
That beloved playground also included an excellent pair of long see-saws, a very tall, metal slide, and the tallest swings we would ever use.
What memories! Laurel School, four classrooms and a lifetime of experience.

---
To: concentric circles
Don't forget kids would be on and under the middle of that merry go round as it spun around 100 mph and the ground or metal struts literally could take your head off.
I'm thinking all the spec effects in movies, like cars flipping over people's heads, are a modern substitute for any given day at the old playground.
---
To: concentric circles
We had one of those, too...North River Elementary, Mt. Solon, VA.
It was the last generation of America. Ted Kennedy's Hart-Cellar Act hadn't ruined the strongest, wealthiest and best nation in the country. 90% European, 10% black and other.
It's all done. The lawyers and Liberals wrecked it.
---
To: concentric circles
We had one of these babies at my elementary school playground many years ago.
You were soft
We has one of these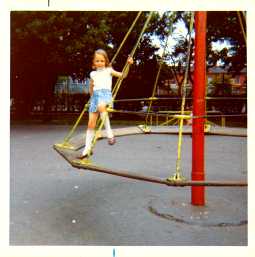 Lighter, faster, and only one point of support so you could combine a pendulum motion with the spin.
Less than a week to the first injury, so the teachers put a restriction on use
No riding where you could be caught between the platform and the ground/centre pole on the inswing
Teachers were such fussbiddys in those days

---
To: concentric circles
The one at my grade school (~1970) had a solid platform to the center. We used to play "King of the ____" (name of that thing eludes me - not a merrygoround, but...).
Anyway, spin it as fast as you could while pushing the other kids off and trying to stay on yourself.
One Monday we got to school and just an empty spot of dirt where it used to be. The Principal called about 6 of us guys in and said we were the reason it was gone because we played too rough with it.
I asked him if he would be pulling out the slides next, as we would now be forced to playing "King of the Slide" and tossing kids from the slide. (Yeah - one more time mom had to come down to school!).
I seem to recall another thing that they pulled out from our rough play - it may have been the teeter-todder.
When I took my kids to the park they were always the bain of the other parents. One park had a bunch of great big mud puddles off near the woods that my kids enjoyed. The kind that would suck a tennis shoe off. We figured the clothes would wash (and they would). And the kids had a ball. (And the other parents would have to grab their crying kids away as they didn't let them play in the mud).
And they also liked to climb up to the top of those castles and ship structures and throw themselves off to me waiting to catch them. Although I did have to remind my son once in awhile to make sure I had placed his sister on the ground and was looking at him before he jumped!
---
FreeRepublic.com is powered by software copyright 2000-2008 John Robinson